Original URL: http://www.theregister.co.uk/2010/05/24/ten_essential_gaming_mice/
Ten Essential... Gaming Mice
Choose your weapons
Posted in Personal Tech, 24th May 2010 11:02 GMT
Product Round-up Many gamers make do with an ordinary mouse, but there are dozens of the devices designed specifically with gameplay in mind. Some are pricey, others almost as cheap as a standard mouse, but whether you're happy paying through the nose, or trying to stick to a budget, it's always good to know if you're getting your money's worth.
I looked at a variety of mice, from the expensive Razer Mamba to the budget Cooler Master Storm Sentinel. I was looking for a device that was comfortable and good looking; programmable for personal game profiles, while also allowing me to change resolution on the fly.
To get a balanced view, I tried all these mice on two very different gaming styles: first-person shooter Quake III Arena and MMORG World of Warcraft.
So here is my top ten in order of rating – worst to best.

Steel Series Xai Pro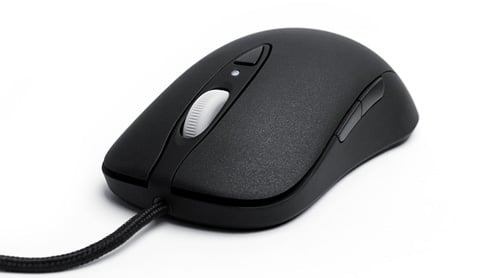 I didn't like the way the rubber wheel on the top of this mouse didn't scroll smoothly, but my ferret did, because he immediately tried to eat it.
After downloading the software from Steel Series' site, it took me 20 minutes to customise the Xai Pro, but I'm glad I did because my unique profile gave me a smooth and steady gaming experience.
As for the LCD screen on the bottom, all I can say is "gimmick". All it does is show you which profile is active. Maybe Steel Series could have lowered the excessive price by removing it.
This mouse is good for right- or left-handed gamers and does what it says on the tin, but it's not worth the asking price.
---
Reg Rating 70%
Price £80
More Info Steel Series
Laser 5000dpi
Rate 1000Hz
Buttons 8
Type Wired

Cooler Master Storm Sentinel Advance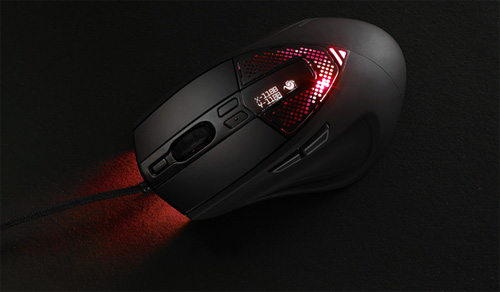 Cooler Master has pulled out all the engineering stops with the Storm Sentinel - this mouse is crammed full of features yet comes at a decent price.
I was able to adjust just about everything: weights, lights and sensitivity.
Ergonomically, this mouse feels good in your hand but the wheel seemed sticky and buttons at the side are clumsily placed too far up the side of the mouse compared to the Logitech products.
As an MMO player, the macro and script recorder buttons caught my eye, and if you are a twitch gamer, then this mouse might be for you. But for those of us with shamelessly shallow tendencies this isn't a mouse that is going to get any wolf whistles.
This one gets my Eco Prize for coming in the least packaging!
---
Reg Rating 75%
Price £49
More Info Cooler Master
Laser 5600dpi
Rate 1000Hz
Buttons 8
Type Wired

Roccat Pyra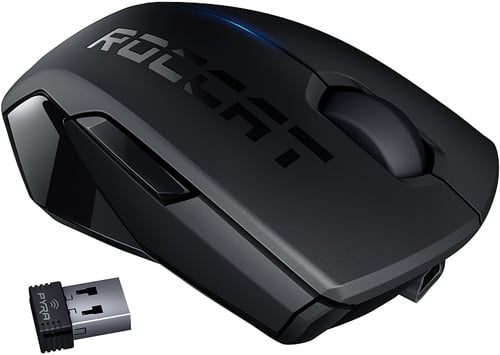 These are two itty bitty laptop travel mice with a nice blue glow.
Judging by the marketing bumf, the main selling point of the Pyras is the "Easyshift" technology, which allows you to double-program your buttons. To be honest, for a travel mouse I found this more complicated than necessary.
The thing I didn't like about them was the weight, which is a little too light for my liking. A gaming mouse should feel a bit heavy in your hands. But the sexy little silky travel bags almost make up for this.
These mice are well thought out and nice looking, but I can imagine my hand cramping if I got stuck in a long battleground or raid.
---
Reg Rating 75%
Price £55
More Info Roccat
Laser 1600dpi
Rate 1000Hz
Buttons 5
Type Wired / Wireless

Microsoft SideWinder X8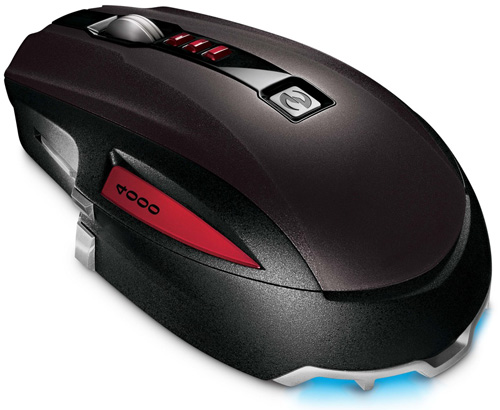 The box, which features a sillouette of Halo's Master Chief, states that this mouse has Microsoft's new BlueTrack technology rather than a standard laser. This did seem to make it smoother on my kitchen worktop and avoid lag reasonably well, which is appealing in a wireless mouse, even at this price.
The design can't be compared to the sleek Razers, but it still manages to feel ergonomic enough to stave off the dreaded GCTS (Gamer's Carpal Tunnel Syndrome).
The charging station - nicknamed "the UFO" - has to be the X8's main selling point. Charge and Play!
---
Reg Rating 80%
Price £70
More Info Microsoft
Laser 4000dpi
Rate 1000Hz
Buttons 12
Type Wireless

Logitech G9x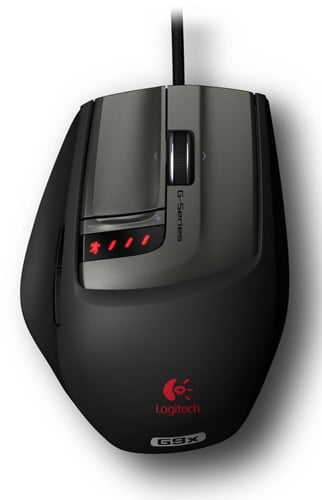 The G9x, with its new laser sensor, features on-the-fly adjustable sensitivity and an interchangeable grip.
While playing with this mouse I noticed it had far superior sensitivity to the G500. Being able to change the grip wide load or precision does make it more comfortable – maybe that's what you're paying an extra £30-odd for.
Snappy on-board memory allows up to five gaming profiles to be configured and stored with the Setpoint software. I fell in love with the full spectrum of LED colours that can be used to match the rest of your Logitech 'G' gaming kit.
This is the most customisable mouse I reviewed, but, a penny less than £90, it's still over-priced considering you can get the Razer Imperator for almost half as much.
---
Reg Rating 80%
Price £90
More Info Logitech
Laser 5700dpi
Rate 1000Hz
Buttons 12
Type Wired

Razer DeathAdder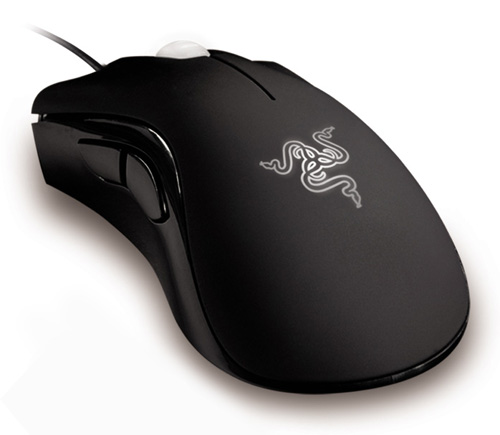 The Razer Deathadder was the first of the Razers I tried and it felt nice in my palm, while the soft blue glow of wheel and glowing Razer logo radiate quality and precision.
The five large comfortable buttons on this mouse have an almost audible click, and feel solid and well made. The G3.5 laser gives high sensitivity and precision and excelled in WoW PVP. Teflon feet reduce drag which added to the gliding feeling even without a dedicated gaming mouse mat.
I was also impressed by the driver updates for the Razers. They seem to really care about regularly updating what other manufacturers probably consider to be minor issues.
This mouse is also available as a left-handed model.
---
Reg Rating 80%
Price £43
More Info Razer
Laser 3500dpi
Rate 1000Hz
Buttons 5
Type Wired

Logitech G500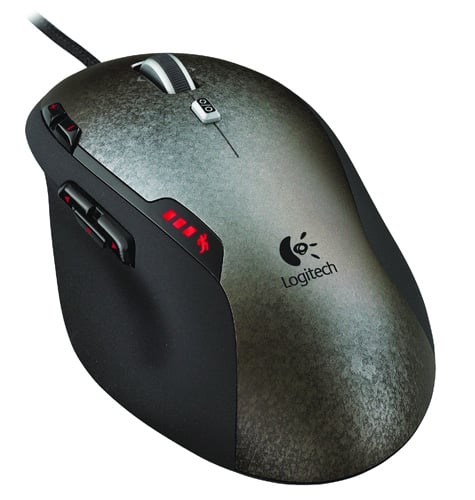 The G500 is aimed at right-handed gamers and the location of the buttons is comfortable and ergonomic. It has 12 changeable weights - I used about half of these to get the right feel. I liked the scroll wheel on this mouse - it has the dual options of hyper-fast or click-click, which was good for selecting weapons.
Aesthetically, the packaging looks pretty dated compared to a Razer and the actual mouse looks cheap: no gold plated USB or rubberised surface.
But on-board memory and on-the-fly adjustable DPI down to a pixel-precise 200dpi make up for any vanity issues.
---
Reg Rating 85%
Price £60
More Info Logitech
Laser 5700dpi
Rate 1000Hz
Buttons 10
Type Wired

Roccat Kone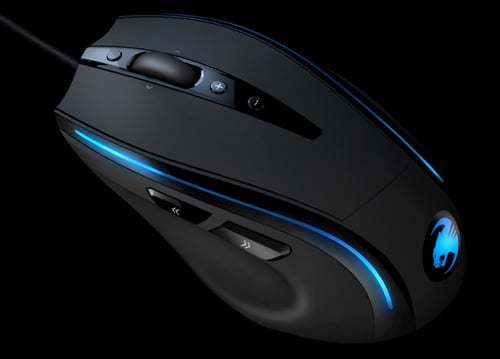 Roccat's Kone is a big mouse and felt unwieldy in my hand. But it was hard to put it down, as it looks so good. Sleek design with customisable lighting and weight always catch my eye, especially when they include a pink option!
The two main selling features are firstly, the Kone has a Distance Control Unit (DCU) which stops cursor movement when you lift the mouse, and, secondly, the Tracking Control Unit (TCU), which detects the surface the mouse is on and adjusts the sensitivity accordingly, making for much smoother gameplay.
This mouse definitely gives Logitech G500 and Razer Death Adder a run for their money.
---
Reg Rating 90%
Price £60
More Info Roccat
Laser 3200dpi
Rate 1000Hz
Buttons 10
Type Wired

Razer Mamba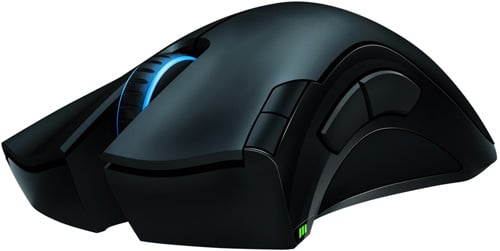 The Razer Mamba seems like a super-refined version of the Death Adder. It can be used in wired or wireless mode and is equally impressive in both. It comes with a nice glowing dock. The only issue I have is with the connector, which is intricate and fiddly.
The Razer Mamba is an exceptional product. This would be the best wireless gaming mouse you could buy, if it wasn't over-priced and over-packaged.
---
Reg Rating 90%
Price £100
More Info Razer
Laser 5600dpi
Rate 1000Hz
Buttons 7
Type Wired / Wireless

Razer Imperator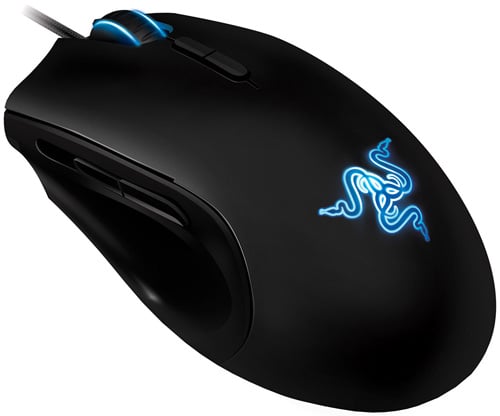 Razer's latest mouse, the Imperator, is the first mouse with adjustable thumb buttons - you change them using a slider underneath the mouse - and is all about comfort. I found this made all the difference after a few hours of grinding in WoW.
Hopefully this unique selling point will be picked up by the next generation of gaming mice.
All of the seven buttons on this mouse are programmable, and you get to adjust sensitivity up to a ridiculously twitchy 5600dpi.
Overall, this is a superior product from its on-board profile-storing memory to its teflon feet, and it's only 55 quid. This mouse certainly gives the gamer the most bang for his or her buck.
---
Reg Rating 95%
Price £55
More Info Razer
Laser 5600dpi
Rate 1000Hz
Buttons 7
Type Wired