Original URL: https://www.theregister.co.uk/2010/05/24/red_dead_redemption/
Red Dead Redemption
Wild west wickedness
Posted in Personal Tech, 24th May 2010 15:28 GMT
Review The historical Wild West was very different from the fictional depiction of Spaghetti Westerns. Gunslingers rarely had the kill count they were credited with.
Quick-draws were in reality spur-of-the-moment shootouts, with instigators often taking advantage of distraction or inattention. And dying in blaze of glory is pure euphemistic fiction for being slaughtered in an ambush.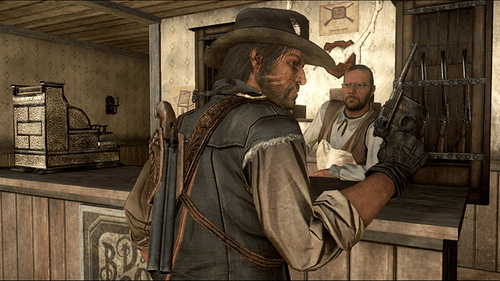 I want to get into The Register, but Hardware will do!
Real gunfighters also only ever loaded five bullets in their six-shooters. They did this because single-action revolvers had no safety catch, so leaving the hammer chamber empty prevented accidental firing.
It's this kind of restraint that typifies Red Dead Redemption, Rockstar's latest and arguably greatest game. By leaving the clichés out of the sixth chamber, the developers have crafted a genuine masterpiece with an assured, yet measured and reserved hand.
That's not to say you won't encounter the odd Lee Marvin or Lee Van Cleef among the cast, or spot countless references and in-jokes. But the game is handled with a maturity and aplomb typical of one of the world's great developers.
Vast in scope but replete with minute attention to detail, Red Dead excites ceaseless wonderment. For me it was the stunning panorama of plains and prairies, and the thunder and lightning of a night time storm. It was the deft touch required to round up the herd, and the disconsolate way a stranger left the Poker table after losing his all-in bluff. And it was definitely the visceral thrill of mowing down hundreds of besieging bandits with a Gattling gun.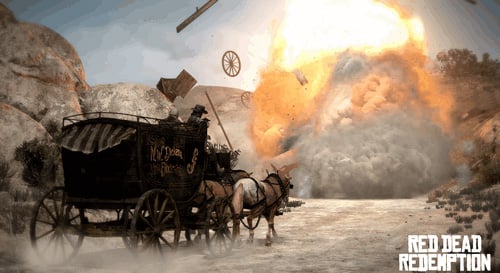 The Pyromaniac fell off the wagon
Storytelling comes close to rivalling cinema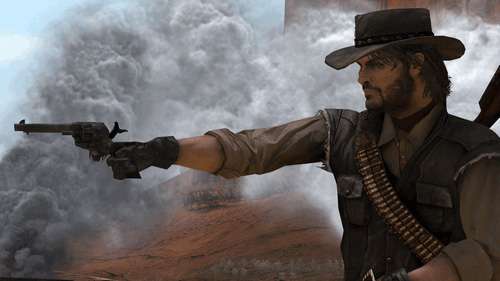 There's no fire without smoke
For you it might be the whinnying of your horse as you ride perilously close to the mountain edge; or your bullet narrowly missing the rabbit as it scutters off through tall grass. Whatever they are, such moments are so vivid and so brilliantly executed that they will stick in your mind for a long time to come.
The narrative is equally memorable. Here Rockstar's storytelling surpasses even GTA IV, and comes close to rivalling cinema. Every character, every line of dialogue, every situation convinces. Rockstar's grasp of the zeitgeist infuses the late 19th Century setting with its signature satire on capitalism and The American Dream.
John Marston, the protagonist, continues the maturing process started with GTA IV's Nico Bellic. Like Nico, John marks a distancing from the antiheroes of previous Rockstar games. Where Nico felt a victim of his situation, only dreaming of a crime free existence, John represents Rockstar's first true moral blank canvas.
You'll still deal with unsavoury characters and participate in morally questionable activities - this is Rockstar after all. But, if you choose a virtuous path, enforced transgressions never feel quite so reprehensible amid the lawlessness of the Wild West. Choosing the right side of the law, you're still going to see some ugly stuff.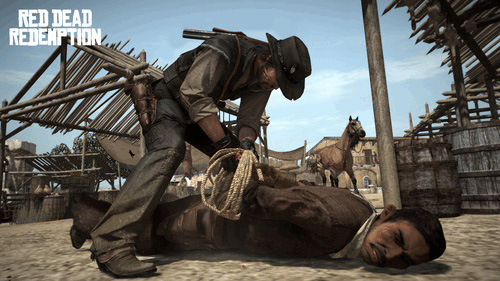 Tying up loose ends
Red Dead is better than GTA IV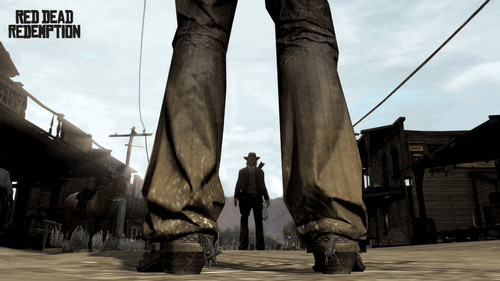 One draw. One winner. No raffle.
Rockstar's usual array of degenerates will doubtless fill several columns in the Daily Mail over coming weeks, with such headlining taboos as cannibalism, bestiality and necrophilia. But, as always, Rockstar's infamous sensationalism is tempered with peerless comedic panache.
Red Dead's inheritance from GTA is not limited to narrative and the ability to offend. The Euphoria physics engine again impresses and the cover system works extremely well. More importantly, combat finally lays to rest the frustrations of earlier Rockstar games.
For me, Red Dead is better than GTA IV. Mission distances are shorter, reducing the frustration experienced in restarts. And there's always something to do along the way, be it fighting off ambushes, assisting strangers in distress, or hunting wildlife. The minigames are more entertaining, too, especially the time-vortex which is Texas Hold 'Em Poker.
Red Dead is not without its flaws. The combination of aim assist and Dead Eye, the slo-mo targeting inherited from Red Dead Revolver, makes shooting too easy. Fortunately, aim assist can be switched off, which toughens combat considerably.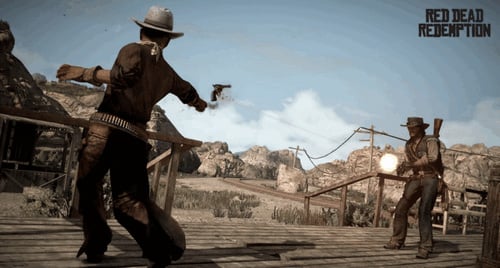 Handicapped
Too easy in places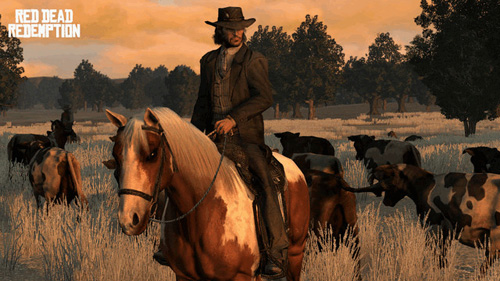 Ride around until the cows come home
Some jobs, such as breaking horses, are also too easy, quickly becoming tedious. An abundance of cash negates the otherwise enjoyable collectathon of skinning animals and picking wild flowers. And, although every bit Clint Eastwood when walking, the animation of John Marston when running is every bit Kenneth Williams.
There are also occasional glitches in gameplay, and artefacts have a habit of disappearing, most notably your horse, although Rockstar has already acknowledged these and is fast at work on a patch.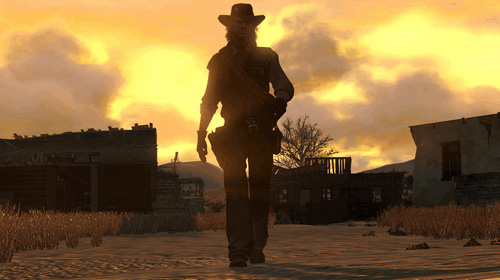 The sun sets in the west
Verdict
Red Dead's achievements far outweigh any minor issues. The vast breadth of sandbox gameplay is unrivalled, and almost every element excels. Graphics, sound, narrative and dialogue form a rich tapestry, creating an authentic world that is both beautiful and beguiling.
Like the Spaghetti Westerns and the historical characters and events upon which they were based, long after we've ridden off into the sunset, long after we've taken off our Stetsons and hung up our bandoliers, we'll be talking about the legend that is Red Dead Redemption.
More Games Reviews

Prince of
Persia: The
Forgotten Sands
Lost
Planet 2
Alan
Wake
Dead to Rights:
Retribution