Original URL: https://www.theregister.co.uk/2010/05/22/review_music_player_arcam_solo_mini/
Arcam Solo Mini combo hi-fi
Easy on the ear and on the eye
Posted in Personal Tech, 22nd May 2010 08:02 GMT
Review Not far from the horizon is the Solo Neo from Brit hi-fi specialist Arcam. Last year, the company's Solo Music had a baby and it was called the Solo Mini. While we wait for Neo make an appearance and no doubt wow minimalists and audiophiles alike, a review of the Solo Mini seemed in order.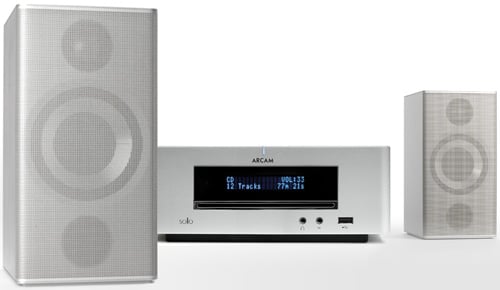 Arcam's Solo Mini: sonically, anything but diminutive
Compared to the Solo Music it offers half the power in a half-size box, but otherwise it's much the same as the original Solo Music, with CD playback, DAB and FM/AM radio, plus iPod/iPhone compatibility, all delivered with hi-fi chops derived from Arcam's separates know-how. It's sold on its own or fully loaded with a pair of the company's Muso speakers and irDock iPod dock, the latter package being the set-up I tried out.
Sharing some of the classy minimalist looks of its predecessor, the Solo Mini is a more discreet, just over half-size box measuring 230 x 90 x 350mm. But pick it up and you'll realise just how jam-packed with technology it is by its 5.3kg weight, due in no small part to the hefty oversized toroidal transformer on board.
The control buttons seen on the Solo Music have been moved from the front to the top and the display has been stretched downwards slightly, while the CD drawer has been replaced with a slot. Build quality feels rock solid and it looks every bit like a piece of premium kit.
Hi-fi highlights include a low-jitter crystal clock and a 24-bit DAC borrowed from Arcam's £1,000 CD37 CD/SACD player. The twin power amps are the same design as those on the full-size Solo Music, albeit half the size, delivering 25 watts RMS into 8 ohms rather than 50 watts.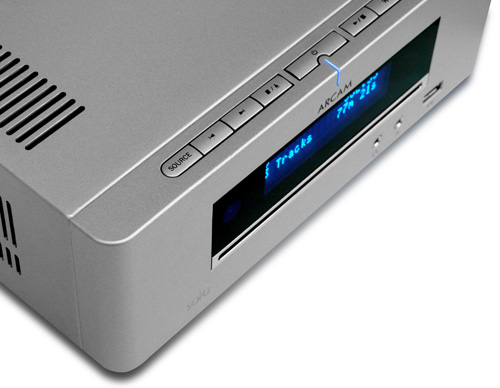 The remote makes lighter work of things compared to the sparse controls on offer
On the front, the single USB port doesn't support tethering to iPods, but will play back MP3 and WMA files from a memory stick. No AAC or FLAC support though, which is a bit shortsighted, all things considered. There's also a 3.5mm auxiliary input for MP3 players and suchlike and another for headphones.
To save space and money, iPod integration is handled by Arcam's irDock, which is also available separately. It's made from a block of cast aluminium and comes with its own diminutive remote control for use when not hooked up to the Solo Mini. The main remote takes care of operations when it's all plumbed in. This will charge your iPod and iPhone and allows the latter to play with the usual warnings of possible interference. In tests this was rarely an issue.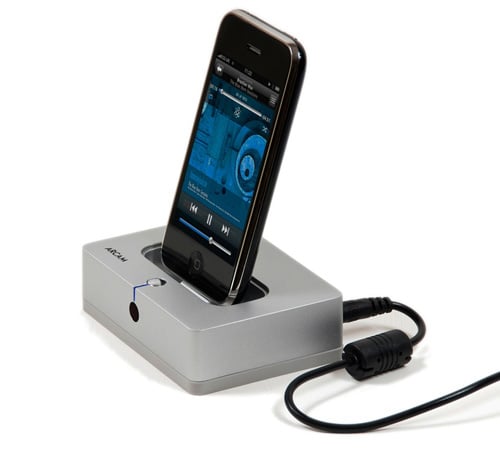 iPhone friendly: the irDock
Around the back are four pairs of stereo inputs, an analogue tape output and a preamp out, as well as an RS232 input (for remote control of your iPod and software updates from a PC) and a pair of full-size stereo speaker outputs. There are also separate aerial inputs for the DAB, FM and AM tuners, although only the DAB has a telescopic aerial provided.
Setting up and using the Solo Mini is pretty much as easy as it could be. With the irDock connected using phono plugs and RS232, tracks are displayed on the LCD screen and with transport and navigation control from the Solo Mini's full-featured remote. The CD slot meanwhile is smooth as silk, drawing discs in with a relaxed confidence rather than the hasty grab some slot-loaders can suffer from.
Onboard tone controls are limited to boosting or limiting treble or bass with no option for more subtle gradients via a graphic equaliser. It conjures a solid stereo image through the supplied bookshelf-style Muso speakers, which feature an eye-catching metallic finish and 3.5in polymer/aluminium cones topped by a 1in aluminium dome tweeter. They have a front-mounted bass port too and proved to be reasonably indifferent to placement, delivering much the same sort of sound whether next to walls or not.
Listening to the Solo Mini in action I was initially impressed by the openness and detail of the sound. Nina Simone's piano and vocal on Nobody's Fault But Mine was spookily transparent, delivering chills and raised hairs on the back of the neck along with an exceptional level of detail. Likewise Miles Davis' So What, his trumpet arriving with a piercing clarity yet never devolved from the rest of the acoustic combo, whose presence remained perfectly balanced throughout.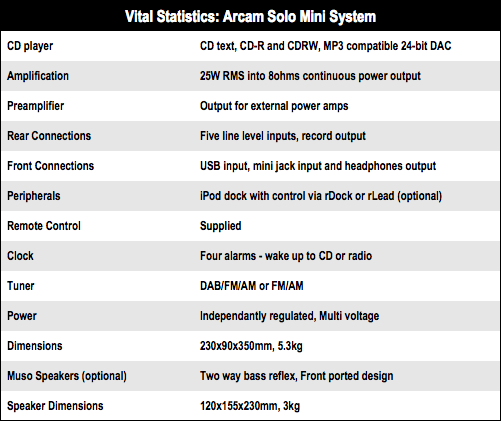 The same was true of Björk's The Pleasure Is All Mine, with the Solo Mini seemingly having no trouble in maintaining the distinction between the multi-layered vocal tracks while still allowing them to gel as a coherent whole. Not every mini system can deliver this kind of detail with such apparent ease.
Not that exceptional detail is always ideal. In fact, there's probably a little more detail at the high end than you really need, which can lead to a smidgeon of harshness on occasion – the bagpipes of modern folk ensemble Breabach needed a little tweaking for example – but that's a small gripe.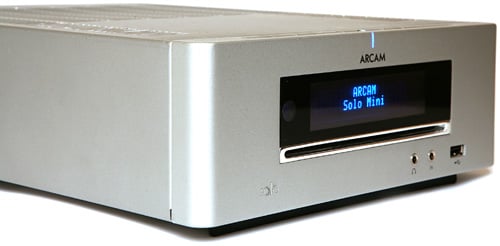 Sonically, offers more than the Muso speakers can deliver
A bigger gripe however was with the bass, since it was at the low end that the two-way Muso speakers showed their limitations. While they generally sounded terrific with acoustic material, they struggled with bass-heavy rock and dance music. Basement Jaxx's Good Luck for instance completely lost its low, low bass tones and proved to be a distinctly lacklustre affair.
So it comes down to a trade-off dependent on your choice of music. A grand for a good-quality, full system isn't a bad deal, but if you know you're going to require some serious bass oomph, then it's worth considering another set of speakers to handle them, even if it means bumping up the price for the Solo Mini on its own.
Verdict
The Solo Mini ticks a lot of boxes in terms of build quality, style and convenience, delivering well above average sound from a pint-sized box for a reasonable price. But if your tastes edge into bass-heavy territory you'd probably be better off with a better pair of speakers than the £280 models it's supplied with. Treat yourself to a decent pair and you should have a genuinely powerful and impressive system. ®
More Audio Gear Reviews…

Altec Lansing
inMotion Compact
Sonos
ZonePlayer S5
B&W
Zeppelin Mini
IntelliTouch
Eos
,