Original URL: https://www.theregister.co.uk/2010/05/21/prince_of_persia_forgotten_sands/
Prince of Persia: The Forgotten Sands
Time it's in your hands?
Posted in Personal Tech, 21st May 2010 11:20 GMT
Review Fun fact: the Prince of Persia franchise celebrated its 20th birthday last year, making it one of the most venerable names in videogaming. It transitioned smoothly enough from side-scrolling platformer into the spectacular, button-hammering Tomb Raider-style modern classics of today.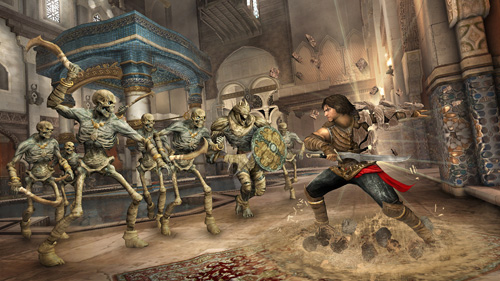 Take this, bonehead!
The Forgotten Sands hinges around the unhappy release of an army of ghoulish demons that once belonged to King Solomon. Solomon's foot soldiers are made from the desert sand, making them effectively limitless, and as the eponymous Prince, it's up to you to battle your way through, helped by some nifty sword moves, an other-worldly guide named Razia, and a waggish disregard for gravity and time.
All the hallmarks of a great Prince of Persia game are here: vast halls filled with spikey traps and massive gears, dozens of skeletal enemies, and tricky platform sections that are gloriously true to Prince of Persia's 2D heritage. You get from one point another by scampering up walls, swinging from conveniently-placed beams and bars, and by leaping from one wall to the other. Only the frequent physical impossibility of the latter and an aversion to cliché prevents us from describing it as parkour.
It looks spectacular. The levels are immaculately designed and realised, helped by excellent lighting effects. Indeed, it looks so realistic you'll soon stop wondering at how good the graphics are, and find yourself engrossed in the story, making it past one obstacle after another, until it's the small hours of the morning.
The plot works well - rather than simply chucking enemies at you to dispatch, judicious use of short cut scenes spell out the whys and wherefores of the story. The voice acting is good, and our only criticism is the Prince's occasional bon mots as he faces down danger with what we can only suppose is meant to be wry humour. As it is you'll occasionally feel like deliberately throwing him into a pit of spikes to shut him up, but it's a minor quibble.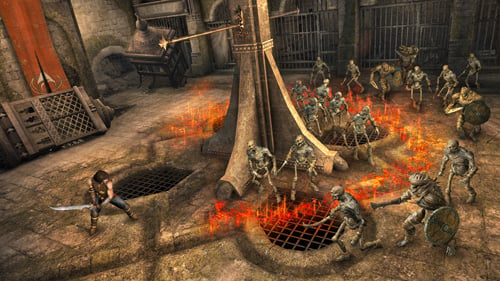 In the line of fire
Enemies attack spectacularly en masse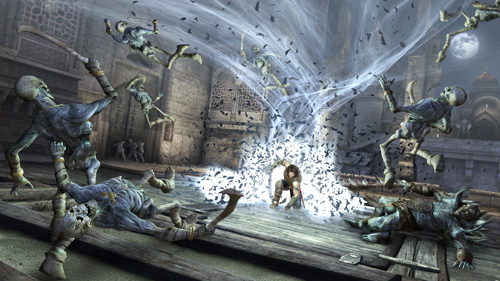 The cold wind ran right through their bones
The animation is sensational. Judging distances and positioning is visceral and satisfying without becoming too easy, and without needing the pixel-perfect positioning that plagued, say, the early Splinter Cell games. Occasionally there's a little too much latitude - it's sometimes embarrassingly hard to fall off high, narrow beams - but by the time you hit the game's tough later levels, there's enough going on to present a serious challenge.
If half The Forgotten Sands is carefully-judged leaping around, the rest is furious combat. Enemies attack spectacularly en masse, often dozens at a time, and although sending them back to the sand doesn't require more calculation than jumping around and tapping the strike button, you can string together some impressive combos. The only complaint is likely to be that the bosses can get repetitive: there's often no clever way to kill them, leaving you to hack furiously at their heels, dodge an attack, then go back and hack some more.
Like earlier Prince of Persia games, you can control time. If you yourself careening towards likely oblivion, you can return to a happier moment, allowing you to attempt tricky sections of the game without returning to the last save point. Combat is made more interesting by the XP enemies leave behind once you've killed them. This can be traded in for new attacks and extended health and energy bars; later, it can be used to make new attacks more devastating.
By far the game's most interesting mechanic is the ability to freeze water temporarily. This makes waterfalls solid enough to scramble up, while burst pipes become high beams. The possibilities are immense, and The Forgotten Sands' developers have taken full advantage. You might find yourself, for instance, swinging from a beam of frozen water.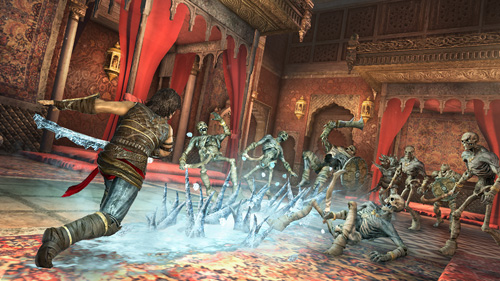 Ice to meet you
The action is on rails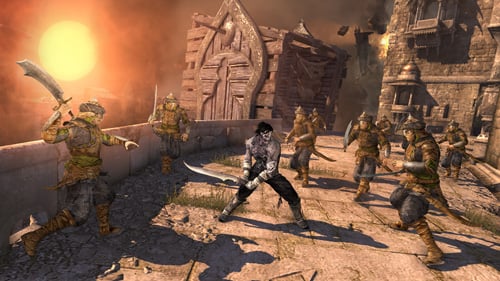 Swinging can be dangerous
In one movement, you might need to jump off, unfreeze the water to pass through a liquid cascade, then freeze everything again to grab another beam on the other side. It works magnificently and the difficulty is carefully-judged: easy enough at first, then knuckle-grindingly hard towards the end. But it's exciting, it's fast-paced, and there's nothing more satisfying than having a spur-of-the-moment plan come together as you flip haphazardly through the air.
The camera doesn't always behave itself. Most of the time it's a straightforward over-the-shoulder affair that Tomb Raider fans will be familiar with. But when there's an obvious course to chart the camera's movement becomes restricted. Most of the time it works well: a gentle prod in the right direction saves you from failing from every conceivable angle. But sometimes it feels like the action is on rails; at other times the camera focuses on the boss you're trying to defeat - a serious annoyance if you'd rather be scouting the area for health packs and XP.
The Forgotten Sands treads a delicate line. At times it's a straightforward button-bashing beat-em-up, at others it's an infuriating platform game of precision timing. You could describe it as derivative: if you've played any of other Prince of Persia games, or Tomb Raider, you'll know roughly what to expect. But it's so well-executed (and huge - easily two days' play from beginning to end), you won't care that it's not a hundred per cent original.
There are more than enough innovative touches to keep you interested, and even if they fail the story is engrossing and the whole thing is magnificently-produced. Everything is tied together by convincing graphics and animation, the voice acting is good and by the end you'll even care how the story pans out. It might not be the freshest-feeling title on the shelves, but when a game is this well-constructed, you'll be having too much fun to care.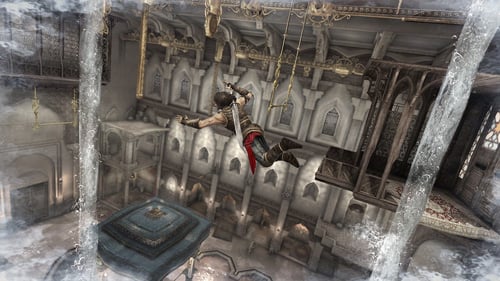 Can I get a rewind?
Verdict
Not hugely original, but great fun. There's a careful balance between furiously slashing at baddies and carefully picking your way through spike-filled deathtraps to keep things from getting monotonous, and it's all strung together by good looks and a strong storyline. ®
More Games Reviews

Lost
Planet 2
Alan
Wake
Dead to Rights:
Retribution
Tom Clancy's
Splinter Cell:
Conviction