Original URL: https://www.theregister.co.uk/2010/05/20/bbc_canvas_oft_ok/
OFT won't block BBC's über set top box
Green light for Canvas
Posted in Policy, 20th May 2010 11:24 GMT
When Microsoft attempted to nobble an open industry technical standard to its own ends, there was a loud outcry. But what happens when a cartel of broadcasters try to do just that? Perhaps because the BBC is leading the charge, a popular uprising is nowhere to be found.
The Office of Fair Trading today confirmed it will not stand in the way of Project Canvas, because it does not have the jurisdiction to intervene. Canvas is the über-set top box, described as "iPlayer in hardware", designed by the UK's terrestrial broadcasters, along with Carphone Warehouse and mast monopoly Arqiva.
Third party hardware companies will manufacture Canvas-compliant boxes, the Canvas founders have promised not to create custom content for it, build the boxes, or act as an ISP. The alliance has enormous market power, with the old guard in charge of the all-important EPG (Electronic Program Guide), which determines the placement and subsequent popularity of material. Not surprisingly, Virgin and Sky lodged a complaint with the OFT.
The regulator said that because the Canvas partners "do not intend to transfer an existing business into the JV… the notified proposals do not give rise to a merger qualifying for substantive investigation by the OFT". Other anti-competitive legislation may yet apply, it said.
Earlier this year Virgin Media chief Neil Berkett said the BBC would be the "de facto gatekeeper" of the digital world.
The problem? There's already an industry standards body for British digital TV, and the BBC is a member - along with Pace, Microsoft and Sky. The DTG (Digital TV Group) publishes the "D Book", the product it says of 4,000 man hours of work developing detailed technical specifications for digital broadcasting standards. The Sixth Edition of the D Book came out in March.
By contrast, Canvas specifications are © of the BBC. The DTG asked the BBC Trust this year to release from BBC copyright crucial parts of the Canvas spec including the presentation engine, metadata, IP content delivery and many other key parts of the spec.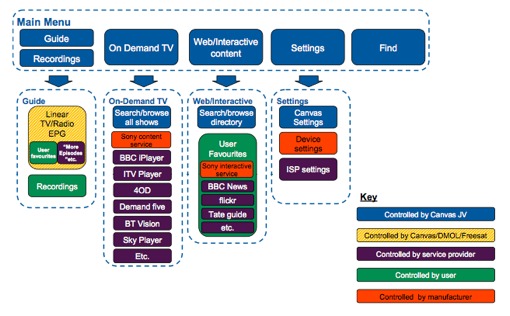 Standards schmandards: Canvas controls all the important bits
Canvas now awaits BBC Trust approval. Nominally the voice of the viewer, the Trust is unlikely to snub the opportunity to give the Corporation the gatekeeper role it believes is its own by right.
You can read the DTG's views on Canvas here (332kb pdf).
It's strange how industry standards are seen as sacred, except when you need to screw a competitor you don't like. ®