Original URL: https://www.theregister.co.uk/2010/05/19/review_storage_lacie_rugged_usb_3/
LaCie Rugged USB 3.0 portable hard drive
SuperSpeed USB and military-grade toughness?
Posted in Personal Tech, 19th May 2010 15:13 GMT
Review Although it has been said that it won't become mainstream until it is officially adopted by Intel in 2011, USB 3.0 - aka SuperSpeed USB - is steadily emerging from the shadows with more and more manufacturers bringing support for the protocol to the eager masses.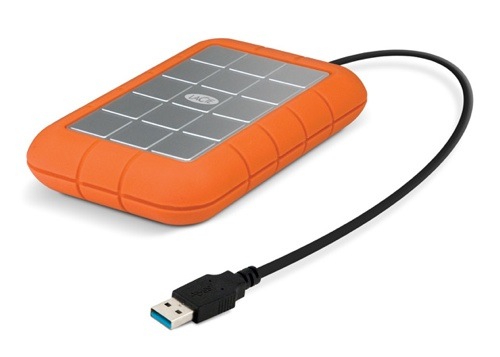 Shock and awe: LaCie's Rugged USB 3.0 has military grade impact resistance
Joining the influx of devices supporting the new standard is LaCie's 500GB Rugged USB 3.0 disk, the latest addition to its rubber-wrapped product line, which already features USB 2.0, eSata and Firewire 400/800 drives.
These drives are certified shockproof to the US Department of Defence MIL-STD 810F specification - MIL-STD 810F Method 516.5: Shock, to be precise. However, LaCie doesn't specify if the Rugged is also compliant with other aspects of MIL-STD 810F such as:
MIL-STD 810F Method 505.4: Solar Radiation
MIL-STD 810F Method 508.5: Fungus
MIL-STD 810F Method 511.4: Explosive Atmosphere
MIL-STD 810F Method 519.5: Gunfire Vibration
MIL-STD 810F Method 522: Ballistic Shock
Essentially, this means that the drive will survive up to a 2.2m fall when it isn't operating. The device specification states that dropping in operating mode "is not recommended", something which I can't in all honesty disagree with.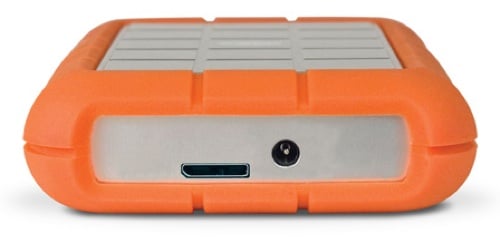 USB 3.0 connectivity - which is handily backwards compatible with USB 2.0
So, the Rugged USB 3.0 may be military spec compliant, but is this enough to keep your valuable data safe around small children and clueless co-workers?
Upon opening the packaging, you'll find one 2.5in hard drive in an aluminium enclosure all wrapped up in a shock-resistant rubber sleeve. You also get a 500mm USB 3.0 cable and a USB power-sharing cable for those stuck with underpowered ports.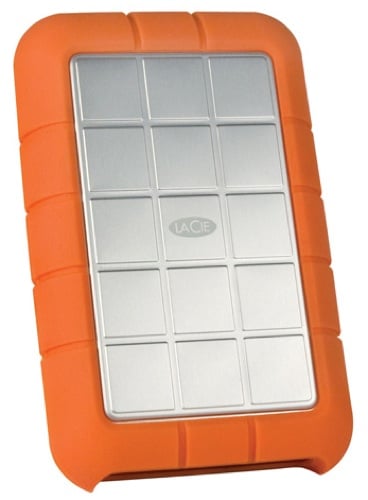 Will not get lost in fog
Unlike some other manufacturers, LaCie doesn't offer their products in 'kit' form with an included USB 3.0 PCIe or ExpressCard 34 adaptor, so make sure to order one as to ensure you aren't condemned to face eternity at 480Mb/s.
Folk used to carrying a 2.5in drive in a slimline enclosure may find it a bit of a shock to realise that the LaCie Rugged is quite a bit bigger, measuring in at 145 x 90 x 28mm - or approximately the size of a standard 3.5in hard disk. A 3.5in disk wrapped in fluorescent orange rubber, that is.
However, that being said, most of the space is given to allow room for the rubber anti-shock dampers so the whole thing is deceivingly light. Despite being somewhat larger than anticipated, the drive is actually very portable.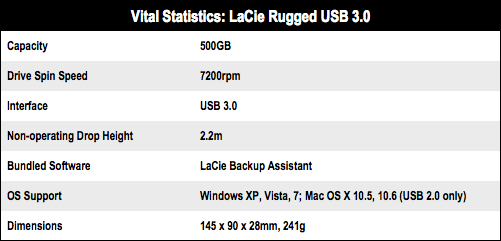 Bundled with the Rugged 3.0 is a one-year subscription to LaCie's Wuala online storage facility. This subscription offers 10GB of encrypted storage for backup and file sharing. Wuala also offer the ability to buy additional storage or even "trade local storage for online storage". I'd love to tell you what this means, but Wuala registration declined the review unit's serial number. Sorry.
CrystalDiskMark 3.0 64-bit Results
USB 3.0 vs USB 2.0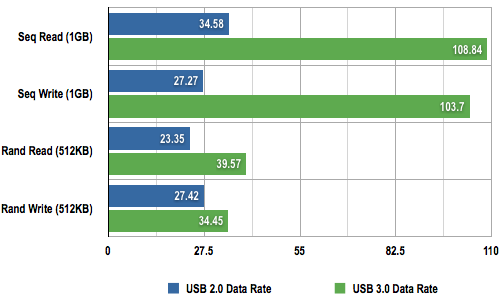 Data rates in Megabytes per Second (MB/s)
Longer bars are better
CrystalDiskMark 3.0 64-bit Results
LaCie vs Western Digital
USB 3.0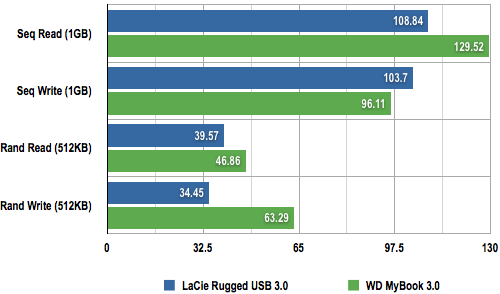 Data rates in Megabytes per Second (MB/s)
Longer bars are better
As demonstrated with the Western Digital MyBook 3.0 - reviewed here - USB 3.0 is of huge advantage over USB 2.0 and the figures prove once again that real-world speeds are indeed in line with LaCie's claims of "up to 110MB/s." There's no challenging it, the Rugged 3.0 is fast.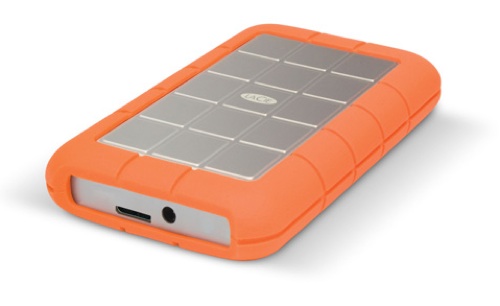 A very fast portable hard drive
Fast, yes, but being a 2.5in disk it falls behind WD's 3.5in MyBook 3.0 in all operations except the sequential write. Let's not forget though, that these are two different classes of hard disks, and both demonstrate the potential of USB 3.0 to a great extent.
It's not just transfer rates that matter, though. Last time Reg Hardware reviewed a USB 3.0 disk, several readers came back and asked about CPU usage in comparison to USB 2.0. It's well known that the USB standard has been greedy when it comes to processor cyles in past implementations.
So I'm pleased to report that throughout the benchmarking process in USB 3.0 mode, the LaCie Rugged drive peaked at around 10-12 per cent, but spent most time around 5-6 per cent CPU utilisation. In comparison, USB 2.0 taxed my poor Core 2 Duo E6850 up to around 30 per cent usage, with lows of 15-18 per cent.
Verdict
It's not as fast as Western Digital's offering, but that's the cost of losing the power brick and gaining true portability. Unfortunately that's not the only cost. At £134.99 for 500GB, it's a bit pricey, considering other 2.5" 500GB disks can be had at half the price. This begs the question; is your data twice as valuable and does it need to be transferred more than twice as fast? ®
More Portable Storage Reviews

Lexar
Echo ZE
Data
Locker
Buffalo
MicroStation
PNY Attaché
Original