Original URL: https://www.theregister.co.uk/2010/05/18/review_laptop_packard_bell_dot_s2/
Packard Bell dot S2
Outperforms the Acer it's based on?
Posted in Personal Tech, 18th May 2010 07:02 GMT
Review It's been a couple of years since Acer gobbled up Packard Bell as part of its quest for world domination, and the Taiwanese giant seems perfectly happy to continue churning out netbooks under both brands.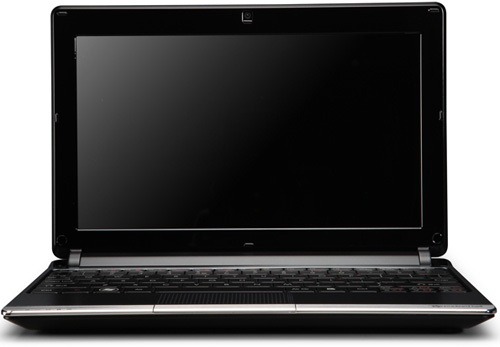 Another dotty netbook from Packard Bell
The dot S2 is the latest in a long line of slightly irritatingly-named Packard Bell netbooks and is the spitting image of Acer's Aspire One 532h. However, although very similar, the two aren't identical.
Available in three colours (red, white and black), the dot S2 features a glossy lid with the Packard Bell logo sat on a small, silver rectangle at the left. Inside, the heavily-glossed nature of the Aspire One 532h is ditched in favour of a more matt-based approach – the screen still has a glossy bezel, though.
The USB, VGA, Ethernet, card reader and audio ports are all placed in exactly the same locations as on the Acer 532h. There are, however, some subtle differences in the chassis design, such as the translucent power button that blends in neatly just above the top left corner of the keyboard.
There's a similar looking button on the right side, except that it's not actually a button at all. Instead, it's simply a light that illuminates when wireless is switched on – if you want to knock Wi-Fi on the head, you'll need to use the function key shortcut or disable it within Windows.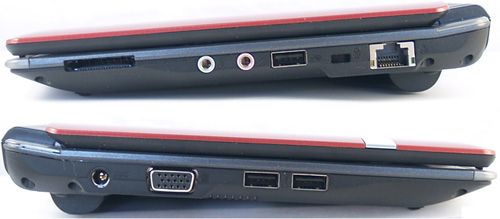 Nothing unusual here
The touchpad on the dot S2 is similar to that of the 532h and features the same miniature circular pads. Thankfully it doesn't share the 532h's glossy coating, which I found hampered usability no end. Again, the Dot S2 opts for a matt finish, making it far more finger-friendly. The low-profile keyboard, however, is identical to the Acer and, with the minimal spacing between keys, some people may find it just a little too cramped.
The screen – a standard 10.1in, 1,024 x 600 affair with an LED backlight – performs well. It even copes admirably outdoors, just as long as you can shield its glossy coating from reflections. There's no built-in Bluetooth with the dot S2, but you do get 802.11n wireless along with the standard 10/100 Ethernet port for wired connections.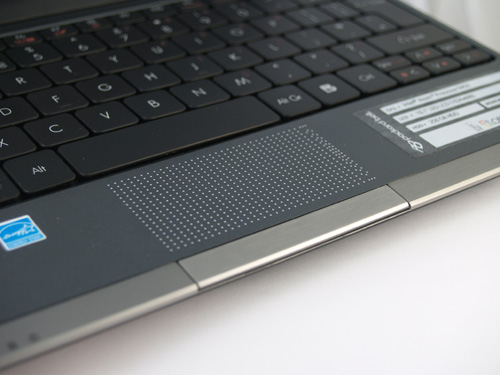 A nice, responsive touchpad
As with almost all recently-released netbooks, the dot S2 is driven by Intel's Pinetrail platform, which comprises the new Intel N450 Atom processor and integrated GMA 3150 graphics. Meanwhile, the 1GB of DDR2 memory is just about enough to keep Windows 7 Starter ticking along nicely.
As with the Acer 532h, just a few small screws need to be removed in order to access the hard drive, wireless card and memory slot. Given Acer had informed me the 532h wouldn't accept more than 1GB of memory, I expected the same limitation with the dot S2.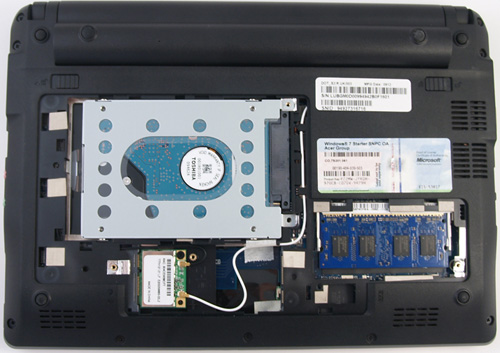 Easy-to-access internals
However, it appears some hardened Reg readers have managed to successfully perform a 2GB upgrade on the 532h, and Packard Bell also confirmed that a 2GB upgrade is indeed possible on the dot S2 – all of which is good to hear.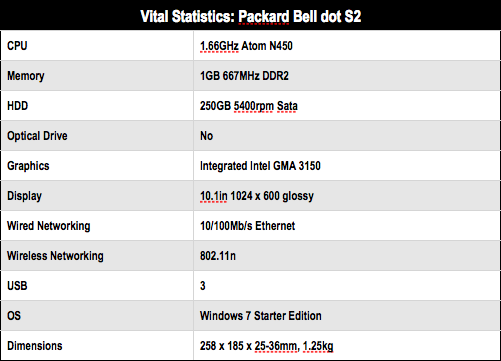 There were no shocks with regard to the dot S2's benchmark results, with its PCMark05 scores falling in line with other N450-driven netbooks.
Benchmark Tests
PCMark05 Results
CPU
Longer bars are better
Memory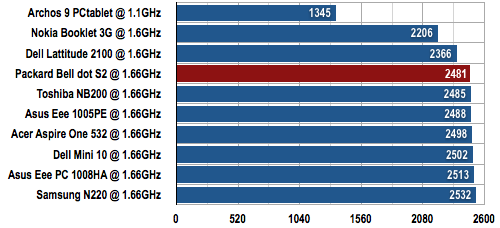 Longer bars are better
HDD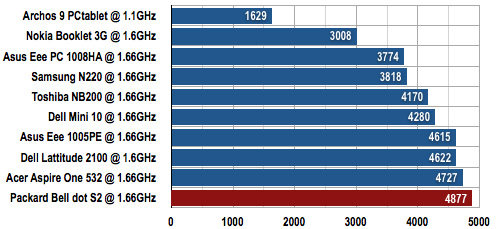 Longer bars are better
Video Loop Battery Life Test Results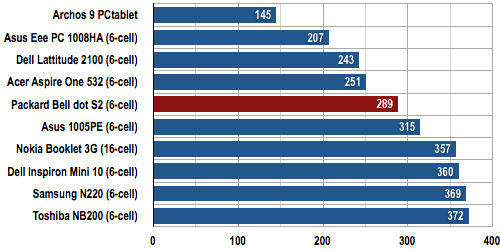 Battery life in minutes
Longer bars are better
After being promised lower power consumption with Intel's N450 processor, the Aspire One 532h's battery life of just over four hours was pretty disappointing. The dot S2 has the exact same six-cell battery (48Wh) but it appears to be a little less power-hungry, with our standard video-loop test running for 11 minutes shy of the five-hour mark. Batteries are fickle beasts and two identical units can often end up providing noticeably different uptime, but seeing this much of an improvement was a little surprising.
At 1.25kg and measuring 258 x 185 x 25-36mm, the dot S2 doesn't throw up any surprises as far as weight and dimensions go. Those with an eye for detail may be interested to hear it's a couple of millimetres thinner than the Acer 532h – everyone else can consider them the same size.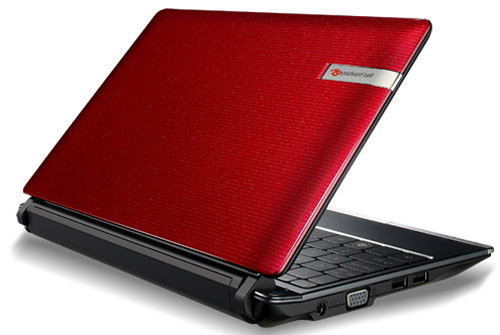 Glossy on the outside, matt in the middle
Bundled software on netbooks usually comprises little more than the ubiquitous MS Office 2007 and Norton trials, along with other assorted 'free' programs. In an attempt to stand out from the crowd, the dot S2 comes with something slightly more useful in the form of the full version of Adobe Photoshop Elements 7. Sure, it's not the latest release and can be picked up for under £30, but it's useful to have nonetheless. That said, with the limited resources available, it can be a little sluggish at times.
You'll also still need to spend some time wiping the usual array of bloatware off the dot S2's 250GB hard drive – yes, that includes Microsoft's ever-so-generous Office trial.
A few other extras are also thrown in, such as the XSync USB cable. This allows for quick and easy ad-hoc connections between the netbook and any other computers you may have – the idea being you can quickly shift files to and fro. There's also a soft neoprene case thrown in, which will help safeguard the dot S2 from picking up unsightly scratches.
Finally, it's worth mentioning that my test drive with Ubuntu proved successful – all the major components were recognised without the need to go hunting for drivers. There were some minor problems though, such as the SD card reader and multi-touch gestures on the touchpad refusing to play ball.
Verdict
Although the dot S2 is frighteningly similar to the Acer 532h, there are a few differences. The touchpad is an improvement and the extra bundled software a welcome bonus, while it also manages to out perform the Acer-branded version in terms of battery life. It's not enough to get a better score, though. I also can't help feeling that if Acer is to continue producing netbooks under the Packard Bell brand, it would do well to differentiate them from the Aspire One series a little more. ®
More Netbook Reviews…

Sony
Vaio M
Dell
Mini 10
Asus
Eee PC
1005PE
Nokia
Booklet 3G