Original URL: https://www.theregister.co.uk/2010/05/17/juniper_networks_3_2_1/
Juniper rolls out multi-product attack on Cisco
'We're the future. They're the past'
Posted in The Channel, 17th May 2010 23:52 GMT
Juniper Networks rolled out an aggressive set of hardware, software, and services Monday morning, and while doing so it accused networking megacompetitor Cisco Systems of being yesterday's news.
At a meeting with reporters and analysts Monday morning, Juniper CEO Kevin Johnson portrayed his company as the road to the future, and Cisco as stuck in the past.
Juniper's goal, Johnson explained, is to consign the old three-layer network architecture to the historical dustbin, replacing it today with a two-layer architecture and eventually flattening it entirely into a single-layer, omnidirectional fabric combining Ethernet, Fibre Channel and InfiniBand networks into a single fabric.
That effort - the Stratus Project - was uncloaked last February after being in stealth mode for over a year. Johnson didn't comment on when Stratus would hit the market, but the company has said it will appear in "the near future," and the single-tier, network fabric concept is firmly ensconced as the "1" in a new networking architecture it calls "3-2-1."
"We're at an inflection point. A transformation to what we would call the virtualized data center," Johnson told his audience. In his view of the data center landscape, the computing model has evolved, and now it's the network's turn.
"The networking model within a data center must evolve as well. It must evolve in a way that supports the virtualized data center," he said. "The legacy network approach in the data center can no longer scale to unleash the benefits of the virtualized data center. A new approach is required."
The first step in that new approach is to cut the layers down from three (access, aggregation, and core) to two (obviating aggregation). Or, as Johnson explained, to rid network architectures of the inefficiencies of network ports merely talking with other network ports rather than servers talking with servers.
Juniper began its effort to trim that third layer, said Johnson, when it introduced its EX product family in January of 2008. Now, he said, "We are the only network company now that's putting a stake in the ground to take customers to a single-tier network architecture."
While that single-tier Holy Grail is still just a promise, Johnson tossed about some figures that he claimed show the two-tier advantages over the three-tier competition - namely, Cisco.
When comparing what he claimed was a typical Cisco setup at a 500-server data center versus the same data center equipped with Juniper technology, Johnson said that the Juniper setup cost 20 per cent less due to the need for fewer managed devices and consumed 30 per cent less power.
He also compared two 4,600-server financial-services data centers. Unsurprisingly, the Juniper setup kicked Cisco's butt, in Johnson's view: latency dropped by 85 per cent even though the total cost of ownership was 38 per cent less.
In his final example of a 9,600-server data center, Johnson claimed that in a three-tier approach, 211 managed network devices were needed, but a two-tiered approach brought that number down to 41 managed devices. As a result, the two-tiered system saw a reduction in device-to-device interaction of 96 per cent, freeing up bandwidth for server-to-server communications.
Of course, these numbers are Juniper's claims and not results obtained by independent third-party benchmarkers - but even if they're anywhere near close to the truth, they're impressive.
Juniper cares
In addition to his discourse on the glories of the 3-2-1 networking-architecture roadmap, Johnson and his team also had a more prosaic purpose for inviting we few dozen observers to his company's campus - namely, the introduction of new products and services.
On the services side, Johnson introduced a new enterprise-level support service called Juniper Care Plus, which it will ramp up in the fourth quarter of the year. Enterprises will be provided with an individual Designated Service Manager, plus automation and migration tools, and training on the various components of Juniper's Junos network operating system.
On the hardware side, Juniper enterprise marketing VP Mike Banic introduced the new 48-port EX4500, an autosensing 10/1 Gigabit Ethernet switch that's an upgrade of - and interoperable with - the company's EX4200 switch, to be available this quarter.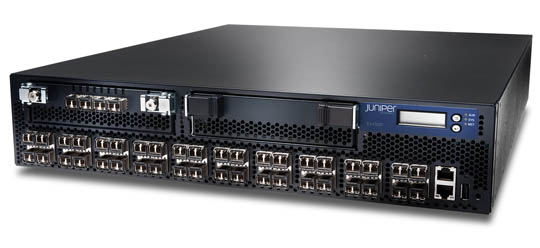 Juniper's new EX4500 10/1 Gigabit Ethernet switch
In another slap at Cisco, Banic noted that the EX4500 "includes layer-three software in the base license, a stark contrast to our competitor, the Cisco Nexus 5000, which doesn't offer layer-three at all." Banic also claimed that the EX4500 delivers five-times-lower latency than the Nexus 5000 while consuming half the power and costing about a fifth less.
Banic also introduced the EX8200-40XS line card, a 40-port, autosensing 10/1 Gigabit Ethernet card. "In contrast to our in-class competitor, the [Cisco] Nexus 7000," he said, "this new line card helps the 8200 [deliver] 25 per cent higher density in a single chassis, and two and a half times the density in a single rack...[at] 25 per cent lower cost per port." The card will be available in the third quarter of this year.
The final chunk of hardware introduced Monday was the MX80 3D router, a 3.5-inch edge router originally announced in October 2009.
A quartet of software announcements were made by Juniper's general manager of Junos Space, Mike Harding.
Virtual Control is an open, web-based app that integrates into VMware's vSphere to manage both physical and virtual networks. Virtual Control is designed, as Harding put it, to "attack one of the most annoying aspects of making the network aware of virtual machines, which is human error". It's scheduled to be available in the third quarter of this year.
The second software element Harding introduced was Ethernet Design, available today. Ethernet Design allows a network administrator to perform what Harding called "one-touch provisioning" for one to thousands of nodes, and to build custom and easy-to-apply profiles for such attributes as Quality of Service.
Number three, Security Design, is intended to bring security management to "mere mortals", in Harding's words, and number four, Service Insight, is "all about detecting risk, and allowing our customers and our partners to take action on the basis of having the right information at the right time to avoid outages and problems all together".
To find out how well Service Insight lives up to that grand promise, we'll have to wait until the third quarter. Security Design will be available this quarter.
Juniper's final announcement at the Monday event was a new "dynamic security model" that includes AppTrack and AppSecure software for the company's SRX Series Services Gateways to provide app-level security and protection against distributed denial-of-service attack, plus Junos Space Security Design software and what the company calls "deep malware protection" through a new partnership with FireEye.
As we said earlier, Juniper's announcements add up to an aggressive push, and the company's frequent comparisons of its new products and initiatives to one and only one competitor make it clear that it's aiming its sights just a few miles east at 170 West Tasman Drive in San José, California. ®