Original URL: http://www.theregister.co.uk/2010/05/17/games_review_lost_planet_2/
Lost Planet 2
So-so shooter
Posted in Personal Tech, 17th May 2010 12:49 GMT
Review Red-Eye, the Railway Gun, or just Episode 3, Chapter 3. Call it what you want, but you won't find a more defining moment in Lost Planet 2. It's a level that will stick in the mind for a long time to come - unfortunately for all the wrong reasons.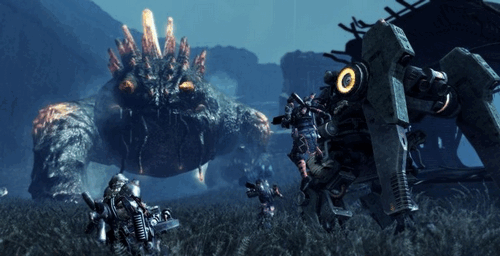 We need a frog grenade
Around an hour in length, it's typical of the game's other chapters. Furious gunfights against hundreds of enemies, turrets and helicopters are nothing unusual in this, or indeed numerous other games. And the end-of-level boss, Red-Eye, a gigantic sand-burrowing worm, although impressive, is hardly noteworthy considering you've seen it all before in Tremors and, more precisely, Dune.
What really makes this level stick in the mind is just how frustratingly broken gameplay is. Every time one of your team is knocked off the train (and you'd be surprised how many ways it can happen), your Battle Gauge, a pooled resource, is depleted. Fall off four or five times and it's game over. It can take several re-tries to work out the best way to prevent falling off, which wouldn't be such a bad thing but for the fact that you have to repeat the level from the start to do so.
More frustrating, when playing co-op online with human team mates you're unable to skip introductory cut scenes, so it's a two-minute wait before you can start to be knocked off the train again. And so it boils down to: if at first you don't succeed, die, die again.
Any sense of relief at finally negotiating the train is short lived. The arrival of Red-Eye brings about it one of the most convoluted, confusing and ill-thought out boss battles in the history of videogames.
Of course, Capcom has previous when it comes to tough bosses, but you'll find the English language sorely lacking expletives to accompany the teeth-grinding and pad-hurling this encounter elicits.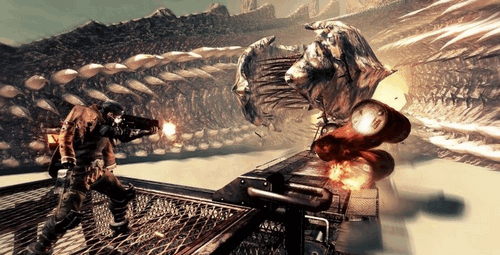 Slick shot
infuriating boss encounter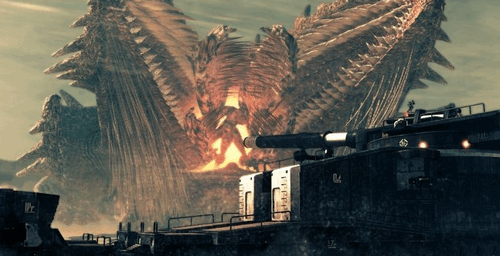 Drag queens can be quite fiery beasts sometimes
In truth, it's a little unfair to single out Red-Eye as the game's greatest flaw. It's neither first nor last infuriating boss encounter, each of which, when mastered, can take around 20 minutes or so to complete. And the woefully punitive outcome of falling of the train is repeated elsewhere under several different guises.
This is due in no small part to the structure of episodes and chapters. Each episode is broken down into missions, but you can only save at the end of chapters. Quitting after completing individual missions forces a replay for you to progress. This is ill-suited to a title where the main focus is online, and by now must have caused outbreaks of cindered toast and bursting bladders the world over.
To compound matters, the game prevents joining co-op campaigns mid-chapter, so lobby wait times can be excruciating; and if any of your party bugs out mid-chapter, you're left to complete it with reduced firepower, which often leads to mission failure and another restart to entire chapters.
If you're really frustrated by online co-op, you can take it offline, where human team mates are replaced by AI. Without anyone to share the spoils, single-player is definitely the place to rack up points and awards. In fact, you might as well be playing on your own for all the good the AI is. Your bot-mates are as interested in doing anything as a bunch of teenagers hanging around in the park. Capricious to the extreme, they'll only fire occasionally at enemies, and you can forget about them trying to open doors or save points.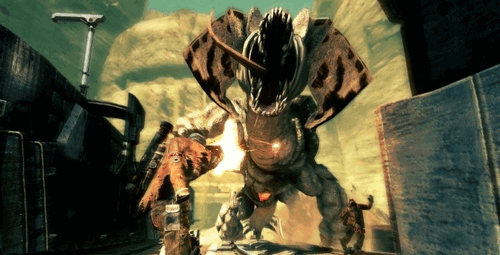 Lick a shot
Elsewhere in gameplay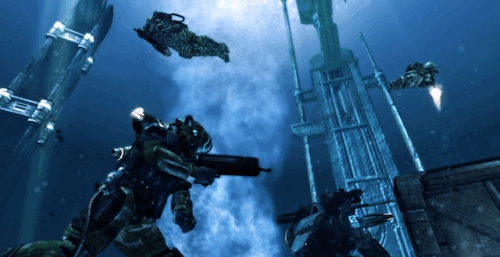 Scuba die
Elsewhere in gameplay, things fare little better. For ever one thing Capcom gets right, it gets two or more wrong. Aesthetically, Lost Planet 2 is varied but underwhelming, save the lush vegetation of the forest level. And industrial complexes, underwater sections and a return to the original's frozen tundra prove bland and uninteresting.
The developers have not only failed to improve upon the original's controls, but have introduced some unwelcome additions. In shoehorning mechanics from Western games, such as Gears of War's Roadie Run, they haven't considered the impact upon the balance of gameplay. Running is only marginally faster than at regular pace, and nigh-on useless in many of the game's tight corridors and platform sections; and your run is broken every time you're shot, forcing you to depress the button again.
Re-healing yourself, another new addition, is equally troublesome. Being hit by larger weapons, such as rockets, has a habit of depleting your energy to an almost imperceptible slither, while simultaneously knocking you down onto the ground for an excessive length of time. By the time you're up on your feet, you're desperately trying to hold the Start Button (hardly an appropriate button choice) before you're hit by the next projectile and killed outright.
Grappling completes the long list of hit and miss. Although essential (and fun) in certain sections, it can't be used when jumping, and so further breaks the flow of control.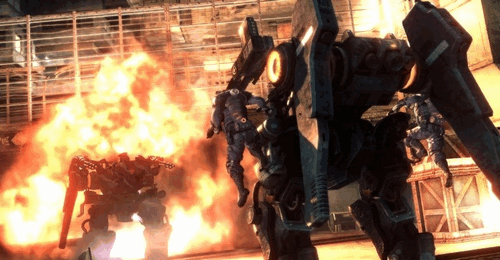 Shoot from the hip
Weapons are probably the game's only high-point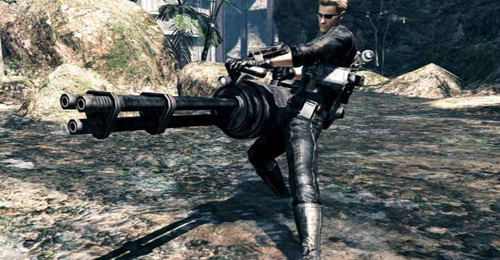 The not so Mini-gun
Weapons are probably the game's only high-point. It's always fun to step into one of the Virtual Suit (VS) mechs, or wield a giant Gattling gun. But even here the developers have ended up with a 'more is less' outcome. Only occasionally is there a need to favour one weapon over another. With the right tactics, enemy VSs or Akrids, the planet's deadly fauna, can be taken down with the most rudimentary of weapons.
Lost Planet 2's control issues and weaponry combine to severely limit enjoyment in its other mode, competitive multiplayer, which differs little from the original. These imbalances severely limit both instant appeal and longevity, especially in a marketplace brimming with vastly superior online frag-fests.
Rounding things off appropriately, the plot is even more incoherent than its predecess. And, worse still, Capcom appears to have made another Resident Evil 5 style cock-up in understanding cultural and racial sensitivities.
Where they could reasonably argue controversy over that game's black-only enemies was misplaced, owing to its setting in Africa, less excuse can be found late in the bizarrely placed Speedy Gonzales-style intonation of the Space Pirates towards the end of the game.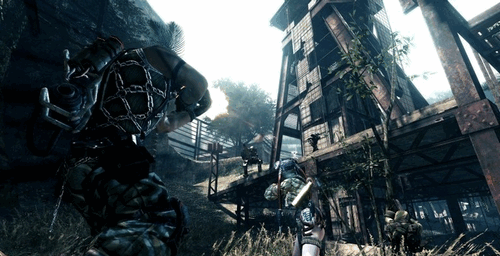 Shooting up caused death
Verdict
Video games have a long history of diminishing returns when it comes to sequels. And while it's difficult enough to improve a really good game, Lost Planet 2 proves it's almost impossible to improve an utterly average one. ®
More Games Reviews

Alan
Wake
Dead to Rights:
Retribution
Tom Clancy's
Splinter Cell:
Conviction
Heavy
Rain