Original URL: https://www.theregister.co.uk/2010/05/14/review_media_player_viewsonic/
Viewsonic VMP74 1080p media player
You want codecs? It's got 'em
Posted in Personal Tech, 14th May 2010 12:27 GMT
Review For most of this century, I've evangelised home movie set-ups that put a lightweight, probably Linux-based player in the living room, leaving your multimedia libraries on a server at the other end of your network.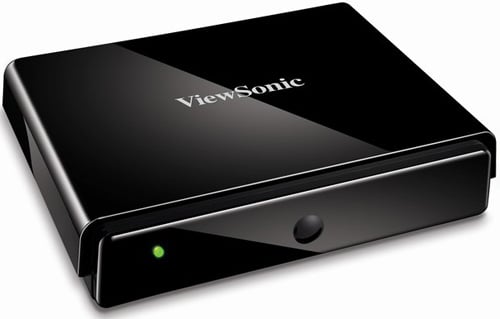 Viewsonic's VMP74: compact casing - but what a lot of codecs it contains
My favorite player has always been the Pinnacle ShowCenter, a pioneering device that lost its way in the market when five years ago Pinnacle fell into the insensitive clutches of the Avid Corporation. The ShowCenter's video decoding capability, alas, stops with the now ageing H.263 (XViD, etc) codecs. To carry me forward into the era of H.264, Viewsonic's new VMP74 might just be the proposition I'm looking for.
While the older generation of players like the ShowCenter tended to favour traditional hi-fi form factors - although this left them filled mostly with air - the VMP74 is less than 30mm in height, around 130mm wide and 100mm deep.
There's no wireless connection, but any device like this that pushes out true HD would probably struggle to suck in 1080p input over the air. My ShowCenter - it maxed out at 720p - was never convincing over 802.11g, so I don't see the Viewsonic's wired-only LAN link as an important limitation.
The huge spectrum of codec specifications is down to the talents of the Sigma Designs SMP8654AD processor. This extraordinary single chip not only decompresses video and audio, with post-processing functions like deinterlacing and deblocking, but also handles the Ethernet and the USB. The VMP74 has a pair of USB connectors at the rear, one of them doubling as an eSata port. And, yes, the Sigma chip takes care of the eSata protocol too.

Good range of ports - but component-video would be handy
Oh, and it also negotiates "a wide variety of Digital Rights Management solutions", which should be reassuring to those of you who are gagging to play content-protected WMV 9 files.
The HD video output - an HDMI 1.3 connector which includes Dolby Digital Audio - is supplemented by a get-you-home AV 3.5mm socket that does analogue audio and composite video. My Hitachi projector doesn't handle HDMI audio, so I use the alternative S/PDIF optical audio out to feed my Harman Kardon AVR 630 directly. I would've liked more options - component-video out would have made the VMP74 play better with older kit.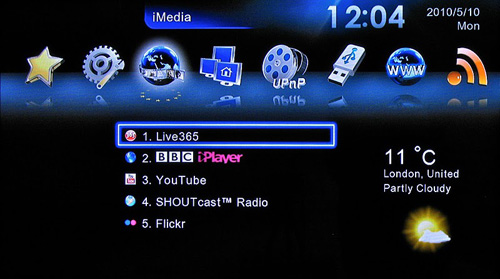 Nice UI - but it's a shame iPlayer doesn't work yet
That's the nuts and bolts, but what does this thing actually do? It'll display movies, music and pictures from a plugged in USB drive or streamed to it over UPnP, or, if you're not running a UPnP server, it can also - allegedly, but see below - collect them from Windows shares using the SMB/CIFS protocol.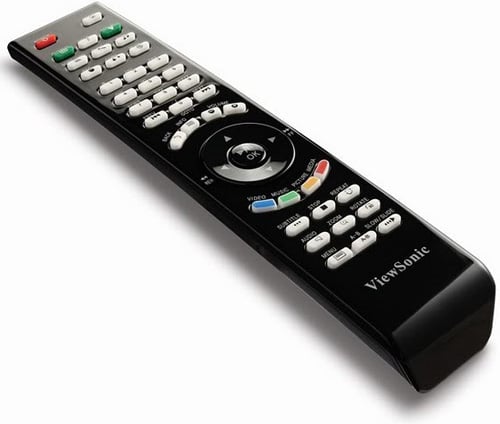 The remote's not bad either
I tested it with MOV, MP4, AVI and MKV container formats, with a variety of encodings inside, and they all worked without a hitch.
Through your LAN it can also reach out onto the internet to deliver YouTube to your living room screen. Shoutcast and Live365 Internet radio too, along with the Flickr photo site. The BBC iPlayer also appears in the same list, although it turns out to be "Coming Soon" when you try to access it.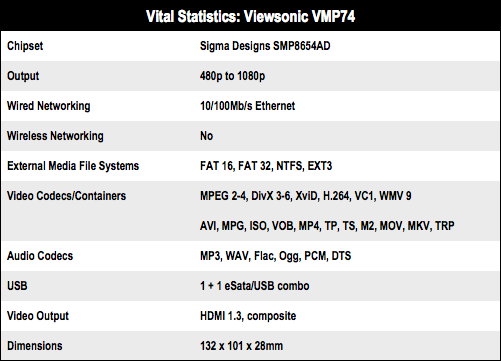 There's a Web browser too, although I don't think I'll be using it much. There's no Flash, and too many misformatted pages. I found it a real struggle to navigate with the remote-driven mouse that crawls around the page and then suddenly chooses to hop from button to button.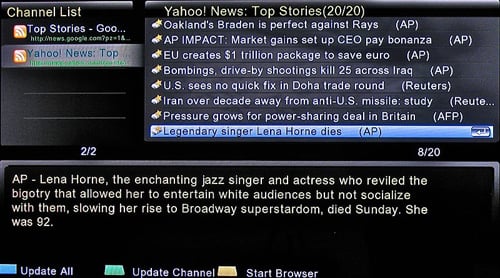 A very usable RSS interface delivers world news to your living room.
For Web news though, adjacent to the Web icon on the main menu is an icon for RSS. By default, this is set to the Google and Yahoo! News feeds, but you can add your own feeds to taste. If the feed story is continued on a Web page, a single press of a button will take you there.
You can improve the Web navigation by plugging a USB mouse and keyboard into the VMP74. Alternatively, the remote control button marked SORT/EPG will pop up a virtual Qwerty keyboard. When you're accessing YouTube, the same key offers a simple sort of the clip titles, and you only get the keyboard when you visit the Search icon. This keyboard, however, is alphabetic rather than Qwerty.
The same alphabetic keyboard turns up when you're trying to set up Samba Client Access (SMB). Here I have to confess defeat - my samba servers show up on the VMP74 but I can't access their content. The otherwise helpful built-in manual - found under Settings - simply says tersely: "As long as the network is linked and no firewall is blocking shares from remote sites, there is no additional set-up to enable this feature." Which probably means password-protected Samba shares (like mine) can't be accessed.
Verdict
Excellent at its main job as a UPnP client, great for YouTube in the living room, and a decent RSS viewer, the Viewsonic VMP74 is overall an impressive adjunct to your HD TV or projector. I understand that new firmware is on its way to bring BBC iPlayer to life - and hopefully improve the browser and fix the Samba problem - but even without it the device suggests itself as a very worthy successor to my faithful ShowCenter. Only the similarly capable but much cheaper (£50) Hisense 1080p Media Player - reviewed here - stops it scoring more highly. ®
More Media Player Reviews

Hisense
1080p
Media Player
Western
Digital
WD TV
Popcorn
Hour
C-200
Conceptronic
Grab'n'Go