Original URL: http://www.theregister.co.uk/2010/05/13/ten_essential_freeware_mac_apps/
Ten free apps to install on every new Mac
Freeware to fill in the gaps
Posted in Personal Tech, 13th May 2010 07:02 GMT
Product Round-up Apple provides plenty of free software to get you started with a new Mac. But there are some gaps, and a number of the firm's own freebies have been improved upon by some equally inexpensive alternatives. Here, then, is our selection of the ten apps you should download onto every new Mac you buy.

Adium
Adium is the multi-service instant messaging client par excellence. It's ready to connect to dozens of chat networks, including MSN, Yahoo!, ICQ, AIM, IRC and Google Talk, yet integrates them all into a clear, faff-free user interface, allowing you to converse with chums and colleagues without having to remember which network they're on. It integrates with Mac OS X's own Address Book.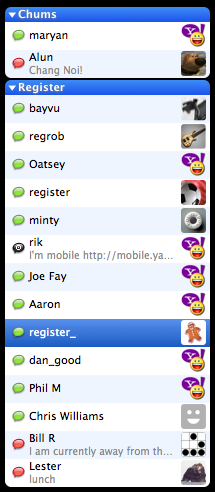 ---

Reg Rating 80
Price Free
Download Reg Downloads
More Info Adium

Skype
Skype is the de facto standard for making voice and video calls over the internet. Talking to friends and family is free if they use Skype too, but you can also use it to call mobile phones and landlines at a fraction of the rate the major network operators charge, especially if you're calling overseas. Or, as we do, to ring home from hotel rooms when we're travelling. The only thing you can't do is rely on it to make emergency calls - no broadband, no phoning. But for everyday use, it's unsurpassed.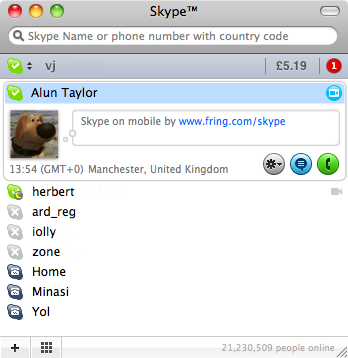 ---

Reg Rating 80
Price Free
Download Reg Downloads
More Info Skype

VLC
More formally known as the VideoLan Client, VLC is arguably the most format friendly media player you can download. The number of audio and video codecs it supports is phenomenal - both well known and obscure - and you can be sure that if other players shrug their shoulders at a difficult file, VLC will roll up its sleeves and get working. And it'll work with files created beyond the Mac: digital TV data pulled from your set-top box? No problem.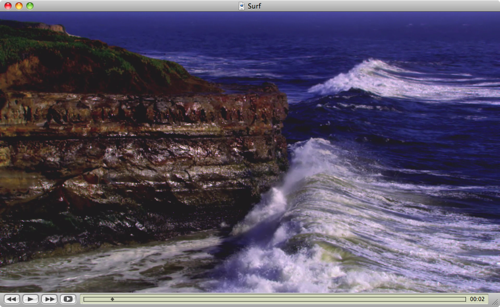 ---

Reg Rating 90
Price Free
Download Reg Downloads
More Info VideoLan Project

Squared 5 MPEG Streamclip
MPEG Streamclip does for media transcoding what VLC does for playback. It supports dozens of media container formats and codecs, and allows you to convert them from one to the other. And if there's a QuickTime plug-in for other formats, it'll work with them too - and with transcode accelerators like Elgato's Turbo.264 HD - reviewed here. All of which is just what you need to prepares video content for iPod, iPhone or Apple TV playback.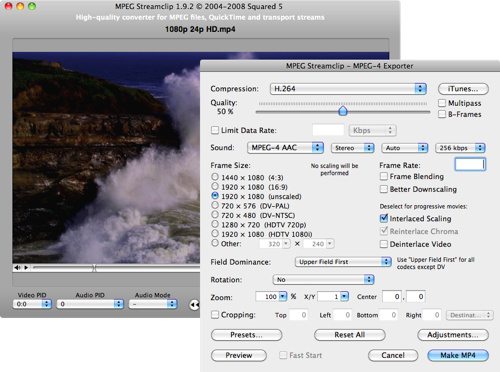 ---

Reg Rating 80
Price Free
Download Reg Downloads
More Info Squared 5

Monolingual
Almost all Mac apps incorporate support for languages the World over, allowing every piece of software to be displayed in your native tongue, no matter what it is. But do you really need all the others? And wouldn't you rather have the disk space they take up to use for files that matter to you? Sure you would, and Monolingual will get it for you. It will read through apps, library files and so forth, deleting the language packs you don't need. Use it regularly - we do.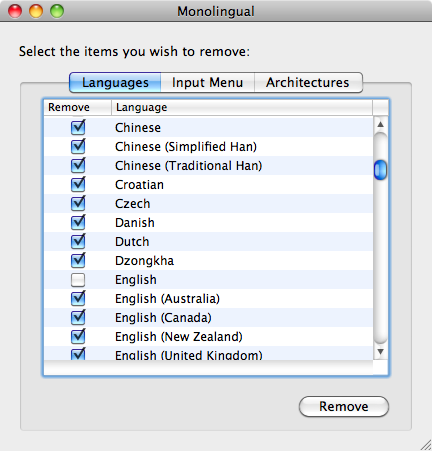 ---

Reg Rating 75
Price Free
More Info and Download Monolingual

OmniGroup OmniDiskSweeper
Yes, it's name is a mouthful, but this handy utility provides you with a readout of everything that's stored on your hard drive and where it is - including folders usually hidden by the Finder. Scan your drive and you can quickly see which folders are packed with files, photos, videos or tunes you no longer need, and, at the click of a button, you can delete them to make room for other stuff. This handy tool makes de-cluttering your drive a very straightforward process indeed.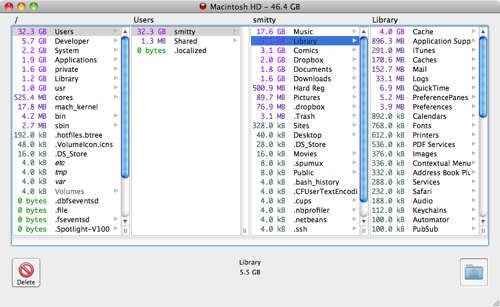 ---

Reg Rating 70
Price Free
More Info and Download OmniGroup

TinkerTool
Mac OS X's own applications and System Preferences utility provide you with a wealth of settings you can tweak to suit your needs and desires. But they don't give you access to all of their options. Want a standard 2D Dock, for example, instead of the 3D one Apple sets as the default? You can have it, if you know where to look. Now, you could edit the .plist files used to record application and OS settings, but TinkerTool is so much easier to use than that. It presents all these 'hidden' preference settings for Finder, the Dock, specific applications such as Safari and Address Book, and even Snow Leopard-specific items. Download this and set up Mac OS X the way you want it.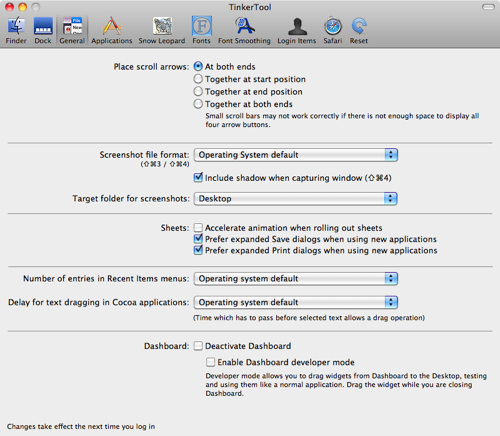 ---

Reg Rating 80
Price Free
More Info and Download Marcel Bresink

Burn
Burn doesn't provide too many features that Mac OS X lacks, but it does have the strength of bringing them together into one single place that can become your one-stop shop for optical disc writing. We've used Burn to create operating system install discs from ISO images and for making single-movie DVDs, but it'll do a lot more besides, with sections for Data, Audio and Video discs. It's rock solid and gives you full control over the burning process. We don't burn discs with anything else.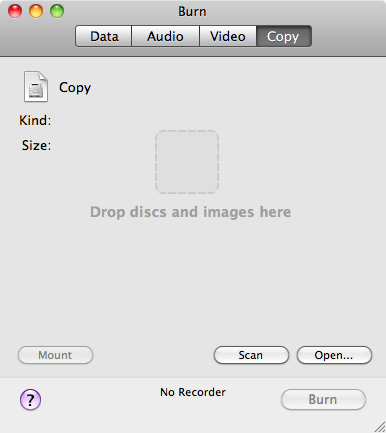 ---

Reg Rating 75
Price Free
More Info and Download Burn

Stuffit Expander
Stuffit Expander has been the Mac file compression and decompression tool for decades. These days, its proprietary .SIT format is less popular than the open .ZIP system - which Mac OS X supports natively - but SE is still handy to decode a raft of widely used compression formats: .TAR, .RAR, .CBZ and .CBR, for example. Only an unnecessarily tiresome register-to-download acquisition process stops us rating this handy tool more highly.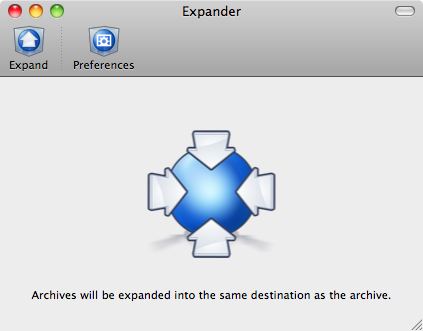 ---

Reg Rating 65
Price Free
More Info and Download Smith Micro

Carbon Copy Cloner
Mac OS X's Time Machine feature is a great automated back-up system that will meet most users' needs. If your Mac's hard drive goes tits up - God forbid - it will restore your data on to a new machine or rebuilt system. But you will have to reinstall all your apps and, if you're rebuilding, the OS too. Mike Bombich's Carbon Copy Cloner allows you to copy everything - the entire HDD bit for bit - making restorations much more straightforward. It has plenty of back-up options too, including back-up to another Mac across a network, all useful if you have very specific back-up needs Time Machine won't meet. Even if TM does, CCC is the best way of migrating from Mac to Mac.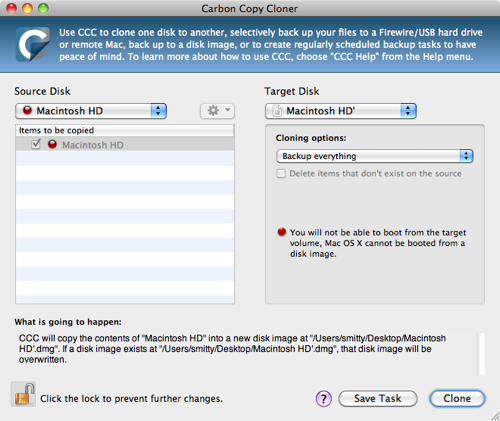 ---

Reg Rating 75
Price Free
More Info and Download Bombich Software