Original URL: http://www.theregister.co.uk/2010/05/12/review_storage_lexar_echo_ze/
Lexar Echo ZE ultra-compact backup drive
Backup you can just forget about?
Posted in Personal Tech, 12th May 2010 15:02 GMT
Review Solid-state storage specialist Lexar, aware that computer users tend not to be very good at maintaining regular backups of their data, has introduced a product line, called Echo, to take the task off users' shoulders.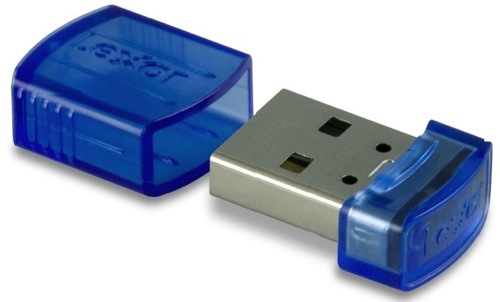 Lexar's Echo ZE: world's smallest backup drive?
The big drag in backing up a computer, particularly if it's a laptop or netbook, is that you have to remember regularly to hook up the external hard drive you keep your backed up files on. Yes, there's the wireless approach too, but hold that thought for the moment.
Lexar's thinking is that, if connecting a hard drive is inconvenient, it should make a backup drive that's so small you can leave it in place. Ergo, you don't need remember to connect it up and you can happily set your backup software to work automatically safe in the knowledge the drive will always be there.
Now it seems to me there's a problem here. While you might well keep a back up of your data in case your machine's hard drive goes belly up, you also do it in case your computer gets nicked or - if you're a government employee, perhaps - left behind in a seedy drinking den.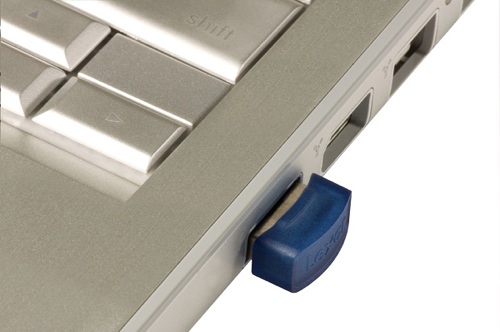 Keep it connected to your laptop
If that happens, you can simply reach for your back-up drive and... er... no, you can't, because it's still sitting in the USB port of the machine that's even now being offered on eBay to all comers.
Lexar, what is the point of offering a back-up drive that's so invisible to the user it defeats the object of having a backup drive in the first place?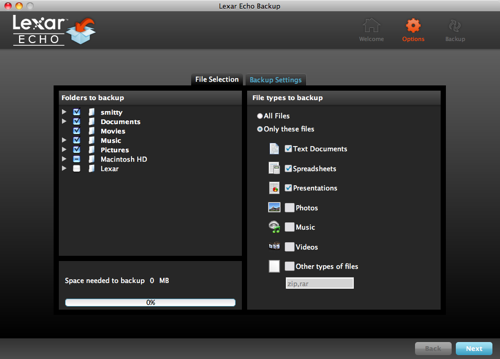 The bundled backup app does the job
Lexar has two drives in the Echo line: the 32GB ZE and the 64GB SE. To be fair, the SE doesn't suffer from the same 'forget about it' problem that the ZE does - it's a standard-sized USB stick, but it too has the downside that it's not big enough for a full backup. Even netbooks come with 256GB hard drives these days and they're surprisingly easy to fill.
Both types of Echo contain auto-backup software for Windows XP, Vista and 7, and Mac OS X 10.5 and up. The program works reasonably well, allowing you to choose whether you want the files copied across as they are, or encrypted and password protected first.
You can opt to backup the entire drive, specific folders and/or specific file types. You can keep multiple versions of each file too, storage space permitting. Recovery is a matter of locating the backed up file in the hierarchy and restoring to the original location or a new one.

Screenshots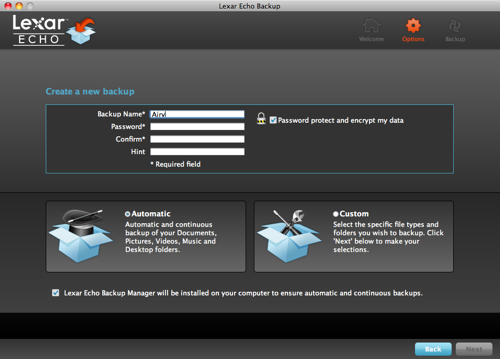 Backups can be straightforward file and folder copies, or encrypted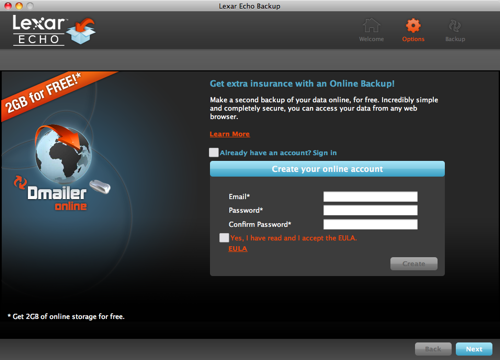 Irritating up-sell opportunity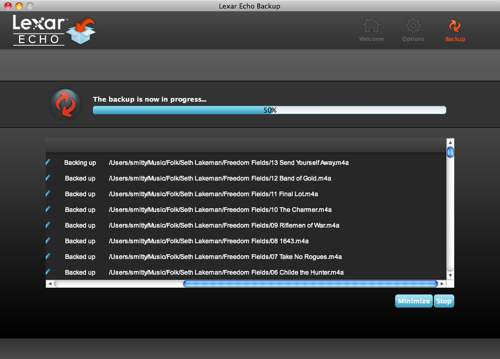 Backup isn't fast, but at least it's a background task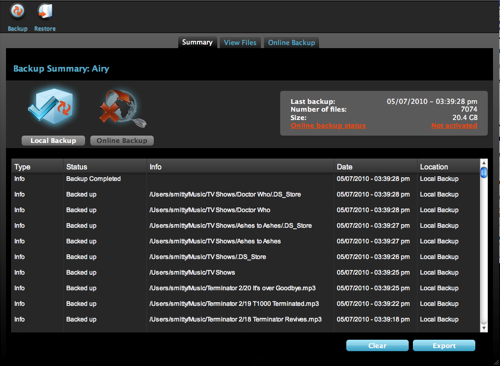 And you're done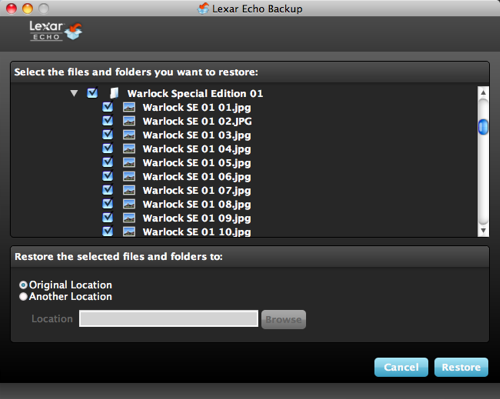 Recovery is a 'select then restore' process
It works, but it's basic and not a patch on, say, Mac OS X's Time Machine or many Windows freeware backup apps.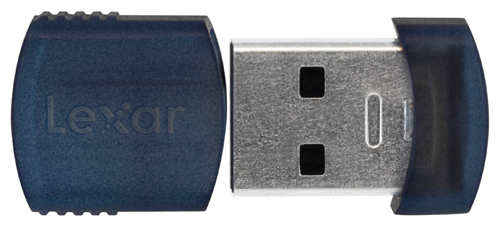 Compact
The software itself comes from French online storage company Dmailer. It encourages you to open an account with Dmailer, though this isn't mandatory.
The good news is that if you don't care for the backup software, you can simply delete it and use the Echo as a regular Flash drive or as a place to keep TrueCrypt-protected archives. Speed-wise the ZE is an average USB Flash drive: passable sequential read and write speeds, according to CrystalDiskMark 3, but relatively poor random write performance.
And if you really want an automatic, 'invisible' backup that's safer, invest in a drive you can connect to your wireless router and a backup app that's network aware.
Verdict
Lexar wants £93 for the 32GB Echo ZE - around twice the price of 'ordinary' 32GB Flash drives. While the ZE is undeniably cute, you can buy a 640GB 2.5in external hard drive for that and have change - and backup capacity - to spare. Yes, it makes backup a bit more of a hassle, but how much value is easy backup if it's as easy to lose as the ZE? ®
More Media External Storage Reviews

Data
Locker
1TB
Buffalo
MicroStation
ssd
WD
My Book
USB 3.0
Group Test
Fast USB
Flash drives