Original URL: http://www.theregister.co.uk/2010/05/12/review_cowon_iaudio_v5/
Cowon iAudio V5 HD media player
PMP my ride...
Posted in Personal Tech, 12th May 2010 07:02 GMT
Review As regular readers will know, I have a fondness for Cowon PMPs. The combination of comprehensive codec support and excellent playback found in devices like the A3, S9 and O2 has convinced me that if top notch audio and video quality is your chief desire, Cowon is the place to spend your money.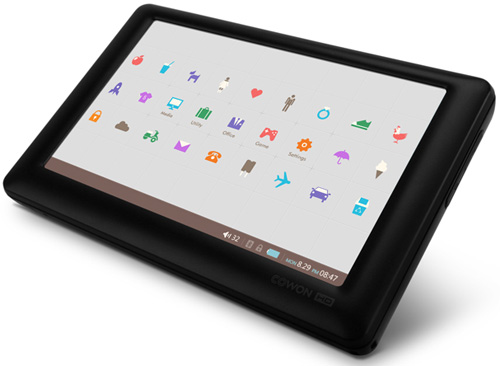 Cowon's iAudio V5: you want codecs, it's got 'em
Physically, the V5 closely resembles the old O2 but whereas the latter only had a 4.3in, 480 x 272 screen, the V5 has an altogether more impressive 4.8in, 800 x 480 panel. Despite the extra half inch it has added to the screen, Cowon has done a good job at keeping the size and weight of the V5 in check. It's just a little wider and taller than the O2 but thinner and lighter.
The glossy LCD is bright, vivid and has a full 16.7 million colour palette. If I had to pick a hole, it would be the sensitivity to viewing angle, which is rather poor when rotated about the horizontal axis. Otherwise it's a superb bit of kit.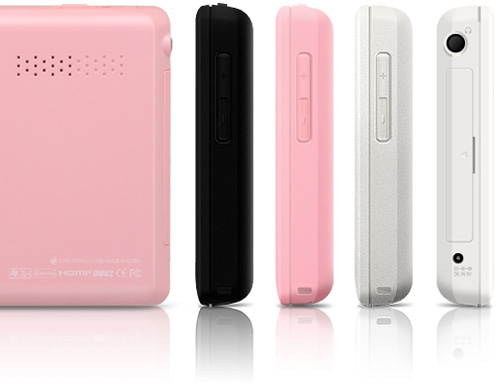 The V5 comes in a range of colours
External controls and ports include a volume rocker on the right, an on/off/lock slider at the top and a flip-down panel on the left that conceals an SD card slot and a proprietary data port for which Cowon supplies a USB adaptor. The flip-down cover is flanked by a 3.5mm audio socket and a power jack. You can only re-charge the V5 with its power adapter only, so remember to pack it when you travel.
The V5 runs Windows CE 6.0 which may not be the most visually attractive of operating systems but it provides a stable platform for Cowon's fast and fluid UI. The user interface proves that resistive touchscreens don't necessarily have to be less satisfying to use than their capacitive brethren.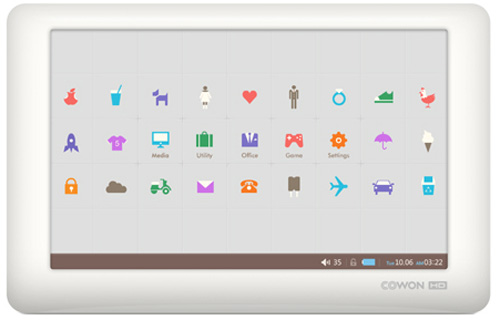 The main menu buttons are finger friendly
The home screen may be a bit too Asian-cutesy for Western tastes - all the icons bar the five central ones do nothing more than provide animated decoration, for example - but the main menu buttons are finger friendly. Some of the lower-level controls are perhaps just a little on the small side but they didn't cause me any problems.
Cowon supplies a paddle-like stylus that attaches to the wrist strap should you require it, but you'll only need it should you go snooping around the Windows CE desktop.
The menu structure is very similar that of the O2, which itself wasn't much more than a touchscreen update of the A3, so things are a little basic and some operations require more touches of the screen than should strictly be necessary.

And if you want to feed it to a horse...
The UI isn't devoid of useful features, though. The tab on the video and audio progress bars makes it very easy to shuttle through long files, while the video bookmark facility is very easy to use. A handy letter M in the top left-hand corner of the screen ensures that the main menu is never more than a single tap away.
Cowon tends not to skimp on file support, and the V5 will play AVI, WMV, ASF, MKV, MPEG 4, DAT, TS, TP, TRP, M2TS, 3GP, DivX, Xvid and H.264 video files along with MP3, WMA, OGG, WAV, ASF, FLAC, TTA, APE, MPC and WavPack audio. It also handles JPEG, BMP, GIF, PNG, TIF and RAW picture files. The only obvious things missing from those lists are QuickTime MOV and AAC.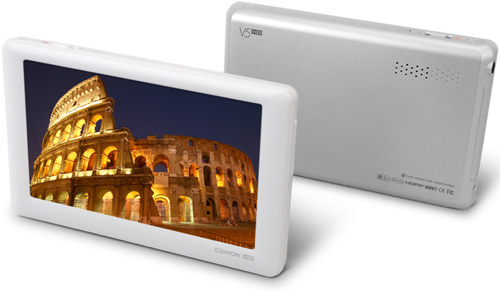 Audio quality is quite simply excellent
If you have a stack of MOV files lying about odds on you already own an iPod Touch, but the absence of support for AAC as a music format rather than a video soundtrack codec is annoying. Video resolutions are supported up to and including 720p HD, and fans of world cinema will be happy to know the V5 also supports SRT subtitle files.
To put the V5 through its paces, I loaded up a 720p H.264 copy of Nightwish's End of an Era concert, kicked back and promptly had my socks blown off. The video was as clear as crystal while the sound was rich, punchy and perfectly balanced. Unplug the headphones and the V5's single speaker doesn't do a bad job either.
The gig continued to look and sound good when I piped the AV feed through a 50in plasma using an HDMI adaptor I happened to find in my magic box of cables.
Music playback quality is quite simply excellent. Cowon's Jet Effect 3.0 and BBE+ acoustic adjustment effects provide a wealth of opportunities to fiddle with the V5's soundscape, and include some new and impressive reverb enhancers.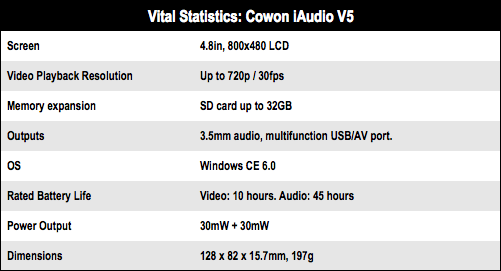 On the downside, the V5 doesn't support ID3 tags or provide gapless playback. You can't import playlists, though you can set up a single on-board list of favourite files. The V5 doesn't present files stored internally and those on an SD card as a coherent whole. There is no DRM support, so you can forget watching BBC iPlayer downloads.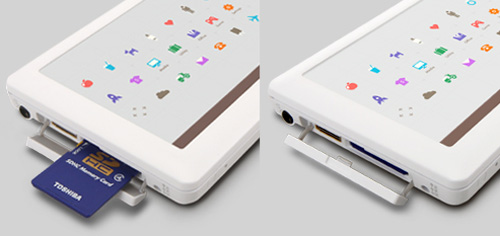 The V5 will take cards of up to 32GB capacity
The V5 is available with either 8, 16 or 32GB of Flash storage, and the SD card slot is good for up to another 32GB. Other features include both voice and AV recording facilities, a world clock, unit converter, calculator, note taking application, document viewer, Flash player and a couple of games.
Cowon reckons a fully charged V5 will pony up 45 hours of music playback or ten of video. The best I managed to get playing an H.264 video in a continuous loop was 8 hours 35 which is still pretty impressive.
The 32GB V5 will set you back £309 while the 16 and 8GB models cost £249 and £219, respectively - not unreasonable when compared to Apple's iPod Touch, which, for £306, comes with 64GB of storage but a much smaller screen. Yes, the Touch has Wi-Fi and a web browser and a host of games and apps but it can't hold a candle to the V5 in terms of video or audio fidelity which is surely the point of a good PMP.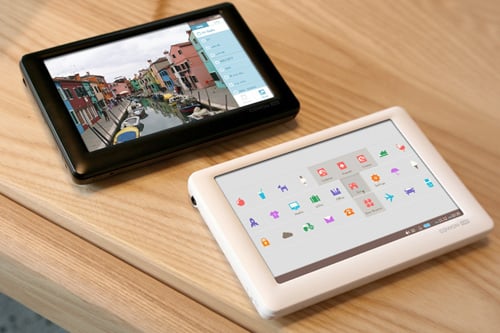 Doesn't matter if it's black or white
Verdict
The V5 isn't cheap but you are getting one heck of a portable media player for your money, one with superb audio performance, great video format support and a superb quality screen. The menu structure is antediluvian and the lack of playlist support irks, but you'll forget about those niggles once you start watching a decent-resolution video. ®
Thanks to Advanced MP3 Players for the review sample.
More Media Player Reviews

Samsung
YP-R1
Archos
5
Sony
Walkman
NWZ-S544
Apple
iPod Touch