Original URL: https://www.theregister.co.uk/2010/05/11/grouptest_mobile_broadband_best_buys/
Mobile Broadband Best Buys
Posted in Networks, 11th May 2010 07:02 GMT
Group Test So how did each of the major mobile broadband providers perform?
The charts below show you the average upload and download speeds I measured at each location. To recap, I used Speedtest.net, turned off the computer's firewall and performed three tests in succession, averaging the result.
Test Results
Test Site A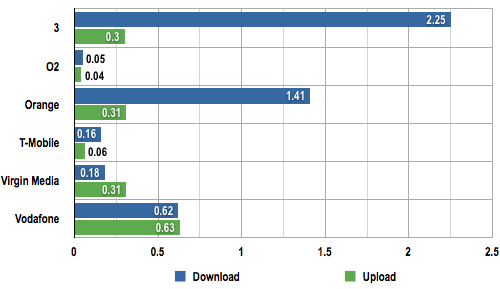 Bandwidth in Megabytes per Second (MB/s)
Longer bars are better
Test Site B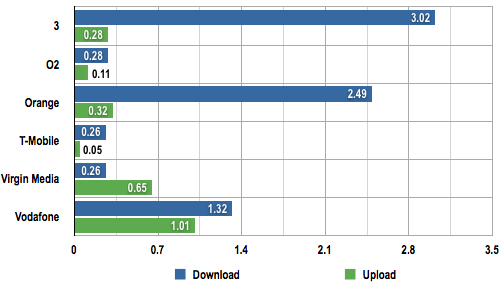 Bandwidth in Megabytes per Second (MB/s)
Longer bars are better
Test Site C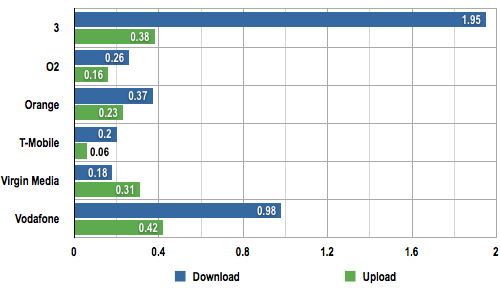 Bandwidth in Megabytes per Second (MB/s)
Longer bars are better
Mobile Broadband Group Test
The Verdict
The clear winner is 3. Not only did it average pretty decent download speeds across all three test sites, but the dongle fired up without any glitches or hiccups. Is short, it just worked. It gets the Reg Hardware Editor's Choice award.
Second place on the podium goes to Orange which also came in with some solid numbers but was let down by a Windows connection manager that just would not lie down when it wasn't needed and that wouldn't load up from the dongle to start with. It also failed to connect via HSDPA in an area where it should have.
Orange's 'unlimited' Panther tariff is an attractive deal if you plan on using your dongle as your primary broadband connection.
Vodafone get the bronze medal. Its dongle was physically the best in the group and download speeds where reliable and quite speedy if not as fleet as those of 3 or Orange. Upload speeds, however, where the best of the group by some margin.
Both Orange and Vodafone get Recommended awards.
If I had handed over my own cash to 3, Orange or Vodafone, I would have been happy with what I got for my hard earned.
And the others? Well, O2's performance was lacklustre to say the least with not a sniff of true HSDPA speeds, while the results from T-Mobile and Virgin Mobile were also very disappointing. In all three cases, the gap between expectation and reality was large. If I had actually paid for any of them I'd have been back for a refund in pretty short order.
Perhaps the real story here though is the gap between even the best results I got and the claimed network maximums of 7.2Mb/s download and 5.76Mb/s upload. I never saw anything even remotely close to those numbers.
Vote for your Mobile Broadband provider
3
---
Orange
---
Virgin Mobile
---
O2
---
T-Mobile
---
Vodafone
---
Mobile Broadband Group Test