Original URL: https://www.theregister.co.uk/2010/05/09/microsoft_research_cambridge/
Microsoft UK researchers roll out barrel in Cambridge
But it's full of fish
Posted in Software, 9th May 2010 09:02 GMT
Microsoft Research Microsoft invited a bunch of hacks to its UK research headquarters last Wednesday to walk us through a fairly pedestrian showcase of the software giant's latest tech development.
Unlike in 2009 when the company had its big iPhone - sorry, Surface technology - as the centrepiece of its R&D work to show off, this time around Microsoft's efforts seemed underwhelming by comparison.
Image processing was given a big push at Microsoft's Roger Needham Building on J J Thomson Ave in Cambridge, which the company's UK boffins will be leaving in the summer of 2012 for a new purpose-built home on Station Road.
Interestingly, the Cambridge team declined to tell me how much, if at all, the UK Microsoft researchers' budget had suffered as a result of the planned move two years from now.
Instead, the boffins were keen to talk tech. But much of the good stuff they highlighted at the event has already been shipped with products such as Visual Studio 2010, which uses the company's new F# language. And overall, the visit felt more like Microsoft was raking over its recent R&D spend without really having much new to show off.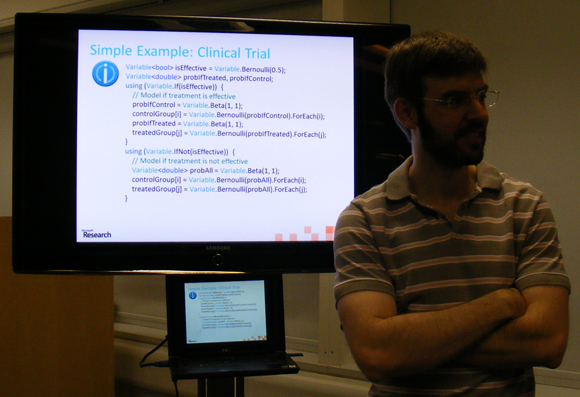 What exactly are you inferring?
So why are Microsoft researchers making lots of noise about image processing, which is an area the company isn't famed for pioneering in the tech world?
"The big product groups who are improving our products cycle-after-cycle want to find high technology, which will enhance the offerings they already have," said MS Research Deputy Managing Director Andrew Blake.
"Each time round they look for some area where they can make a bigger hit, and this time with Office 2010 they've looked hard at video and image processing."
There was also keen chatter, led by Microsoft Research UK Managing Director Andrew Herbert, about the company's efforts to create an operating system - dubbed Barrelfish - for multi-core computers and devices.
That OS differs from the traditional Windows-style platform, explained Herbert, because it is "based on explicit communications rather than the (illusion of) shared resources".
Microsoft isn't currently readying the prototype for product release, said Herbert, but that hasn't stopped researchers at the firm getting excited about the fact that Barrelfish is producing performance graphs that show latency - ie the time an app takes to run - holds much more constant even as the number of cores go up.
"Barrelfish is not about Windows," said Blake. "It's exploring new heterogeneous architectures that are emerging.
"Someone could invent a specialist processor for probabilistic inference, for example… Computers are beginning to look very different from two processors and memory on a backplate, it's much more a peer-to-peer style of machine.
"So the old metaphors for programming the old style of computer are no longer going to be optimal for this kind of machine. It's now all about latency."
But is Microsoft simply throwing cash at a rather expensive vanity project, given that such tech development may never morph into an end product for the company?
"Microsoft is wealthy enough that if it wanted to run a lab just because it looks right it could do that. But when you look at the evidence and you see the fat pipeline of innovation that's going into the core parts of the business, such as Office 2010, the real story is really there," said Blake.
"The image processing now offered in Office 2010, for example, puts a whole lot of stuff in range for a small business without having to employ an expert."
Blake also enthused about Microsoft's Infer.net technology, which is a framework developed by the team for solving different machine learning problems.
"It's been done in a very open way that's not simply restricted to Microsoft, and we're encouraging the whole programmer community to play with it and give us feedback," he explained.
"It is a research release - but not a product - that is pushed out to the whole world because we see more benefits in being open and sharing ideas then we do in being secretive. And this is our policy in research throughout.
"We work in an open way, it's just second nature to us. If you isolate yourself you get stale and behind the state of the art."
But looking around the site last Wednesday, I couldn't help but sense a lack of razzle-dazzle at the MS research showcase.
Earlier that day Herbert had gone on the defensive about the Cambridge researchers' work.
"We're not just an ivory tower spitting out ideas. We transfer some of our research into Microsoft's business and products too."
Of course, Microsoft's decision to shift its Cambridge research team to bigger and better offices in 2012 perhaps tells a more important story about how the firm is acknowledging the important work carried out at its UK lab.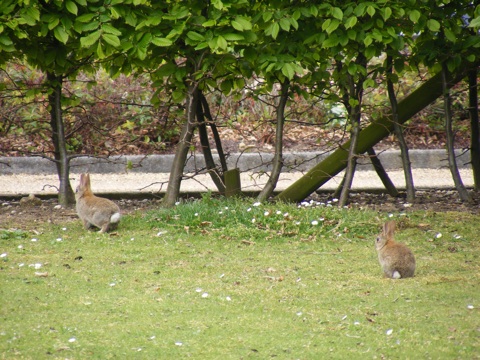 Microsoft bunnies play kiss chase
The ground around the researchers' current home is also teeming with rabbits. One can only wonder if their new offices, which will be next door to Cambridge's railway line, will similarly be overrun with bushy tails. ®