Original URL: https://www.theregister.co.uk/2010/05/08/review_hd_tv_sharp_aquos_lc_46le821e/
Sharp Aquos LC-46LE821E 46in quad-pixel TV
Do yellow sub-pixels really make for a better picture?
Posted in Personal Tech, 8th May 2010 08:02 GMT
Review While the rest of the TV industry goes romping off into the third dimension, Sharp has decided to do its own thing by focusing instead on the "fourth pixel". The "Quattron" technology in its new range of Aquos-brand LCD sets gives them yellow pixels in addition to the standard red, green and blue primary colours.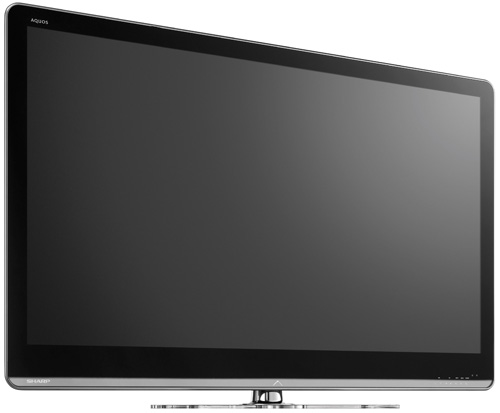 Sharp Aquos LC-46LE821E: pick of the pixels?
Sharp claims that this "quad-pixel" design produces a wider range of colours than conventional RGB models, resulting in a brighter and more realistic picture.
The Aquos is certainly striking to look at – even before you've turned it on. I was able to test the 46in model in the LE821 series, which measures only about 37.5mm thick and is finished off with neat silver trim. I also liked the translucent panel that runs along the bottom edge of the screen and glows as you press the touch-sensitive controls on the panel.
Sharp quoted a price of £1999, although I've seen it selling for £1600 on the net. There's also a 40in model priced at £1599, and a 52in model on the way soon, as yet un-priced.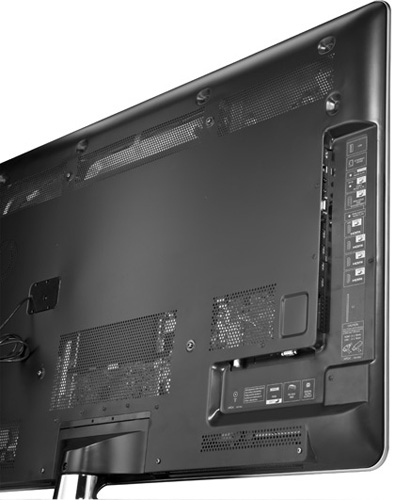 All the ports are well positioned for easy access
Apart from the yellow pixel, the 46LE821E is a standard HD television. It provides 1080p full HD resolution, with 100Hz refresh and panel-edge LED backlighting. There are four HDMI connectors on the left-hand edge of the unit, along with single Scart and RGB inputs, headphone and digital audio outputs, a USB port, CI slot, VGA connector for a PC, and an Ethernet interface.
In fact, it's not so very different, general telly spec-wise, from Sony's Freeview HD set, the Bravia KDL-EX703, reviewed here. Unlike the Sony, the Sharp lacks 24p playback for Blu-ray Discs.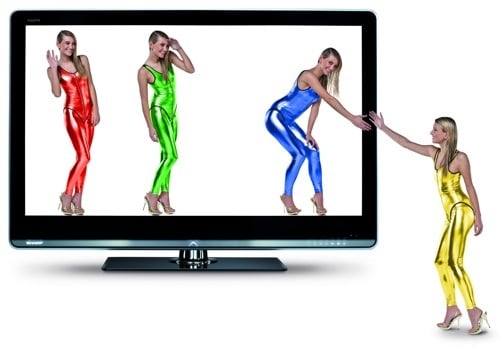 Sharp's boffins explain Quattron technology
The set supports DLNA networking, so you can connect it to a home network and stream photos and music from a networked media server – although you can't stream video for some reason. There's no internet connectivity or any kind of web-based service either.
The unit I tested only had a standard Freeview tuner on board, but Sharp confirmed that it will be fitting Freeview HD tuners once the model starts shipping in the UK.
One interesting feature here is that the 46LE821E has a small amount of internal storage that allows it to pause and timeshift the programme you're watching for up to 150 minutes for SD broadcasts, or 60 minutes for HD. That'll come in handy given the somewhat tardy arrival of the Freeview HD DVRs that Reg Hardware has been chasing recently.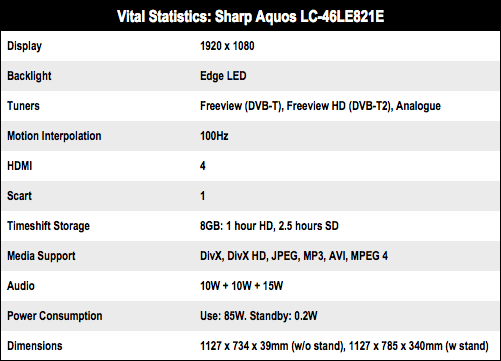 But it's that extra yellow pixel that is the star turn here. To see how much difference this made I set up the 46LE821E sitting right next to my Samsung telly. My initial impression wasn't particularly favourable, as the default viewing mode, Standard, struck me as rather dark and dull.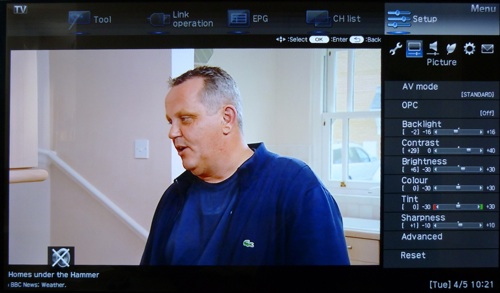 The Aquos nicely makes room for the menu when you need it
However, using the remote control to cycle through the additional viewing modes quickly livened the image up, and there are extensive on-screen menu options for fine-tuning the image further if required.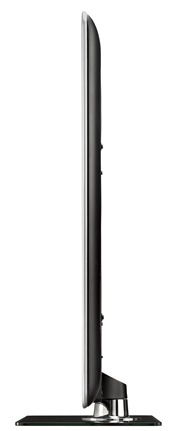 Nice'n'skinny set
I also liked the way that the Menu button on the remote control shrinks the programme image slightly, creating room on the screen for the various menu options so that you can adjust the image settings while still having a clear view of the image itself.

The remote is decent too
With the two TVs sitting next to each other, the thing that became immediately obvious was how harsh and garish the colours on my Samsung set now appeared. The 46LE821E produced much subtler and more realistic colours, especially on skin-tones.
Sharp claims that gold is a particularly difficult colour for conventional RGB sets to reproduce and, as luck would have it, there was a scene in a recent episode of Doctor Who on BBC HD that was set in a cave with strong golden-yellow backlighting. The colour reproduction on this scene really was striking, suggesting that Sharp might indeed be on to something with its yellow-pixel technology.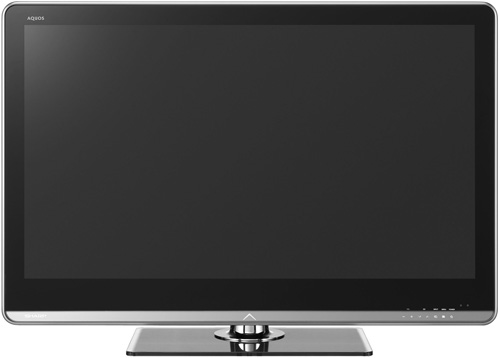 Looks like a big iPad?
Even so, there's still some room for improvement in a couple of areas. The contrast could have been a little better on deep blacks, and the audio quality was little more than average. The 20W stereo speakers are quite loud but the bass output sound rather thin, despite the inclusion of a built-in 15W sub-woofer.
Power consumption also seemed a bit steep – peaking as high as 120W, and only dropping to Sharp's quoted 85W when the brightness-dimming "Eco" mode was turned on. Standby mode was more in line with Sharp's estimate at a modest 0.2W.
Verdict
Sharp's Quattron technology really does produce excellent colour reproduction, and it's good to see Sharp doing something genuinely innovative at a time when all its rivals are following the 3D bandwagon like a herd of sheep.
However, £2000 is quite steep for a 46in screen these days, so you are paying a big premium for those extra yellow pixels. As a result, the 46LE821E will probably appeal mainly to Sky HD subscribers or Blu-ray buffs who will appreciate the richness that the 46LE821E brings to HD content. ®
More HD TV Reviews

Sony
Bravia
KDL-EX703
LG
42LH3000
Panasonic
Viera
TX-P46G20
Philips
40PFL9704