Original URL: http://www.theregister.co.uk/2010/05/07/games_review_2010_fifa_world_cup_south_africa/
2010 Fifa World Cup South Africa
Off-side
Posted in Personal Tech, 7th May 2010 07:48 GMT
Review The summer months provide gamers and armchair football fans with a compulsory Why Don't You moment, where we're all forced to 'just switch of our TV sets and go outside and do something less boring instead.'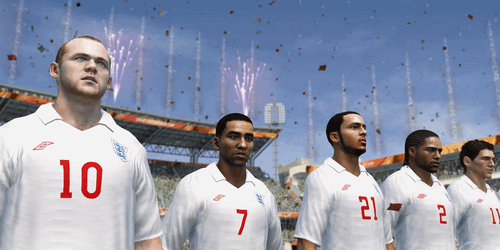 And we all like vindaloo...
For us Brits, this usually means finding a nice spot on the village green within stumbling distance of the pub, rambling about the countryside for hours between pubs, or, for the more adventurous, taking a boating holiday on the Broads to - you've guessed it - navigate our way around as many pubs as possible.
This summer promises to be different. England are at the World Cup, and us gamers are still enjoying the release schedule fallout from last year's Modern Warfare 2 fiasco, which sees a slew of highly anticipated titles released over the coming weeks, including Lost Planet 2, Alan Wake and Red Dead Redemption.
Leading the summer charge is EA's official cash-in (sorry, tie-in) for the Fifa 2010 World Cup.
Using a modified Fifa 10 engine, and focusing on the forthcoming tournament, World Cup South Africa presents something of a summer holiday for the perennial series. This is Fifa taking it easy, kicking back and chillaxing in that special World Cup vibe.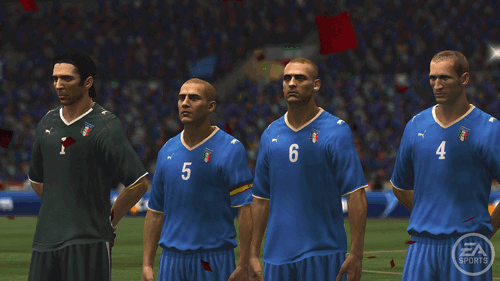 And we all like vermicelli...
Menus and backgrounds are saturated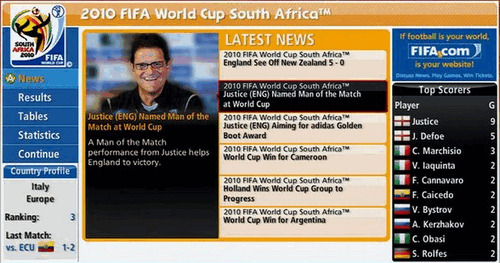 What stat?
Menus and backgrounds are saturated in the official burnt-savanna oranges and yellows of this year's competition, and the radio playlist breezes smooth Reggae, African Dub and Bossa Nova.
Pared back by the World Cup format, gone are the club teams, league and cup competitions of regular Fifa titles. Instead, the default play setting is to take one of the thirty two qualified teams through the seven games required to lift sporting's greatest trophy.
Additional modes let you play through the entire qualifying campaign, or re-enact classic scenarios in the Story of Qualifying. For the more egocentric, Fifa's Be a Pro returns as Captain your Country, which sees you start off as a second-stringer, playing to secure a first-team call up and ultimately fight for the captain's armband and the World Cup itself.
While bolstering variety and longevity, these additional modes fail to lessen a pervading feeling that this is Fifa-lite; and a little rushed too.
The news feeds, supposed to heighten realism during tournament play, are woefully generic. Pure Lingua Franca: you'll cringe at such feeds as "Xavi banned for next match Spain play in this tournament."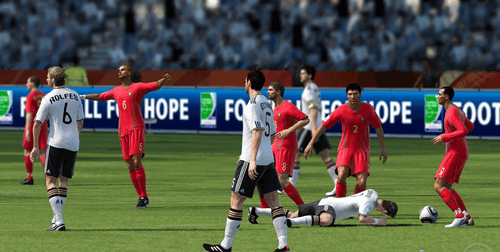 Come on ref, he just likes eating grass!
Commentary for our times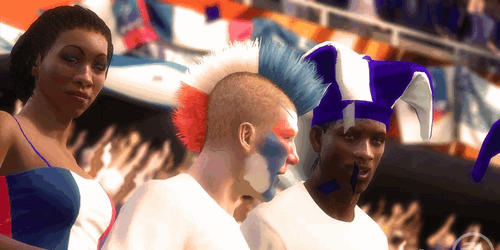 J'ai une grande mohawk!
Considering my local train station can string a fairly believable automated schedule in real-time, I'm surprised EA has made such a hash of this text-based equivalent.
Commentary fares little better. Although doing a decent job of mixing things up, and even occasionally acting as tourist board for South Africa, it feels too bipartisan, too unrealistic.
It's a natural fit for regular Fifa titles, where the myriad of teams and competitions doesn't allow for favouritism. But this is the World Cup, damn it! And I was hoping for a little patriotic fervour from messers Tyldesley and Townsend when covering England games, especially when I ended almost 45-years of hurt by thrashing Germany 6-0 in the final.
Off-pitch animations are also poor. This wouldn't normally be a problem, but for the amount of times the game cuts to them. Although it's initially a nice touch to see Signor Cappello in the technical area, rubbing his face as he ruminates play, the novelty soon wears off, as the same few animations are repeated ad nauseum.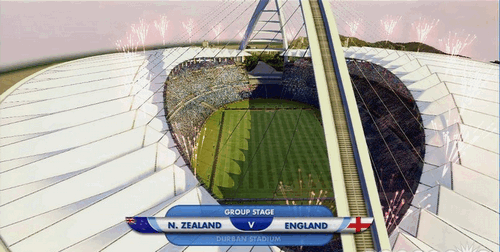 Birds get to watch for free from here
Worse still are the crowd animations
Worse still are the crowd animations. EA has reduced football fans the world over to little more than gawping, guppy-mouthed bags of flesh, prone to raving incessantly in invisible custard. OK, so perhaps that's not too far removed from the typical England fan.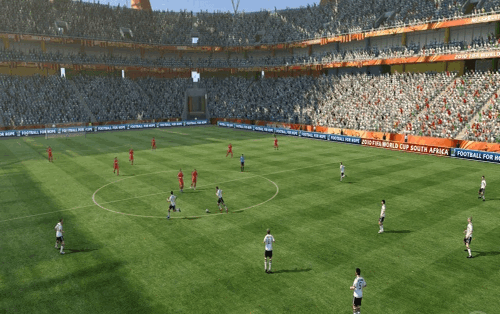 Looks like a bad kick off
The only substantial addition to the Fifa experience is an optional, simplified two-button control setting. EA obviously hopes World Cup hysteria will entice non-gamers to pick up a control pad during half-time intervals, and perhaps even see your granny on the score sheet. But in practice this functionality is broken, as the computer-assisted passing rarely agrees with your intention.
Of course, most of these criticisms can be levelled at the entire Fifa series. EA has always been comfortable with charging top-dollar for minor improvements in annual iterations. But 2010 Fifa World Cup South Africa feels like a rip-off too far, especially given Fifa 11 will be released within six months. And while it won't be the only rip-off we'll see branded in official World Cup colours this year, it's one I can't recommend at the premium price point.