Original URL: http://www.theregister.co.uk/2010/05/06/reviews_mobile_phones_samsung_diva/
Samsung Diva fashion phone
Here come the girls, etc, etc.
Posted in Personal Tech, 6th May 2010 12:02 GMT
Reviews The design and marketing of the Diva clearly makes this a phone that Samsung is aiming at women. The clues are in the pearl white colour scheme and quilted pillow effect casing and the default pink screen theme, just in case you missed all those ads - haven't there been a lot of them lately?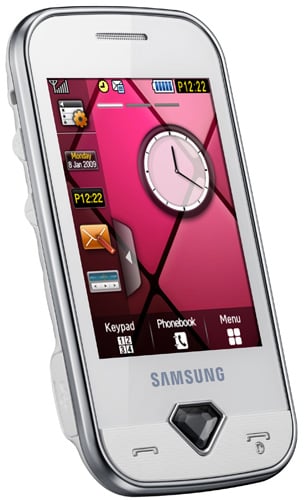 Samsung's Diva: diamond head
Perhaps the designers are all Footballers' Wives fans, but I can imagine this being a Marmite handset: some will love it, but others...
Incidentally, the S7070 is the fancier of the two Diva models – there's also a clamshell version, the S5150, with a similar style and spec which hasn't had an official UK release, though you can find it for sale online.
The Diva has a smartphone-style touchscreen atop a jewel-shaped button that looks like it may be a navpad but actually works as a back key. It's slim and lightweight, while the thin plastic back's padding-effect texture that feels nicely grippy in the hand. There's a strange hollow ring to it though which can be a bit disconcerting if you occasionally tap it while holding the phone to your ear. Call sound quality tends to be a bit on the tinny side too.
The 2.8in, 240 x 320 capacitive touchscreen runs to more than 16 million colours and looks good. It's sharp and clear, and decently sensitive too, responding well to brushes and presses, and offering the option of haptic feedback.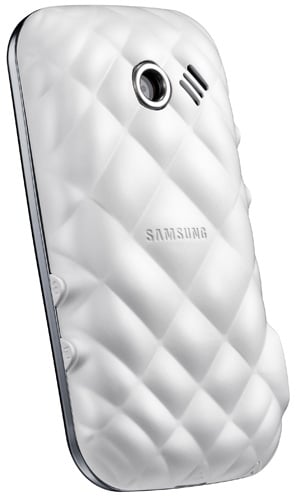 Quilty conscience
The Diva has Samsung's TouchWiz user interface, which was always something of a looker, with its myriad widgets that you can pull on to the home screen from a side bar. There are three homepages that you get to by brushing in either direction, and if pink's not your thing, there are other screen themes to choose from – most of them floral, however.
And then there's the Wish List option that encourages you to create a shopping list of items you're after, including price, quantity and priority.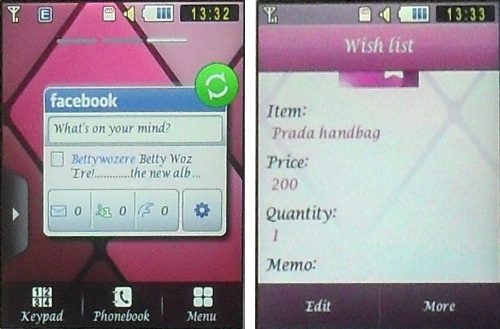 The 'Female-centric' UI extends to a Facebook widget and Wish List app
Social networking is a big aspect of this phone - shopping and chatting, eh, girls? – and there are widgets for Facebook, Twitter, MySpace, Picasa, Friendster, Bebo, Flickr and Photobucket already on board, with the option to add more from Samsung's online repository.
With such a focus on messaging, though, it's a shame there isn't a virtual Qwerty keyboard – you're stuck with standard alphanumeric keypad and T9.
The Twitter widget will flag up your latest Tweet on the home page. You can press a corner to see the next Tweet, change your settings, post a message or access the full app, which gives you a scrolling list of your latest updates. A decently useful little app in other words.
It's much the same deal with the Facebook widget, but there's none of that fancy shmancy 3G or Wi-Fi malarkey here, network and web connection is strictly 2.5G GPRS or Edge, which means doing anything online can be a bit of a chore. The browser is OK as far as it goes, with the on-board accelerometer flipping the screen into landscape mode and the zoom option arrived at by pressing and holding the screen. It has Flash video too, but it will insist on forcing text into the Diva's default italic script, which won't appeal to everyone.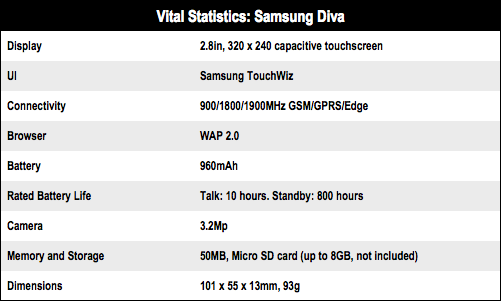 The 3.2Mp camera lacks autofocus and flash, and is far from the last word in camerphone quality but it does have a decent range of features including smile detection, multi-shot (up to nine), a timer and panorama: six shots through about 40° – that should take in everybody on the hen night. It records video at 320 x 240 quality which just about passes muster.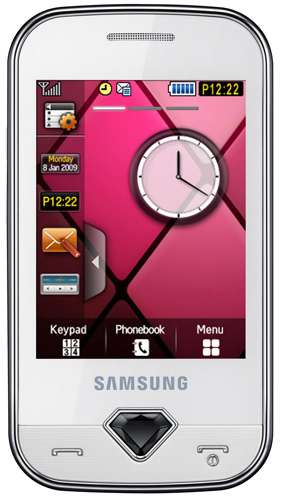 Decent screen, limited feature set
There's a range of photo editing features too, including warps and filters for extreme makeovers, as well as the usual contrast, colour and brightness tweaks.
The media player can handle MPEG 4 video files - no DivX or even WMV - and MP3 and AAC(+) audio files, plus there's an FM radio with RDS. There's 50MB of memory on board though you can add up to 8GB with Micro SD cards.
Videos displayed well enough on the smallish screen, but there's no 3.5mm headphone jack, so you'll probably be stuck with the - admittedly elegant looking - supplied headphones which use the mini USB slot. Worse, some bright spark in the design labs has decreed that the cord should point downwards, which won't help it to sit well in the pocket.
Considering it's not exactly bursting with options, battery life on the Diva isn't great, and I only got about a day and a half of regular use out of it before I had to recharge.
Verdict
The Diva certainly has a distinctive style, and it seems pretty clear about the audience it's aiming for. It's got a nicely sensitive capacitive touchscreen, and some good social networking widgets, but anything involving the internet can be a chore thanks to the lack of 3G or Wi-Fi. It would have been nice to have a pop-upo Qwerty keyboard too. But it's a style phone first and foremost, and you'll be sold on whether you like the look. Or not. ®
More Mobile Phone Reviews

Nokia X3
Sony Ericsson Yari
LG GD510 Pop
Samsung H1