Original URL: https://www.theregister.co.uk/2010/05/06/review_nas_iomega_storcenter_ix2_200/
Iomega StorCenter ix2-200 4TB Nas box
Hard'n'heavy
Posted in Personal Tech, 6th May 2010 07:02 GMT
Review Iomega has introduced its second-generation StorCenter ix2-200, aimed at the 'prosumer' home user and which offers a wealth of features ranging from a BitTorrent client and remote access to surveillance camera support.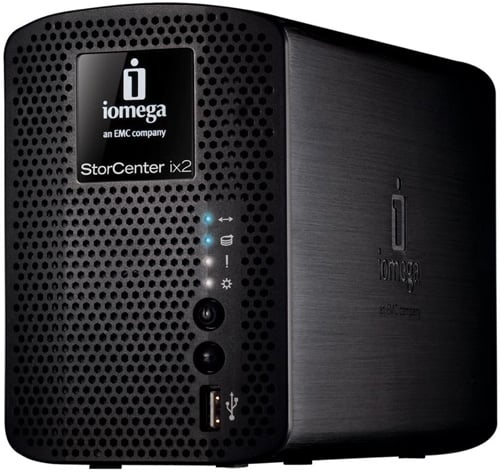 Iomega's StorCenter ix2-200
While most other Network Attached Storage (Nas) manufacturers are trying to conserve materials and so build their boxes as light as possible, Iomega has brought out the heavy armour and constructed a contender for the battlefield. It's not listed on the feature set, but the ix2-200 seems likely to be bombproof.
Well, perhaps not, but the black aluminium housing would certainly look the part strapped under the wing of an F-22 Raptor and, given its weight - 2.3kg - would probably have a similar effect as the ordnance it would have replaced. In other words, it's sleek and heavy. But this much storage doesn't need to be portable.
Internally, the ix2-200 houses a 1GHz Marvell 6281 CPU and 256MB of memory to handle server operations and manage the two 3.5in Sata bays which allow for a maximum of 4TB of storage. Iomega has also included three USB 2.0 ports which can communicate with printers, external HDDs and even Bluetooth dongles. Gigabit Ethernet is included too.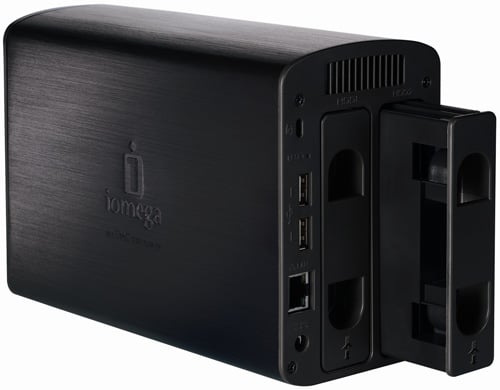 Back Side
The ix2-200 is probably not the most feature-rich Nas box out there, but it does include some interesting features on top of the standard set. It includes Iomega's QuikTransfer button, one of my favourite features. You configure a "Copy Job" to be run on the press of said button. This "Copy Job" can take place entirely on the server, or between the ix2-200 and other USB or networked devices without the need for a computer to access the server.
In addition to this, the ix2-200 also supports Raid 1 for disk mirroring; provides email notifications for system health and Smart status; an event log for tracking file access on a per user basis; iSCSI functionality; DLNA and UPnP media streaming; iTunes DAAP streaming; the monitoring of up to five IP cameras;remote access; and the obligatory BitTorrent client.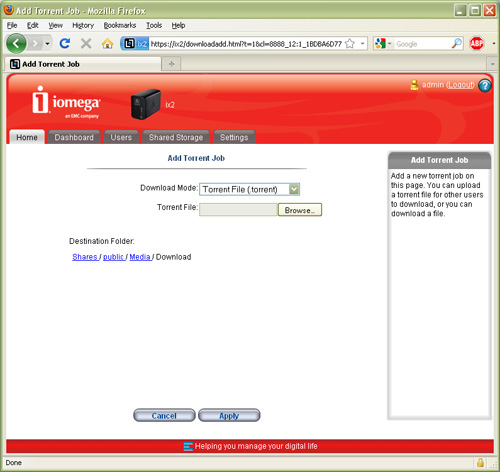 The obligatory Torrent client is included
Out of all of these features, I foresee a problem with only one: remote access. Users now expect to be able to access their files over the internet, usually making use of a DNS service which monitors changing IP addresses and links them to a fixed domain name. While many of us use services such as the free DynDNS, Iomega has opted to utilise TZO DNS, which provides one year of free use, but charges $11 (£7) per year afterwards. Other Nas box makers allow their users to configure their own services, but not Iomega.
Instead, it has taken a rather untraditional approach with the StorCenter Manager software, effectively eliminating the client-side configuration panel and replacing it with a small task-bar app which constantly monitors the location of the ix2-200 and acts simply as a gateway to the web configuration page. The remainder of configuration is simple: a wizard walks you through an initial setup which will suffice for most users, and then advanced users can have access to the full configuration panel.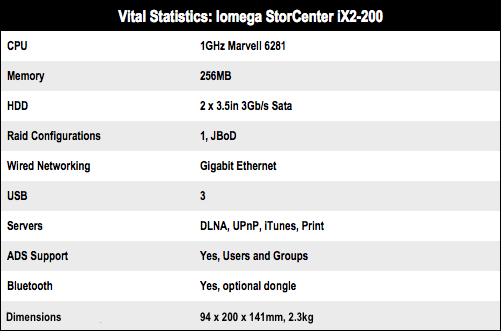 Drive Throughput Results: JBoD vs Raid 1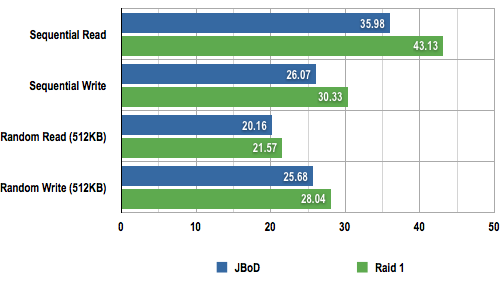 Throughput in Megabytes per Second (MB/s)
Longer bars are better
Drive Throughput Results
JBoD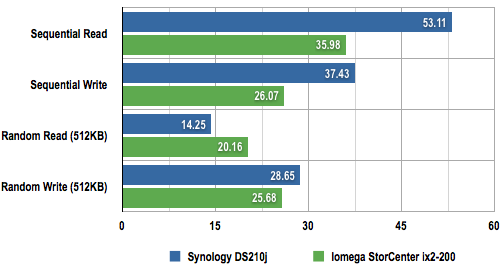 Throughput in Megabytes per Second (MB/s)
Longer bars are better
Drive Throughput Results
Raid 1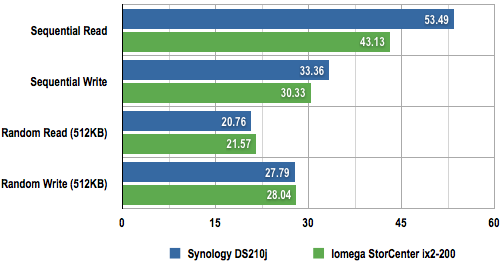 Throughput in Megabytes per Second (MB/s)
Longer bars are better
Unlike the previous incarnation of the StorCenter ix2, the hard disks in the ix2-200 are replaceable. Simply remove two screws per disk from the bottom of the case and slide the trays out – job done. Iomega includes a three-year warranty, but fails to make it obvious that this warranty will be voided if the user replaces the disks with anything other than the included Seagate Barracuda units. To find this information, one must examine the manual's small with a powerful microscope.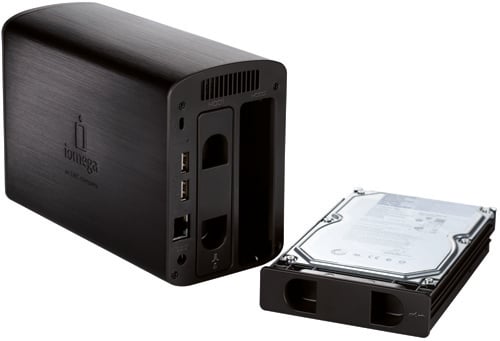 HD out
Looking at the benchmarks, the ix2-200 seems fairly average, showing neither surprisingly fast nor slow speeds. The benefits of Raid 1 are clear to see, offering fairly significant improvements in all operations and most notably in the sequential read.
When configured in JBoD - 'just a bunch of disks' - the StorCenter ix2-200 lags behind one of its closest competitors, Synology's DS210j. With the exception of random read operations, that is. Most notable is the nearly 20MB/s gap in the sequential read speed, indicating that Iomega's offering lacks performance in copying large files – not ideal for those wishing to transfer large video files for streaming later. Though the initial copy may take some time, playback of 1080p video is actually very smooth.
Bringing Raid 1 onto the playing field evens the score somewhat, with the ix2-200 taking a slight lead in both random operations, but still slightly losing out in the sequential zone, where a 10MB/s gap is still observed.
Verdict
Despite the somewhat reduced transfer speeds, at £310 for the 2TB version, the StorCenter ix2-200 comes slightly cheaper than the competition. The Synology box may sell for £160, but you have to supply your own disks. So for the paranoid Nas user on a budget who needs the reliability of Raid 1 to keep their CCTV footage safe, the Iomega StorCenter ix2-200 is just what you need. Tin-foil hat not included. ®