Original URL: https://www.theregister.co.uk/2010/05/06/review_gadget_samsung_navibot/
Samsung NaviBot robot cleaner
Today, the carpet - tomorrow, the world
Posted in Personal Tech, 6th May 2010 14:04 GMT
Review There's no doubt about it - cleaning is a chore, for some much more than others. I tend to the view that vacuuming isn't fun unless it makes the carpet change colour. Add a moulting cat, and a lot of clutter, and you can understand why people suggest I get a cleaner.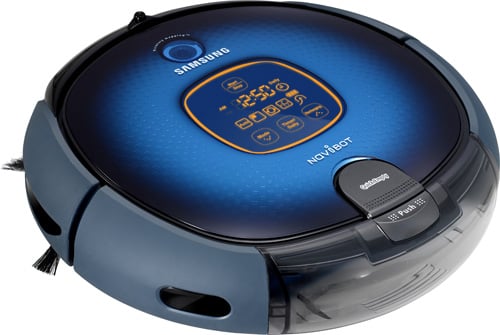 Samsung's Navibot: taking the metal mickey?
Enter Samsung's NaviBot, a robot that can wander round the flat, picking up the muck, before returning to its charging station. I tested the top-end model, which has touch-sensitive controls rather than buttons, and comes with two "virtual fences" rather than one.
These can be used to create either a fixed barrier, to stop the NaviBot going past it, or a 'gate' which forces it to finish one room before going on to the next. The cheaper SR8455 - stick an 'N' in there, and you'd have a hovercraft - comes with just one, and lacks the ability to schedule a day of the week to clean automatically.
A camera on the top helps the droid build up a map of your home, while sensors on the bottom stop it falling down stairs. Some on the sides stop it when it reaches walls or objects. There are side brushes, too, that give it a beetle-like appearance as it's cleaning, pushing dirt into the maw of the vacuum itself.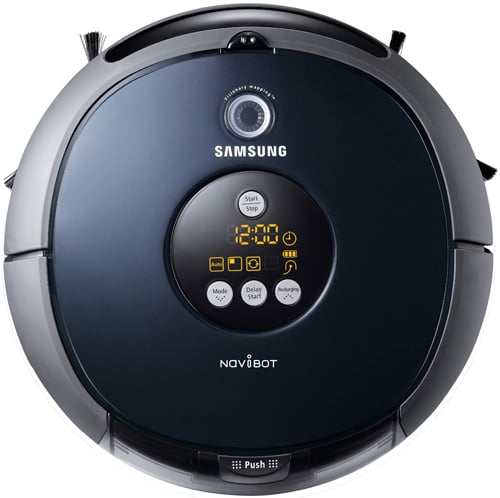 Grime and punishment
The dust container has a HEPA filter, and a quick-access flap that lets you suck the dirt out into a full size cleaner.
It's incredibly simple to start things off. After a couple of hours charging, the display on the top flashes 'full' and then you select the mode, and press Start. There's a remote control so you don't have to bend down.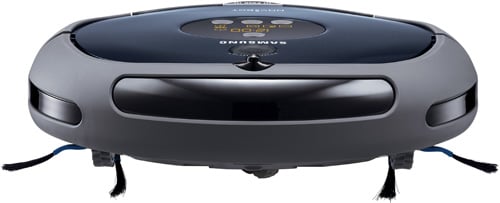 Brushes to the front...
Cleaning is done in a fairly systematic pattern, rather than just wandering around as some other robots do – though reintroducing my kitchen stools seemed to confuse it when it was returning to the charging base.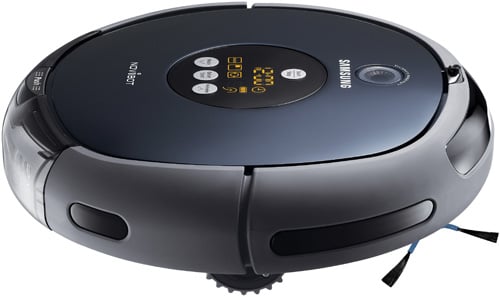 ...brooms to the side
There's an Auto mode which will clean and then stop; Edge mode for getting right to the corner of the room; Spot mode to go over a small area; and Max, which runs the robot until its battery is flat.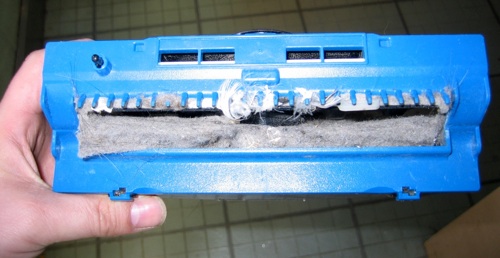 'The way to dusty death. Out, out...'
Admittedly, my flat is very untidy, and I sent the NaviBot into corners that hadn't been vacuumed for months, but even so, as the photos show, faced with this kind of filth, the NaviBot does seem to give up a bit quickly. You may need to be done a couple of times if you're particularly squalid.
NaviBot in Action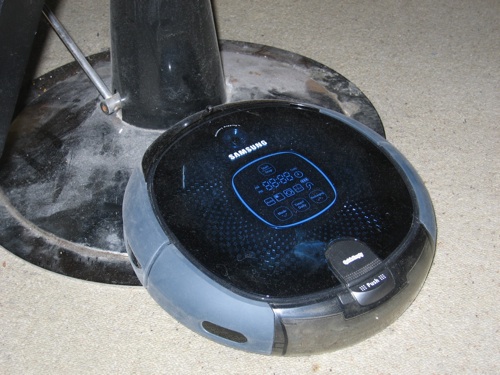 'Ello, darlin': Navibot takes a shine to the base of a barber's chair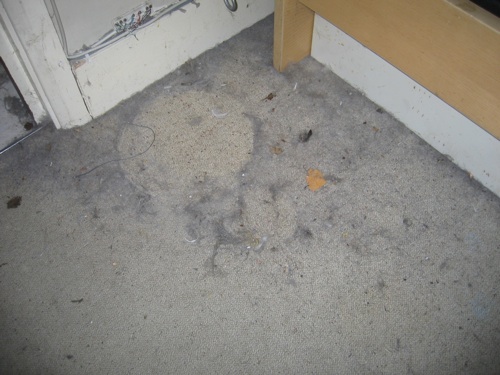 Bedroom shame: before...
...and after Navibot's attentions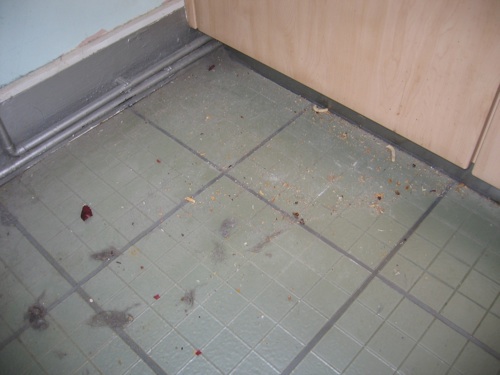 In the kitchen: before...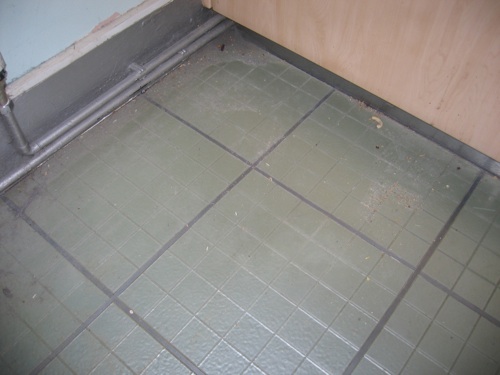 ...and after
With more normal levels of cat hair, cigar offcuts and other detritus on wooden floors, the NaviBot made a much better job of things. But you'll really need to move light objects out of the way first - it proved surprisingly adept at capturing cables or the laces of trainers, and even the almost empty recycling box got pushed around the kitchen.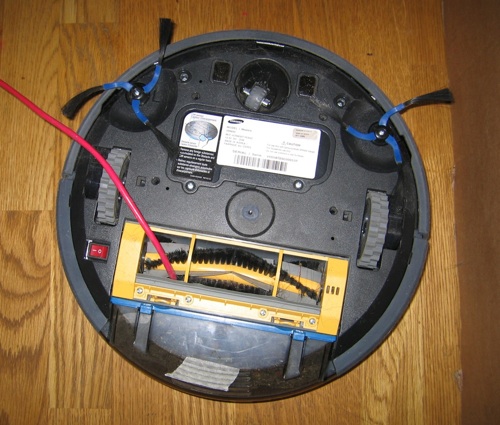 The business end
My bedroom has presented a challenge to many, and the NaviBot was no exception. It took a few attempts before realising that it should go around the barber's chair, rather than grounding itself on the base – lower obstacles, like the strips between rooms, presented no obstacle. And, even after two Max cleaning cycles, there was still plenty of ingrained dirt for the Dyson to deal with.
That said, most people don't have rooms as messy as mine. On carpet, with an ordinary level of dirt, the results were certainly acceptable.
Verdict
If you have hard floors, and not too much clutter, then the NaviBot can certainly save you a lot of time – but it's also pretty pricey. It cleans up the mess on carpets too, but it's not really going to help if you're pathologically messy - there's just not enough suction to remove really ingrained dirt.
Gadget lovers will love it, and minimalists won't have any problems with it. But if you're somewhere in between, the need to make sure there's space for the NaviBot to get around unobstructed, the cost, and the need for another vacuum to do the really dirty work, mean it's hard to wholeheartedly recommend, adorable though it is. ®
More Gagdet Reviews

iRobot
Roomba
560
WowWee
Rovio
Aiptek
MobileCinema
D10
GlideTV
Navigator