Original URL: http://www.theregister.co.uk/2010/05/05/review_laptop_dell_studio_17_touchscreen/
Dell Studio 17 touchscreen notebook
The pinnacle of portable touch computing?
Posted in Personal Tech, 5th May 2010 12:02 GMT
Review When it comes to mobile phones, tablet PCs or one of those brightly-coloured public access kiosks you find in airports and shopping centres, touchscreen displays make perfect sense. They do away with the need for a space-consuming keyboard and let the display take up the majority of the device.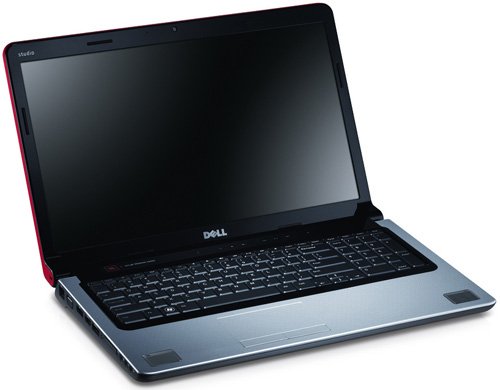 Dell's Studio 17: now equipped with a 17.3in touchscreen
But do you really need a touchscreen on a laptop that's already got a perfectly good keyboard and touchpad? Dell seems to think so, and has decided to release a new multi-touch version of its popular Studio 17 notebook.
Despite Microsoft taking all the trouble to integrate multi-touch support into Windows 7, there are precious few touchscreen PCs to choose from. HP's been making some touch noise – most recently with its TouchSmart 600 all-in-one PC – but laptops with touchscreens are very rare. So far, we've only seen Acer's Aspire 5738PG Touch- reviewed here. Whether this means there's a gap in the market - or simply that no one wants them - is up for debate.
The glossy black chassis of the Studio 17 feels reassuringly sturdy, and at 3.5kg the machine is also weighty. Open the lid and the inimitable sheen of a capacitive touch-sensitive display is immediately obvious – this also makes it a nightmare in terms of attracting reflections.

A reassuringly sturdy chassis
Dell's gone for a low-profile keyboard complete with numeric keypad. Given the price of the Studio 17, it was disappointing to find that the keyboard flexes quite heavily in the middle. Some people may not mind, but for me a sturdy, unbending keyboard is a good sign that care has been taken over the design of a laptop. And when typing at speed, the constant, albeit small bouncing motion can soon become an irritation.
I also wasn't hugely impressed with the slightly slippery nature of the keys. Thankfully, the large touchpad is far more welcoming, with its matte texture aiding usability.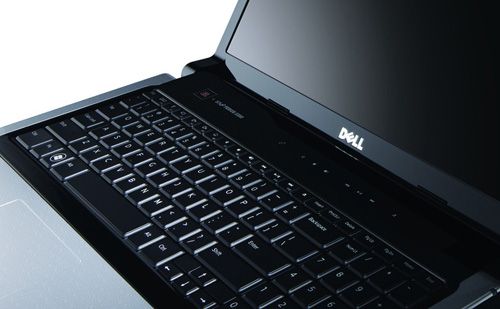 The keyboard is a tad too bendy in the middle
Should you, for whatever reason, be using the laptop in the dark, the rather nifty backlight on the keyboard means you won't be fumbling around. Although present on the review unit, the backlight is actually an optional extra, so if you've no need for it, £30 can be shaved off the asking price.
Fans of the Context key - you know, the one that lets you bring up a right-click menu - will be disappointed to hear Dell's seen fit to banish it from the Studio 17. Instead, you'll need to use the Shift + F10 combo. Dell has also decided the Function keys along the top of the keyboard aren't as important as its shortcut buttons – if you want to send an F2 command, for example, you'll need to press Fn + F2, otherwise you'll simply activate the shortcut to switch off Wi-Fi.
If this bothers you, it can be reversed in the Bios, so that the shortcuts, not the function keys, require a simultaneous press of the Fn key.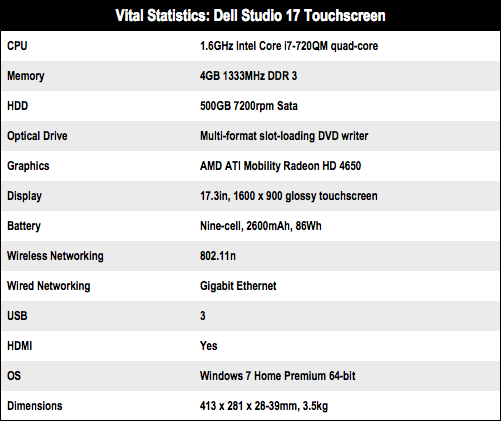 Dell's gone to town with the speaker system in the Studio 17. Stereo speakers at the front combine with a sub-woofer on the underside of the laptop to provide some truly stunning audio. Whack it up to full and it produces loud and undistorted tunes with aplomb.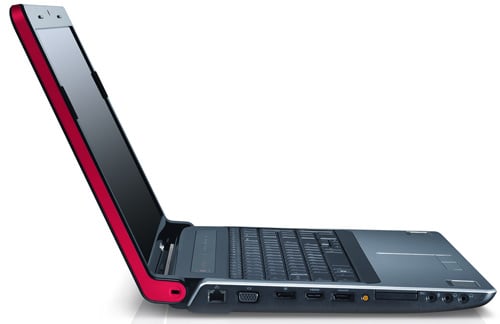 No shortage of portage
Unfortunately, Dell's opted to place the two satellite speakers on the wrist rest. While fine when using the laptop as a portable hi-fi, try listening to music while typing or gaming and you have to take great care not to let your palms cover the speakers. It would have been far better to situate them either just above the keyboard or underneath the front lip of the chassis.

Real audio performer
Networking options comprise the usual Gigabit Ethernet and 802.11n wireless. Bluetooth was also included on the review system but, as with the backlit keyboard, this can be ditched in favour of a £30 saving.

The multi-format DVD drive is a slot-loader
The 17.3in display has a native resolution of 1600 x 900 which will no doubt disappoint many potential buyers. Dell presumably wanted to avoid anything higher than this so as to make the touch side of things easier – trying to use one of your grubby mitts to prod a small link or icon is hard enough at 1600 x 900. This resolution also means playing 1080p HD video at full resolution is out of the question, unless you fancy hooking the laptop up to an external display through its HDMI port.
So, back to that touchscreen display. The Studio 17 can recognise four fingers on the screen at any one time, but this is tempered by the fact that the vast majority of Windows applications only make use of two fingers at a time. Some fun can be had with Paint – using four fingers to simultaneously create an unholy mess can be quite therapeutic – but you're otherwise stuck with, ahem, two-fingered gestures. No stylus is included with the package.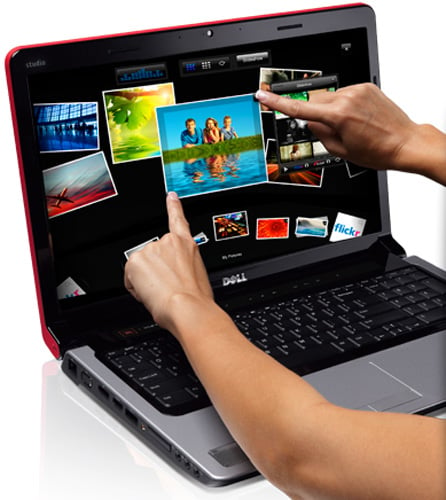 Tap and drag
A collection of specially-crafted software, including Dell's Touch Zone suite and some Microsoft games, showcases the laptop's touch capabilities, but when it comes to everyday use things aren't quite as impressive. Trying to browse the web, for example, is a painful experience. I frequently found myself having to bash links repeatedly, which takes the gloss off proceedings. That said, scrolling with two fingers was comfortable, while pulling and pinching to zoom in and out of photos also worked reasonably well.
The touch theme continues just above the keyboard, with a series of media shortcut buttons. Although eye-catching, these buttons are darn fiddly to use and it's easy to slip onto the neighbouring button by accident, thereby turning the volume up instead of down, for example.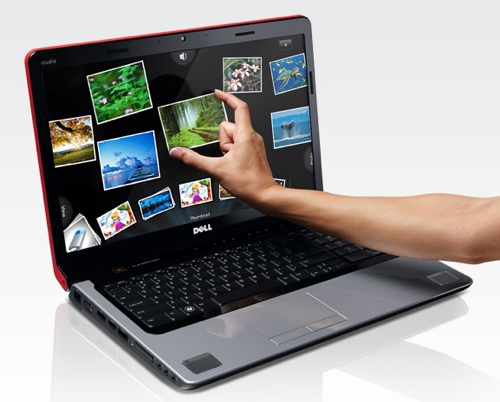 How long before arm-ache sets in?
Dell kitted the review sample out with a pacey 1.6GHz Intel Core i7-720QM processor and 4GB of DDR 3 memory. An AMD ATI Mobility Radeon HD 4650 graphics chip was also fitted, providing a noticeable step up in 3D performance compared to integrated graphics.
It performed admirably in our standard benchmarks, with PCMark Vantage returning an overall score of 5637. In the HDD test the 500GB, 7200rpm Seagate drive produced a decent score, though it couldn't quite match the speed of laptops we've tested with slightly smaller 320GB, 7200rpm drives.
PCMark Vantage Results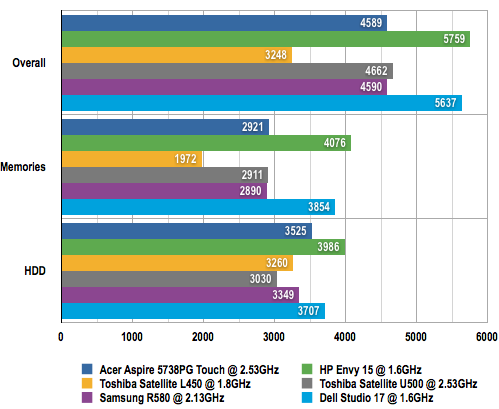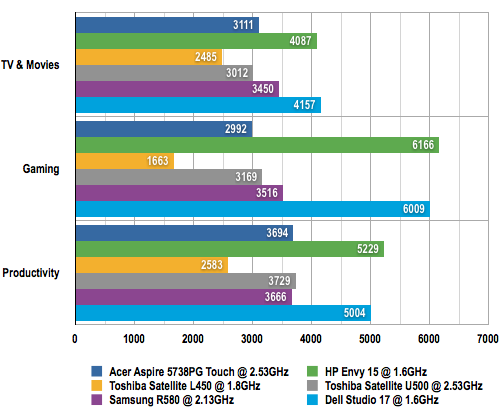 Longer bars are better
The 3DMark Vantage score of 2588 indicates gaming is a real possibility, and Call of Duty 4 purred along nicely at 40.4f/s. With high detail settings in Crysis it struggled at just 15.75f/s, but when dropped down to low detail things improved markedly with a leap to 50.9f/s.
PCMark Vantage Battery Life Results

Battery life in minutes
Longer bars are better
During these tests, the Studio 17's fan frequently ramped up to full-speed. Although not the loudest fan I've heard, it's just sufficient to irritate people in the immediate vicinity. The wrist rest also got noticeably warm after extended periods of use.
Thanks to a nine-cell, 85Wh battery which juts out underneath the laptop, the Studio 17 managed just over an hour-and-a-half in our punishing PCMark Vantage loop test. This translates to roughly three hours' normal usage.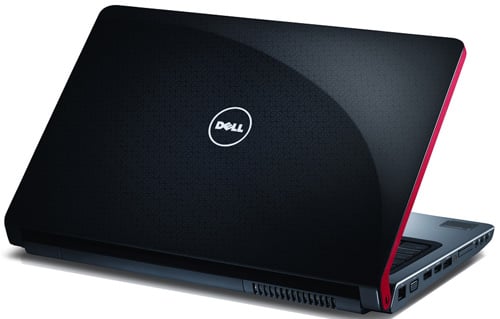 After many hours playing with the Studio 17, I was ultimately left underwhelmed with its touch-sensitive screen. There's nothing wrong with the touchscreen itself, but all too often I was left thinking how much easier it would be to use the touch pad or a wireless mouse.
Sure, you can use your fingers to twist, resize and fling photos around a virtual desktop, but that's a novelty that soon wears off. Ultimately, I was left with the feeling that clamshell laptops simply don't need, or benefit from, touch-sensitive displays.
In an attempt to gauge how much it was charging for the luxury of touch, I headed to Dell's online shop and configured a non-touch Studio 17 to imitate this touch-enabled version as best as I could. It wasn't possible to get a perfect match, but one with an i7-620M processor - faster, but only two cores - and slightly more powerful ATI HD 5650 graphics was priced up almost identical to the touchscreen model on test here.
Verdict
Dell's done well to bundle some fast components with a 17.3in screen while keeping everything tantalisingly close to the £1000 mark. And although I'm not sold on the idea of touchscreen laptops, the fact Dell isn't charging a huge premium for it means the laptop's overall score isn't affected too much. Personally, though, I'd be very tempted to ditch the touchscreen in favour of the version with faster graphics and the dual-core i7-620M processor. ®
More Notebook Reviews

Samsung
R580
Dell
Latitude Z
Toshiba
Satellite
U500
Acer Aspire
5738DZG 3D