Original URL: https://www.theregister.co.uk/2010/05/05/review_gadget_solar_freeloader_pico/
Solar Freeloader Pico solar-charged back-up power supply
Energy for free
Posted in Personal Tech, 5th May 2010 07:02 GMT
Review Running out of battery power can clobber your day and leave you incommunicado when you least want to be. There are various secondary power supplies on the market, but few of them can recharge themselves entirely from daylight. The Freeloader Pico claims to be one that can.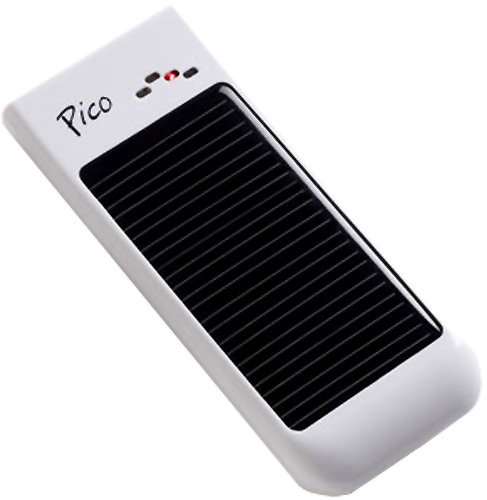 Solar's Freeloader Pico: free energy on tap?
The Pico is essentially a 800mAh lithium-ion battery attached to a small solar panel and a USB port. It can be charged from any USB socket too, though that takes away the appeal of getting 'free' power.
There are four LED indicator lights, distributed in a little sine wave pattern just above the solar panel. They light up when you connect a gadget - the more lights are on, the more power is available. One of them lights up when the Pico is charging over USB, while another indicates when it's soaking up sunlight. They both go out when charging is complete, so at least there's some use to it.
As advised by the manual, I first charged the Pico from my PC's USB port and the battery was full to the brim in three-and-a-half hours, slap bang in the middle of the three- to four-hour range Solar quotes. The Pico then dispensed its charge to a Samsung SGH-X820 phone, taking the handset from no charge to a full three bars in just under 45 minutes. So far, all the claims were fulfilled.
The indicators show you how much charge you have - but only when you connect a device up
I did have to ask Solar for extra connectors for the Samsung and an LG Shine as neither of these phones were supported out of the box. Solar bundles standard connectors for Nokia and Sony Ericsson phones, and provides a mini USB adaptor for handsets that use that kind of connector. It has a full-size USB port too, so you can charge iPhones and the like that way. Solar provides a host of adaptors for a huge array of gadgets, priced at £4 or £5.
Solar claims that it takes up to ten hours to charge the Pico fully using direct sunlight. Given Blighty's weather of late, it's been hard to get ten consecutive hours of sunshine. You don't have to have a full charge, of course, to get you out of flat-battery purdah, but the timescale is still long.

USB and Mini USB provide power to adaptors
I found it hard to get a full charge using solar energy alone. Having left the unit in a window over a weekend with long periods of sunshine, it still had very little energy to transfer to a phone. A second attempt, this time leaving it outside, facing South and under direct sunlight for ten hours, only cranked up a single bar on the Samsung.
This is better than nothing, but it's free energy very sparingly absorbed. To use the Pico on solar alone, you'd need at least a full day of sunshine to charge it before taking it with you as an emergency recharger. Quite honestly, for the few pence a USB charge costs, that'll be a better option in most cases.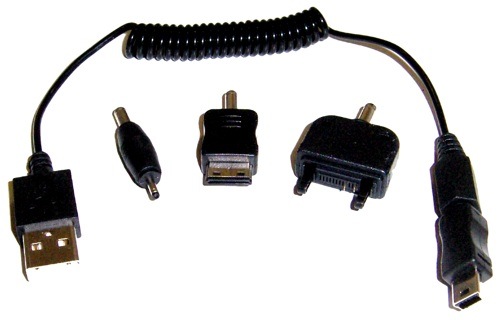 The bundled adaptors
The Pico could come into its own on holiday, but only if you're visiting somewhere with more continuous, brighter sunshine than the UK can manage.
Verdict
At just £17, this recharger isn't a bad buy, even if you don't use the solar panel. The ten-hour sunlight charge claim seems a tad optimistic for typical British weather, though. ®
More Gadget Reviews

Livescribe
Pulse
Smartpen
SWaP
Signature
Speedo
Aquabeat
Chumby