Original URL: https://www.theregister.co.uk/2010/05/05/games_review_super_street_fighter_iv/
Super Street Fighter IV
A must for the collection
Posted in Personal Tech, 5th May 2010 19:32 GMT
Review Capcom's Super Street Fighter IV release is the antithesis of EA's 2010 Fifa World Cup South Africa, and a rare beast in the ever-increasingly profit-driven videogames world.
In stark contrast to EA's footballing cash-cow, Super Street Fighter IV is both love letter and thank you to the one million-plus gamers who shelled out full price on last year's Street Fighter IV (not to mention the 27 or so million who've shelled out on other Street Fighter titles in its 23-year history).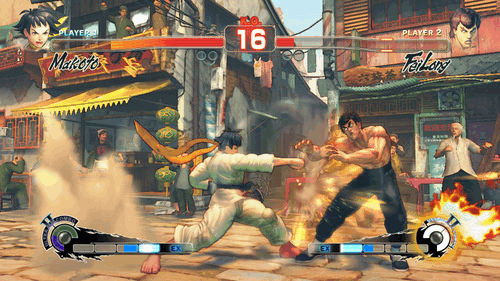 Things were getting heated
At first glance, you'd be forgiven for mistaking SSFIV's improvements as merely cosmetic. Ten new fighters bring the already impressive roster to a whopping total of 35. There are new costumes for every character and, more importantly, each has a new Ultra move. As always with Street Fighter updates, Capcom has improved the balance of disparate fighting styles to reduce the probability of encountering cheat moves.
So, why fork out money on a title that, like World Cup, South Africa is little more than additional content and minor tweaks to a long running franchise?
Well, because it is developed by Capcom, and not EA Sports; because its SRP is only £29.99 and not £49.99; and, ultimately, because Capcom seems more concerned with your gaming interests than its balance sheet.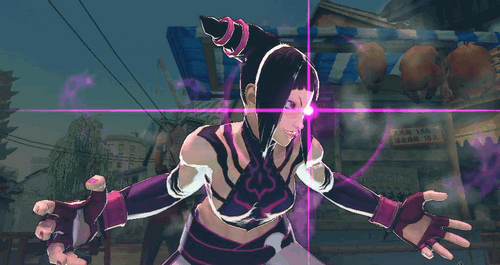 Doctor Doctor, I think I have Pinkeye. What a bright observation.
Online overhaul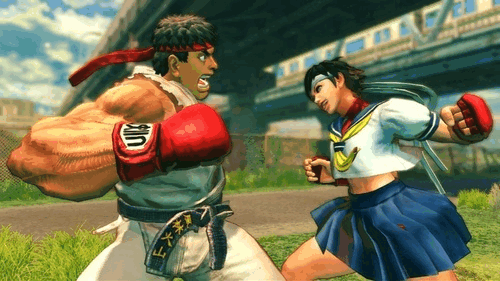 Let's swing both ways
The inclusion of a few more fighters and the price point alone would justify your purchase, but Capcom hasn't stopped there. The new intro scenes are stunning soft-focus anime, and the ghastly J-pop music of SFIV has been replaced by remixes of tunes from classic Street Fighter and other Capcom games.
But all this is just the icing on the cake. SSFIV's biggest improvements come from the overhaul in online play. Ranked Matches are now split into two distinct point systems, Player Points and Battle Points, which allows for experimentation with other characters without damaging your favourite fighter's reputation.
Team Battle does exactly what it says on the tin, allowing for 2v2, 3v3 or 4v4 fights. And, my personal favourite, Endless Battle, evokes memories of standing around arcades in the early nineties by recreating the winner-stays-on principle of Street Fighter's roots. Supporting in-game chat for up to eight players, you can comment on each fight, discuss tactics, or just plain hurl abuse as you wait in line for your next shot at the title.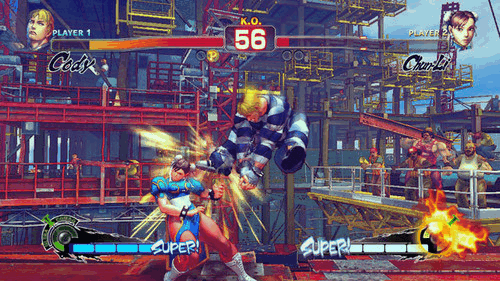 That's what I call Prison Break
Connect me up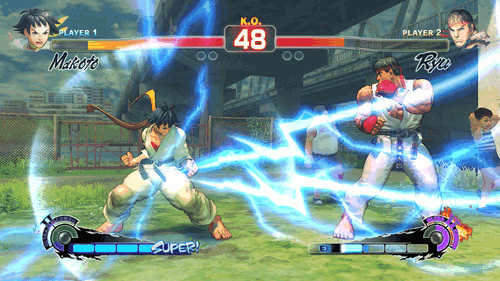 Nothing is quite as fast as a Bolt
Of all the large Japanese developers, Capcom shows again here that it best understands the importance of online, especially to the Western market, as well as the intricacies required to produce a compelling online offering.
Fighting games have always been an acquired taste, especially those produced by Capcom. A vast chasm exists between post-pub superficial bouts of button mashing - the domain of us mere gaming mortals - and the profundity on offer in their expert-only twitch mechanics.
Very few of us are blessed with unfathomable dexterity, and even fewer are interested in concepts such as reading frame data, hit boxes or damage scaling. But at just £29.99, Super Street Fighter IV is just too cheap and too good not to have in your collection.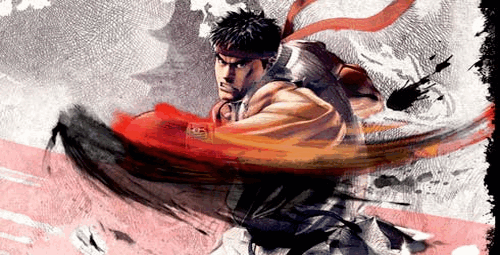 "Hadouken!"