Original URL: http://www.theregister.co.uk/2010/05/04/grouptest_oap_phones_emporia_talk_elegance/
Emporia Talk Elegance
Posted in Personal Tech, 4th May 2010 07:02 GMT
Review Emporia bills its handsets as lacking "unnecessary extras" so what you get it as very stylish and well made handset designed to make calls and send texts but nothing else.
The brand new Elegance looks very smart in its piano black and brushed aluminium casing and it has a fine large-button keyboard. The OLED screen is impressive too, rendering characters brightly and crisply in turquoise and black. Character size can be adjusted to suite those with poor eyesight.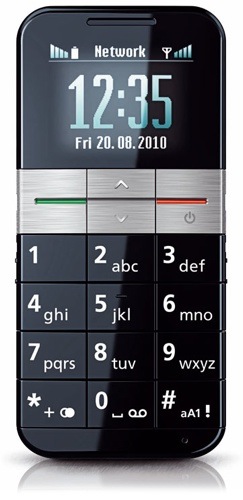 Though it lacks a HAC rating, the Elegance has what Emporia calls a "speaker suitable for hearing aids" which means it has extra volume on hand and shouldn't interfere with microphone hearing aid operation. Emporia doesn't give an official decibel rating for the Elegance's ringer, but turned up to maximum it is certainly among the loudest of the handsets on test - and, if the ringtone is set to 'William Tell', the most musically horrifying too.
Like all previous Emporia models, the Elegance has a selection of buttons on both sides of the handset than offer direct access to the built-in torch, the alarm clock, the menu system and SMS functions. This cuts down on the time you have to spend navigating menus to regularly used functions.
If you're worried about your Gran's handset ending up in a cup of PG Tips or being savaged by her cat Tiddles then Emporia will sell you a rugged version of the Elegance called the Solid with an identical technical specification but a rubberised casing for increased impact and splash resistance.
With a recommended price of £150, the Elegance is by some way the most expensive phone here but also by some way the most funky.
Verdict
Stylish and well made, the Elegance lives up to its name in both form and function. Rather pricey though. ®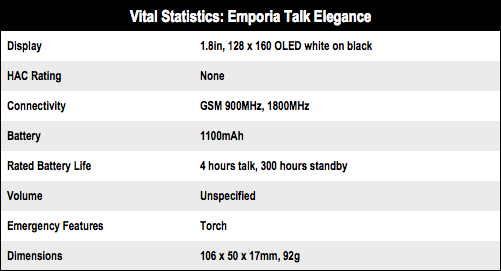 Next Nokia 7230