Original URL: https://www.theregister.co.uk/2010/05/03/top_ten_iphone_games/
Ten Essential... iPhone Games
Gaming-on-the-go heaven
Posted in Personal Tech, 3rd May 2010 08:02 GMT
Product Round-up Despite Nintendo and Sony's cries to the contrary, the iDevices are fast becoming serious players in handheld gaming.
The big software companies have begun to realise this, and are now joining the indie developers in a fight for your cash. And, with the iPad entering the UK fray in late May, iGaming is set to explode into the mainstream.
To help you decide how best to spend your cash and waste your downtime, I've compiled a list of the top ten titles currently available.

Peggle
OK, this PC game has been around for a few years, and it has already graced numerous other platforms, but Peggle has found its spiritual home on the iPhone.
Engendering an almost Zen-like appreciation for pachinko trajectory and gravity - not to mention a new found love for Beethoven's Ode to Joy - Peggle consumes you to the point that it bleeds into your dreams - that's if you can put it down long enough to even attempt sleep!
Everything that made Peggle one of the most played and best appreciated casual games of all time is here in the iPhone version. Everything that is, except the soothing in-level music, which, conspicuous by its absence, at least doesn't detract from what is PopCap's and, indeed, casual gaming's greatest puzzler.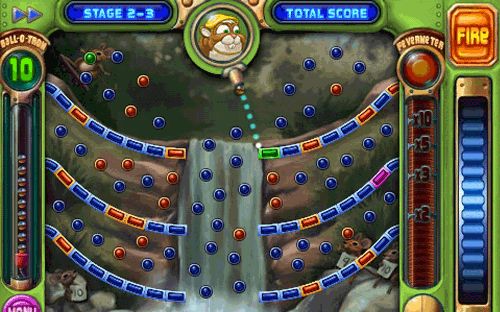 ---

Reg Rating 90%
Publisher PopCap Games
Price £1.79
More Info and Download Peggle

GeoDefense and GeoDefense Swarm
Dear Mr reghardware … utterly disgusted… travesty… editorial suicide… blah, blah, blah. Scream Plants vs Zombies until you're near apoplectic, and spit Star Defense and Fieldrunners out of your foaming mouth all you want, but FeoDefense and geoDefense Swarm are THE best tower defence games on the iPhone, fact!
A triumph of minimalism, Geo's pared back vector neons are a sumptuously beautiful complement to the iPhone's slick blackness, even if they owe more than a passing nod to Geometry Wars.
Starting tough and never relenting, the GeoDefense games have rightly earned the title of the most difficult Tower Defence games on the platform.
Swarm's open creep paths - which incidentally ease the difficulty somewhat - and the inclusion of online leaderboards via OpenFeint, make this version the most complete offering.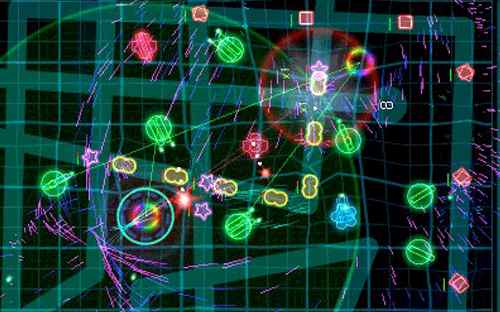 ---

Reg Rating 90%
Publisher Critical Thought Games
Price £1.19
More Info and Download geoDefense and geoDefense Swarm

Football Manager Handheld 2010
You've got to feel sorry for business. Staggering back to its feet from the economic credit-default-swap-collateralised-debt-obligation-whatever-the-hell-it-was meltdown, it gets kicked in the teeth by the plane-grounding glass and rock-spitting antics of Iceland's Eyjafjalla-whats-its-name.
And now, Sports Interactive and Sega have just broken the seventh seal of the capitalist apocalypse in releasing a game that's guaranteed to kill off productivity by causing corporate epidemics of iPoos.
If you think that's the strangest micro-review you've ever read then you just can't see what's coming. Don't buy this game; don't even look at this game. And don't, whatever you do, repeat or tweet the following to anyone: Football Manager Handheld 2010 is utterly, amazingly addictive, and leagues ahead of any other FM tactic game on the system.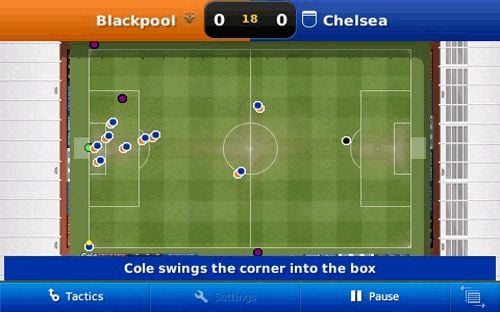 ---

Reg Rating 90%
PublishersSports Interactive and Sega
Price £6.99
More Info and Download Football Manager Handheld 2010

Grand Theft Auto Chinatown Wars
Originally developed for the DS, Chinatown Wars reaches the iDevices via a port of the PSP version. Singlehandedly ending the debate on whether the iDevices can be considered in the same breath as other handheld consoles, Chinatown Wars offers the largest scale game yet seen on the platform.
It's not perfect, though. Porting the entire game onto a screen that doubles as an interface has introduced unwelcome layers into the game's sub-menus, and on-screen controls are fiddly, especially when driving.
But the game oozes Rockstar's signature story telling and massively varied gameplay to make this an essential purchase. It looks doubtful that Rockstar will tinker with the controls for a special iPad edition, but the extra space alone should go a long way to solving one or two of the main control issues.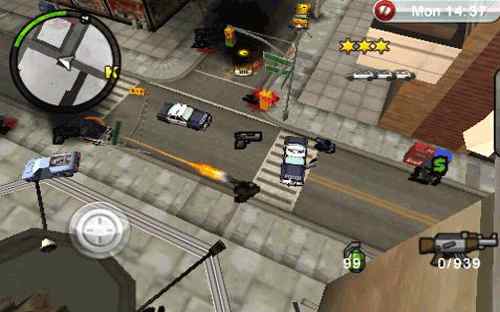 ---

Reg Rating 85%
Publisher Rockstar Games
Price £5.99
More Info and Download GTA - Chinatown Wars

Rolando 2
Simultaneously causing players to elbow fellow commuters while metaphorically elbowing iPhone gaming dissenters, the original Rolando was bursting with charm and surprise.
Superficially labelled a LocoRoco rip-off, owing to its tilt 'n' roll mechanics, art style and characterization, Rolando's greater depth and more intricate puzzling - not to mention Mr Scruff's awesome breakbeats - helped establish its characters as the iPhone's first official game mascots.
Improving upon the original in every way, with 2.5D visuals, tweaked controls, vehicles and special fruit power-ups, Rolando 2 is the definitive version.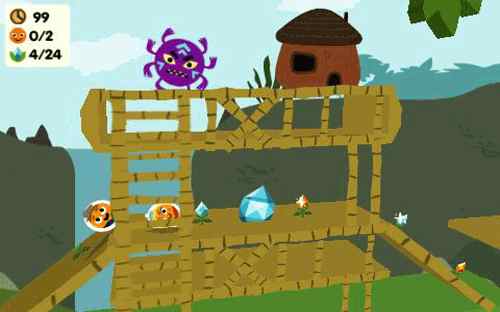 ---

Reg Rating 85%
Publishers HandCircus and ngmoco
Price £2.99
More Info and Download Rolando 2

Need for Speed: Shift
Narrowly snatching pole position from Firemint Real Racing, the latest in Electronic Arts long-running street racing franchise is the fastest, best looking driving game on the iDevices.
It's also the most feature-rich too. With a wide range of racing types, from standard races to drift contests, and experience points rewarding either aggressive or precise driving, Shift offers the platform's most comprehensive driving experience. The iPad version provides improved visuals and a greater, more immersive sense of speed and will offer local multiplayer too.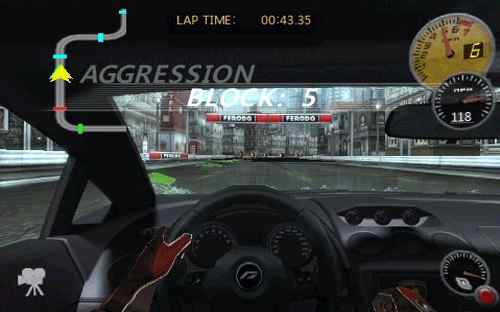 ---

Reg Rating 85%
Publisher Electronic Arts
Price £3.99
More Info and Download Need for Speed: Shift

Angry Birds
Current darling of the UK App Store, Angry Birds not only steals the physics crown from Ragdoll Blaster, but also out-charm even the Rolando games. Given it's the biggest selling game app at present, and the one you're most likely to see fellow iGamers playing, it feels surprisingly like it was made for you and you alone. Its lovingly crafted nonsense will have you chuckling to yourself with every oink, boing and hurrah.
Although slight on extra features, such as multiplayer and challenge modes, and constrained by the iPhone's screen size into a trial-and-error approach to ballistic success, you'll still find yourself returning to levels time and time again to obtain all three of those illusive stars.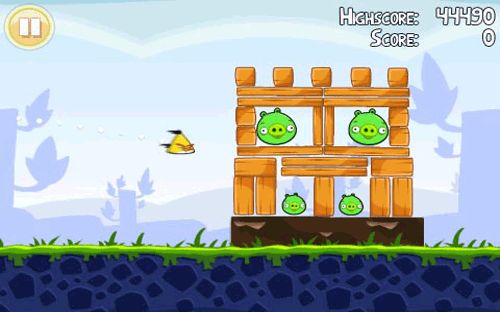 ---

Reg Rating 80%
Publisher Rovio
Price £0.59
More Info and Download Angry Birds

Flight Control and Flight Control HD
Air Traffic Control might not seem the most appealing simulation for a casual game, but Firemint's excellent line-drawing interpretation more than deserves its place as one of the best loved iDevice games.
The premise is simple. As controller of an airfield, above which the sky is filling with aircraft, all you need do is draw lines to guide aircraft down onto their respective landing zones: a large runway for jets, a small strip for light aircraft and a helipad for helicopters. But like all the best casual titles, this simple premise belies Flight Control's hidden depths. With increasingly overcrowded skies, timing is critical to ensure safe landings. Need to delay a flight slightly, draw a wider flight arc; need to stack a plane up, draw a circle and place it into a holding pattern.
As with many of the iPad updates, Flight Control HD offers new maps, improved visuals and increased multiplayer content. So, if you're lucky enough to own an import iPad, or have the cash ready for next month, it's definitely the version to own.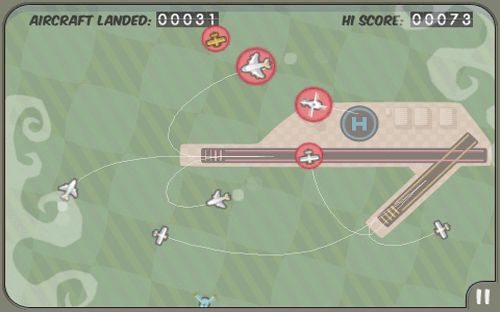 ---

Reg Rating 80%
Publisher Firemint
Price £0.59
More Info and Download Flight Control

Street Fighter IV
With only eight playable characters, one button each for punches and kicks, and no survival mode, you'd be excused for thinking Capcom has made a hash of porting SFIV over to the iDevices. Get over those initial concerns, however, and you'll find you've just picked up the best fighting game on the system to date.
By simplifying the controls and visuals, and keeping the character roster to a minimum, Capcom has concentrated on cramming the essentials of the SF experience into the limitations of the hardware. Providing excellent precision in its on-screen controls, the developers have managed to retain almost every move, combo and special from the original arcade game. And while the single player campaign is tragically short, local Bluetooth versus should keep you and your mates in Hadouken-heaven for months to come.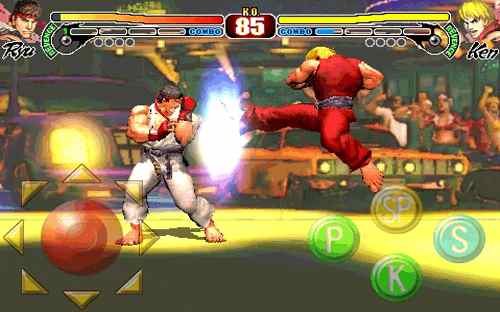 ---

Reg Rating 75%
Publisher Capcom
Price £5.99
More Info and Download Street Fighter IV

N.O.V.A - Near Orbit Vanguard Alliance
Admittedly, N.O.V.A only makes it onto this list because it's the best FPS available on the iDevices. That said, to say it's only the best of a bad bunch would be a great disservice to Gameloft's achievements.
It's a real showpiece for the tech and handles 3D with surprising ease, especially on the 3GS or third-gen Touch. And while we still await the definitive answer to the iDevices' twin-sticks and buttons conundrum, Gameloft has at least created a pretty decent control system, one which puts even some PSP titles to shame.
Ironically, the iPad version, while reportedly doing an excellent job of upping the resolution and textures, is rumoured to have introduced problems into the controls. Even after customising them, the placement of some of the controls is apparently just too far apart to make for comfortable extended play.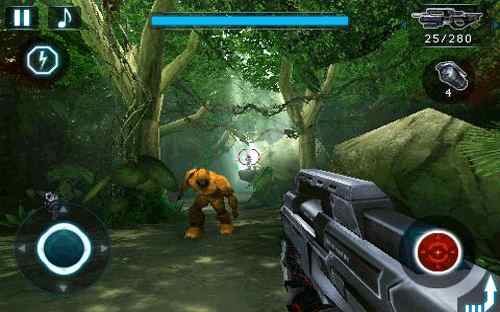 ---

Reg Rating 70%
Publisher Gameloft
Price £2.99 (£5.99 iPad version)
More Info and Download N.O.V.A. and N.O.V.A. HD