Original URL: http://www.theregister.co.uk/2010/04/30/review_peripherals_data_locker_enterprise_1tb/
Data Locker 1TB AES-encrypted external hard drive
Lock up your datas...
Posted in Personal Tech, 30th April 2010 07:02 GMT
Review How much pr0n can a fellow accumulate during a lifetime? Data Locker's Data Locker hard drive provides a whole terabyte of encrypted, password-protected storage for the files you want to keep from prying eyes.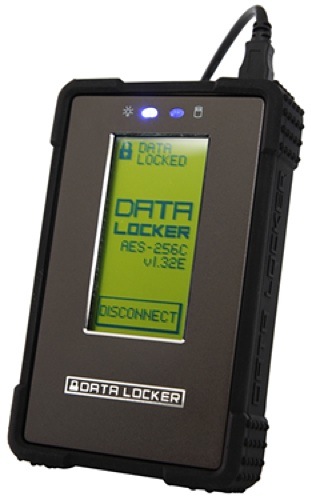 Data Locker's Data Locker: touchscreen tech to the fore
It certainly won't draw any glances for its looks. The Data Locker sports a chunky, two-tone, utilitarian design that recalls pre-iPod digital music players from the early years of the last decade, thanks to its green-backed LCD touchscreen. All it lacks is a headphone socket...
Said display provides a password-entry keypad and options screens rendered in the blocky text and graphics of an earlier computing epoch.
The 1990s just called and they want their user interface back, please.
The drive's one nod toward modernity is the protective, knobbly cornered rubber band that slips around its sides.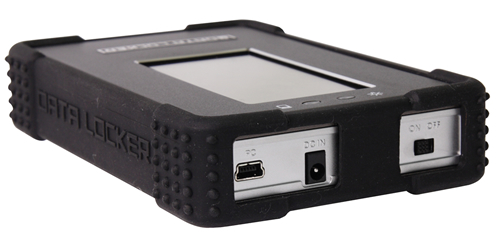 Complete with easily overlooked on/off switch
If the drive doesn't do anything when it's connected up, it's probably because you've neglected to flip the wee on/off switch - not a feature I expect to see on a modern external hard drive. Switch switched, and the bus-powered drive starts up, its display presenting you with a numeric pad on which to tap in the password.
Assuming you've done so correctly, you can either connect the drive to the host computer, or enter the drive's set-up screens to change the default password, set a new encryption key, and/or turn off the annoying key-touch bleep.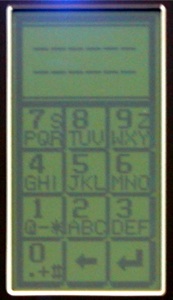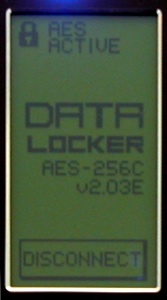 Enter your password, and the drive mounts...
Origin, Data Locker's UK supplier, sent over the Enterprise Data Locker, which wraps all the data stored on it with 256-bit AES encryption, but the company also sells a Pro model with 128-bit encryption and a Personal version that uses a proprietary algorithm.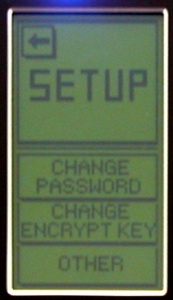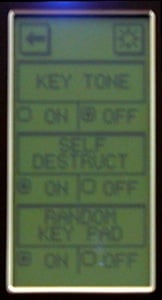 ...or you can adjust the drive's settings
It also lacks the self-destruct mode of the Pro and Enterprise models - it deletes the encryption key after nine failed attempts to enter the password - and the clever keyboard randomiser, which changes the numeric layout every time its presented to you. The notion is that this will prevent the crafty herbert who has swiped your drive from working out the password by seeing where on the screen your greasy fingertips have been placed.
Data Locker also claims the drive is safe from malware in as much as it detects attempts to alter the file system and/or partitioning scheme and asks you if you do indeed want to delete all the data on the drive - a 1TB 2.5in Western Digital Blue in the review unit. It asks the same question if you intentionally reformat it.
You're free to format the drive to NTFS, FAT 32 or HFS+ and partition as you see fit.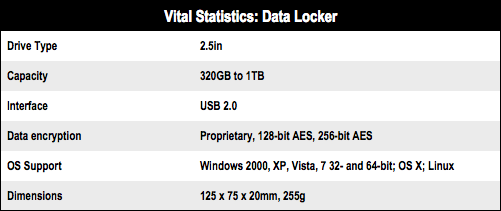 The Data Locker ships with as an NTFS drive, and it was tested with CrystalDiskMark 2.2 as such. It showed slightly better read performance, slightly worse write performance than other 2.5in external hard drives reviewed of late. Random write performance was particularly poor - an effect of the on-the-fly encryption, presumably - but that's unlikely to trouble you if you're using the drive to archive data, which is what it's for.
CrystalDiskMark 2.2 Results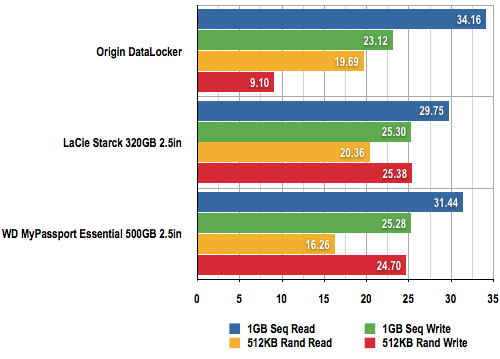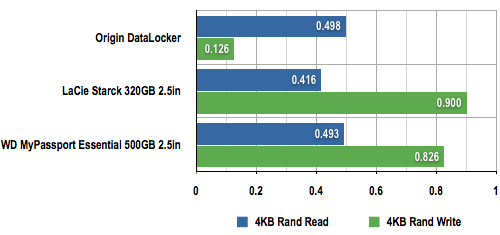 Data transfer speeds in Megabytes per Second (MB/s)
Longer bars are better
Security doesn't come cheap: the 1TB Data Locker Enterprise will set you back £551, with 750GB, 500GB and 320GB models coming in at £422, £351 and £293, respectively. Settle for 128-bit encryption and you'll pay £469 (1TB), £351 (750GB), £281 (500GB) or £212 (320GB). That's a mark up of £300-400 for the encryption over a standard 2.5in, 1TB external hard drive that you can encrypt for free using the open source AES-256 utility TrueCrypt.
Verdict
Whether you think that's a premium worth paying will depend entirely on your degree of paranoia, or the importance of the data you plan to store on the drive. Data security is good - just ask anyone who has lost a Ministry of Defence laptop - but the Data Locker seems a tad overpriced. ®
More External Storage Reviews

Buffalo
MicroStation
WD
My Book
USB 3.0
IoSafe
Solo
Freecom
Secure