Original URL: https://www.theregister.co.uk/2010/04/29/grouptest_mini_pcs_buyers_guide/
Buyer's Guide: Mini Desktop PCs
The Pros and Cons of tiny PCs
Posted in Personal Tech, 29th April 2010 07:02 GMT
Reviews When you choose the components for a new desktop PC, it's pretty much a numbers game. The more you pay, the more CPU cores, gigahertz of CPU speed, and gigabytes of memory and hard drive space you get. You don't have to worry about very much else.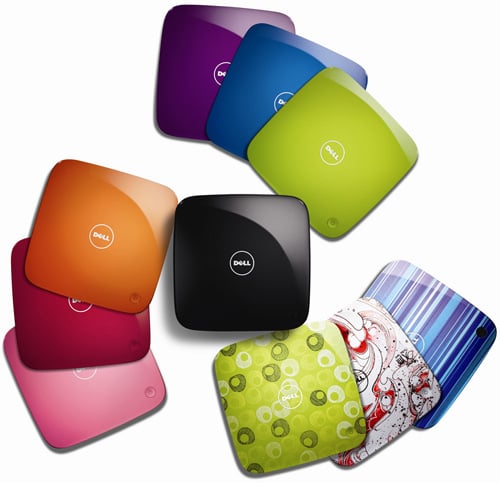 Looks are more important when your PC is in your living room
It's a different story with a mini PC. Manufacturers are limited by the size of the machine as to what they can include. That's not just a factor for the physical size of the components - hard drive, optical drive, chip coolers and so forth - but also how effective that cooling is. Less airspace around the components means the cooling system has to work harder and that may mean it makes more noise.
The size of the case also dictates how easily you can find room for your mini PC on a desk or beside your TV. It also has a major bearing on how portable the PC might be. The Acer Aspire X5900, for instance, is quite small but is effectively a regular desktop PC so you are unlikely to move it about. By contrast, you could drop the Cape 7 Ion or Viewsonic PC Mini 132 in the pocket of your coat.
Smaller machines can also be attached to the back of the screen if space is tight or you simply want a more all-in-one computing experience. Look out for machines that include - or provide as an option - a Vesa mounting kit. The Video Electronics Standards Association's spec ensures the computer's mount will fit onto the display or TV correctly.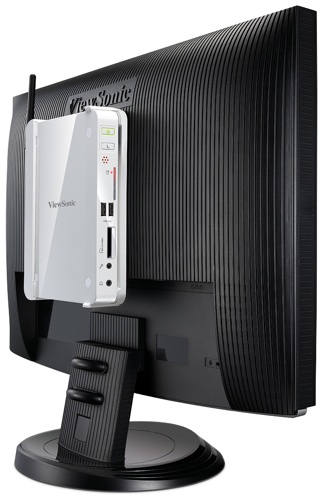 Some Mini PCs can be mounted onto the backs of monitors and TVs
Every desktop will give you wired Ethernet network connectivity, but you may prefer the convenience - at the cost of speed - of wireless networking, especially if you're after a mini PC for its portability. Some mini PCs have Wi-Fi built in, others simple bundle a USB adaptor, while the rest may not include it at all.
Pretty much any TFT display can show a 720p HD movie - 1280 x 720 resolution - and you don't need to pay more than £150 for a 22in 1920 x 1080 display that can handle full HD. Assuming, of course, you're not simply hooking it up to your HD TV. Most mini PCs have an HDMI port for this, or a DVI connector which can feed a telly's own HDMI port via an adaptor. VGA is best avoided if you can.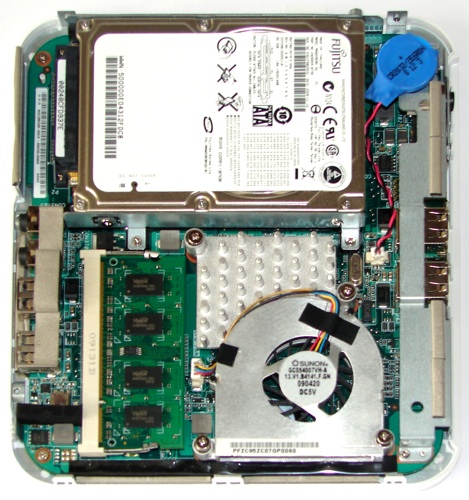 Expansion will be limited, but you should be able to upgrade key components, like the hard drive
Sources for HD movies are Blu-ray Disc - which requires a suitable optical drive - and downloads, both of which also mandate a dual-core CPU and graphics chip with a movie decoder. Watch out for machines with Intel integrated graphics cores, especially those in Atom CPU-equipped PCs, as they are generally not up to smooth full HD playback. Nvidia's Ion platform allows Atom-based mini PCs to handle HD with ease - and to make a decent stab at casual 3D gaming.
Proper gaming is a different matter as you need a combination of processor and graphics that is beyond the capabilities of many mini PCs. A digital graphics output is vital and we favour the neatness of HDMI over DVI.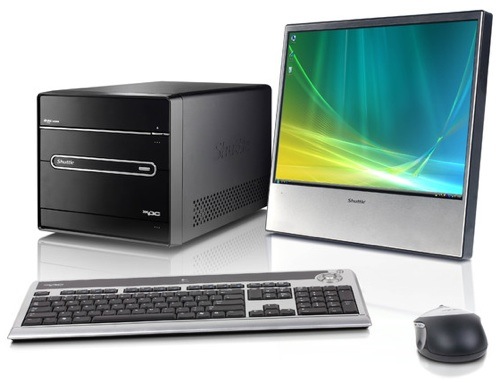 Size matters
Any of the current crop of integrated graphics chips from AMD ATI, Intel and Nvidia will deliver superb standard definition movie playback with the bare minimum of CPU load.
When it comes to memory you have to look long and hard to find a system with less than 2GB of Ram and many PCs come with 4GB which is very generous indeed. Bear in mind that Windows 7 Home's 32-bit editions can't use more than 3GB of memory, so don't shell out for a lot more than that unless you also spec up your machine with 64-bit Windows 7.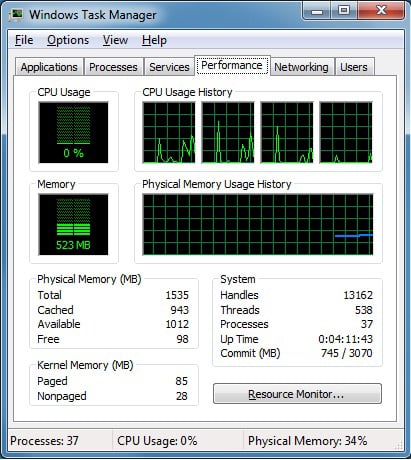 Having a dual-core processor makes a big difference to the performance available to you
Storage is cheap, and you're likely to be offered mini PCs with plenty of hard drive capacity. How much you need will depend on what kind of use you plan to put the machine to. A web-centric nettop, for example, won't require anywhere near as much storage as a device you plan to connect to your telly for video playback. Even a media centre system can get away with a small amount of storage if it'll be simply streaming content off network-connected storage.
Bigger, larger, faster - 7200rpm vs 5400rpm or 4600rpm, for instance - hard drives also generate more heat in use which will, in turn, put more strain on the machine's cooling system. The PC will be able to cope, but it might make more noise in the process - and you don't want that to interfere with your listening or viewing pleasure.
If you accept that a small and quiet Mini PC has limitations then the choice of CPU becomes less important than you might think. We regard a dual-core Intel or AMD CPU to be desirable in any circumstances and essential if you're running Windows 7. ®
Next: Acer Aspire X5900
Mini Desktop PCs Group Test