Original URL: http://www.theregister.co.uk/2010/04/28/review_notebook_samsung_r580/
Samsung R580 15.6in notebook
Entertainment centre
Posted in Personal Tech, 28th April 2010 12:02 GMT
Review Such is the pressure on PC makers to come up with ever more compelling designs - let alone exciting internals - that they must get so absorbed in their work that they forget to check on what their rivals are up to.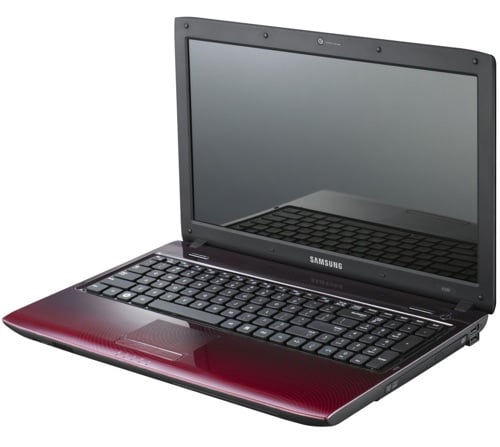 Samsung's R580: over designed?
Case in point: Samsung's new R580, a 15.6in entertainment-centric notebook that's all kitted out in a deep burgundy fading to black at the edges - all under a glossy, transparent veneer - that brings nothing to mind so much as LG's Scarlet series of HD TVs.
Come to think of it, the R580 owes a lot to Samsung's own tellies, too, and that's the way the world's going: computers as extensions of all the other home entertainment kit we clutter our living rooms with. Opening the R580 up, you'll notice that the screen bezel's satin black styling wouldn't look out of place on an LCD TV.
The display ditto, since it's a 1366 x 768 LED-backlit panel of the kind found on many a small 720p HD TV set. It's a resolution that's becoming increasingly commonplace on 15in notebooks, but for a screen of this physical size, the resolution really should be higher, at least 1920 x 1080 if the current fad for matching TV resolutions is to be followed.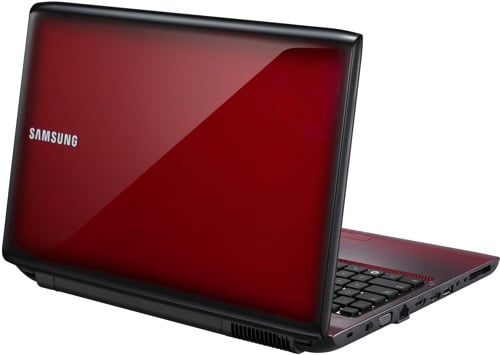 Captain Scarlet
The screen is driven by Nvidia's GeForce 310M GPU, which has 512MB of GDDR 3 memory of its own but can take some of the R580's 4GB of 1066MHz DDR 3 main memory too, if it needs to. For processing power, the R580 is equipped with Intel's 2.13GHz Core i3-330M, a two-core part with HyperThreading for four-core operation. The CPU has its own graphics core, but it's not used here.
That the IGP is ignored is undoubtedly a good thing. There's no way the Intel graphics would have put in a score of 3606 in 3DMark 06. Not that that's a spectacular rating - it's only a hundred points or so better than the old GeForce 210M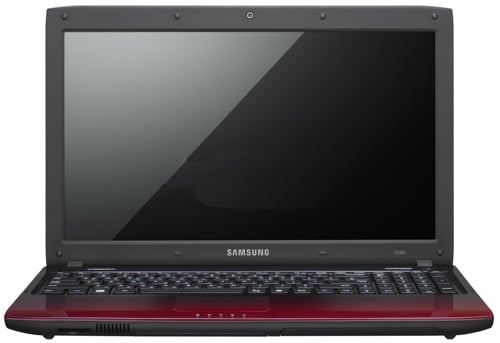 Telly vision
The R580 puts in a decent PCMark Vantage performance, as you'll see on the charts on the following page. It can't match the HP Envy - reviewed here - of course, because that 15in machine has a Core i7 on board and the ability to auto-overclock itself, a feature, called TurboBoost, that the R580's i3 lacks.
The performance of the R580 isn't bad, just not what it might be, particularly if you're a power-hungry gamer. If gaming is you're thing, you'll be wanting a machine with a Core i7 and a more advanced GPU, though you'll pay plenty extra for these attributes.
No, Samsung's focus here is video entertainment - it'll play 1080p video nice and smoothly, and there's an HDMI port for telly connecting - and casual gaming rather than all-out blasting, and the company's extensive software bundle does indeed come with an application called Samsung Casual Gaming which allows you to download demos of titles from a few years back and buy them if you want the full versions.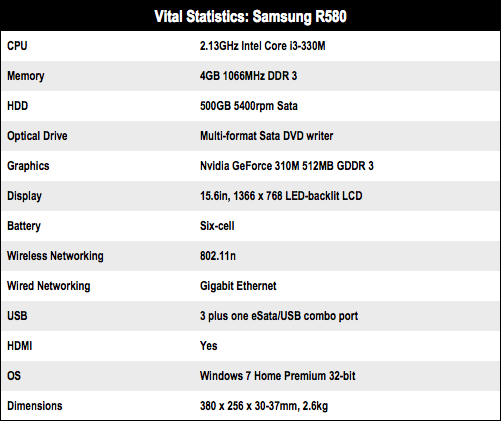 PCMark Vantage Results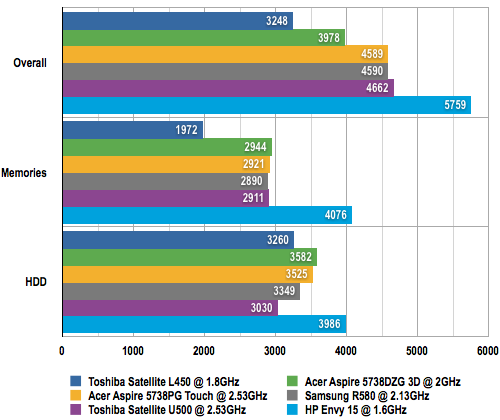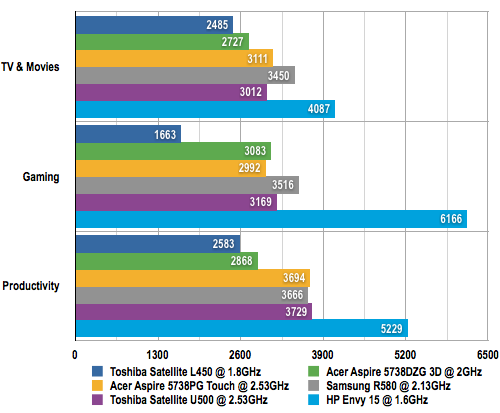 Longer bars are better
PCMark Vantage Loop Battery Life Results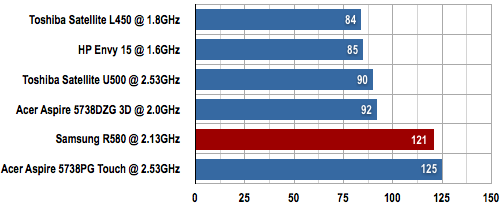 Battery life in Minutes
Longer bars are better
Speaking of software, Samsung bundles a stack of demos with this machine, all time-limited and designed to encourage you to cough up subscriptions for McAfee anti-virus; Pheonix's laptop-tracking service, Failsafe; and AnyPC remote access.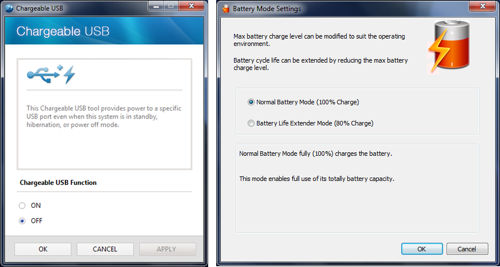 Samsung bundles a stack of utilities
Samsung's own software centres covers the utilities: a network manager that allows you to set up multiple 'locations', each with their own network and printer settings; a battery life booster that ensure the battery is never charged beyond 80 per cent of current capacity, reducing its per-charge runtime but extending its overall longevity; and the ability to allow the USB port on the left side of the machine to feed power even when the notebook is asleep or shutdown.
I tried the USB power feature but without success - it would only power up my iPhone when the system was up and running - so I can't personally recommend it. I can't praise the battery life, either: it only managed fractionally over two hours in Reg Hardware's PCMark Vantage loop test. But this is a desktop replacement, after all - you don't buy a machine like this if you want the acme of mobile computing.
I'm not sure about the angular design, either, but that's an entirely subjective judgement. A fellow Vuture stuck his head round the door and declared it the "most ugly" laptop he'd seen. That's overly harsh - the R580's burgundy red colour scheme is cute, especially the way it fades to black at the edges, but there's a sense here of someone in Samsung's design team trying too hard.
Case in point: the glossy fingerprint magnet that is the wrist rest area and keyboard surround is a sea of wavy red lines the might be a topographical map of Hades.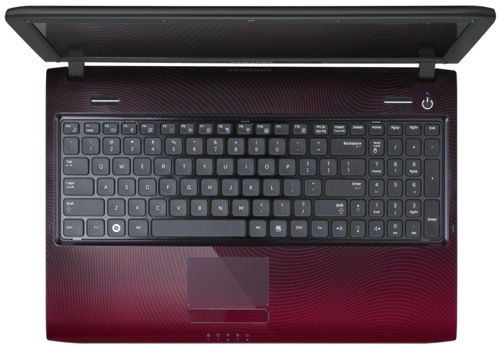 Abandon hope all ye who enter here?
And why did Samsung have to make the touchpad so small. Actually, it's not that wee, but it does look a trifle lost. So you don't lose track of where it is, the pad has four blue pinprick LEDs, one at each corner, to tell you 'I'm here'. Sorry, Samsung, but it's unbelievably naff. It doesn't look cool, it doesn't look tough in a boy-racer kind of way, it just looks silly.
Samsung has integrated a numberpad into the R580's keyboard, the better, perhaps, to make the machine appear less wide, something that large areas of blank plastic either side of the keyboard tend to exaggerate. There's surely no practical value in having a numeric keypad on an entertainment- oriented notebook, unless there's some advantage to having one when playing World of Warcraft or you're definition of 'fun' is 'hours spent engaged in double-entry bookkeeping'.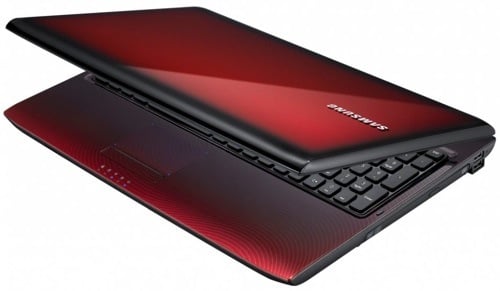 Shiny, shiny
The lozenge/chiclet keys themselves have a nice tactile matte look and are solidly underpinned, so typing is a joy even if you're not engaged in some late night accountancy. There's another of these lights above the power key - where it makes sense, sort of - and the status LEDs on the front-edge are likewise bright blue.
Inside the R580 there's a 500GB hard drive, though Samsung also offers an R580 with a 320GB and only 3GB of memory. Not that that's a problem since the R580 comes with the 32-bit version of Windows 7 Home Premium, so can't address more than 3GB of Ram in any case.
You're looking at paying around £550 for the 320GB model and £600 for the one with the 500GB hard drive. There's a Core i5 model coming, that will set you back £700. You certainly get plenty of laptop for your money, physically - it's a chunky boy - and from a features standpoint - 802.11n, Bluetooth, eSata, Gigabit Ethernet, ExpressCard 34 slot, a 1.3Mp webcam and a pair of 1.5W, SRS 3D Wow-fed speakers complete the set.
Verdict
The R580 is an attractive machine: visually and on the basis of its specs and the performance they deliver. Occasional gamers will like it, as will film fans. Only the 13in-screen resolution on a 15in display disappoints. ®
More Notebook Reviews

Toshiba
Satellite
U500
Asus
G51J
Acer
Aspire
5738DZG
HP
Envy
15