Original URL: http://www.theregister.co.uk/2010/04/28/review_gadget_doro_prosound_hs1910_dect/
Doro ProSound HS1910 Dect
Headset that's a Dect cordless in disguise
Posted in Personal Tech, 28th April 2010 07:02 GMT
Review The Doro Prosound HS1910 may look like your average wireless headset, but this one stands out from the crowd. Not merely a headset, it's a cordless Dect phone in its own right.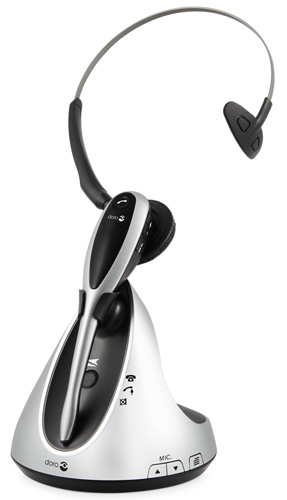 Doro's ProSound HS1910 Dect: ready to receive calls
The HS1910 comes with its own basestation ready to be hooked up to an analogue landline, but the headset part is compatible with the Generic Access Profile so if you already have a GAP-compliant basestation - contact the manufacturer if you're not sure - then you can register the HS1910 with it and just use the bundled unit as a stand and charger.
I tested the HS1910 with the headset paired to my antediluvian Panasonic cordless phone system. If the Doro works with something this old, it should work with just about anything upward of two string-connected cans.
The HS1910 can be connected to your existing home phone in a number of ways, the simplest being through a cable splitter, but you can also just plug the thing directly into a spare phone socket. While Doro reckons the ability to answer calls as a standalone unit is an industry first, the HS1910 isn't really designed to be your only phone.
To start with it doesn't have a ringer so unless you are keeping a close eye on the earpiece LED you have no idea you are being called. More to the point, it doesn't have a keypad so you can't make outgoing calls unless you have it hooked up to a regular phone you can use to dial out first.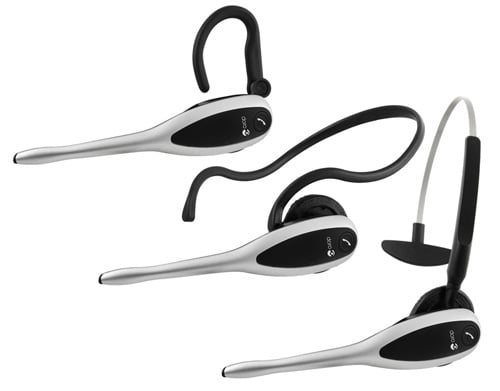 Wear it how you like
Both these issues could probably have been addressed without jacking up the price too much and would make the HS1910 rather more appealing to the average domestic user.
Whenever you hear your phone ring, you simply press the HS1910's answer/hang up button, pop it on your head and away you go. The headset's 240mAh removable battery is good for 100 hours on standby and provides seven hours of talk time, though Doro cautions that it'll take 4-5 full charges for it to achieve maximum capacity.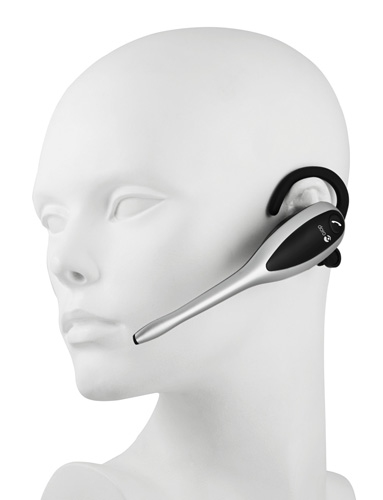 'Hello? Anyone there?'
In day-to-day use the HS1910 is very simple to master. The headset has a large button to answer or end calls along with volume controls and a mute switche, making it altogether simpler than many Bluetooth earpieces. A small blue LED lets you know the headset is charged and ready for action.
Doro supplies three mounts for the earpiece, letting you wear the device clipped over your ear, over your head or behind your neck. In all three forms, the unit is commendably comfortable helped by its featherweight 27.5g mass.
Call quality was very good, with the HS1910's noise-cancelling microphone doing a good job keeping background nose at bay. Spending 45 minutes on the dog and bone talking to an airline booking desk was certainly a more pleasant experience wearing the headset than having a regular handset wedged against the side of my head.
If the Doro has a downside it's the cost. At £113 it isn't exactly cheap.
Verdict
Useful as a standalone phone or as a wireless headset, the HS1910 works well, with good noise cancellation and the range Dect provides over technologies like Bluetooth. But for real mass-market success, it needs a built-in ringer and the ability to make calls on its own - not heard of voice recognition, Doro? ®
More Headset Reviews

Novero
TheFirstOne
Plantronics
Voyager
Pro UC
Aliph
Jawbone
Prime
Plantronics
.Audio 655