Original URL: https://www.theregister.co.uk/2010/04/27/tomtom_go_live_1000/
TomTom to brings apps, always-on connectivity to satnavs
Next-gen GPS gadget incorporates Apple tech
Posted in Science, 27th April 2010 11:21 GMT
TomTom has unveiled its next-gen navigator - a gadget it hopes will bring downloadable apps to satnavs and allow it to cash in on the craze the way Apple has.
The TomTom Go Live 1000 will go on sale in the summer. When it's here, it will incorporate cellular connectivity - Vodafone is TomTom's data partner, and the two have a long-standing relationship - across 33 European countries.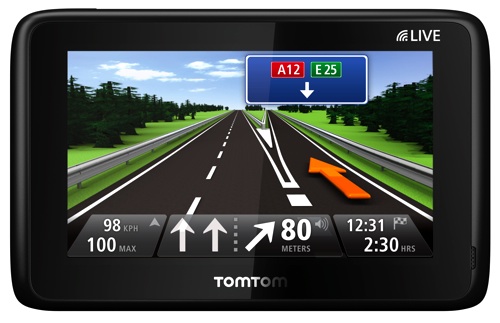 TomTom's Go Live 1000: Webkit-based UI for downloadable apps
TomTom pledged there will be no subscription fees or special activation required: services will come free, for a year at least. After that, you'll have to stump up no more than €50 (£43), TomTom said. Bundled services include TomTom HD Traffic, mobie speed camera database access, and local search in 16 countries.
TomTom also promised the 1000 will deliver faster, smarter route planning than ever before.
These existing services will be presented through a new UI controlled through the 1000's capacitive touchscreen and driven by a 500MHz ARM 11 processor. The UI is based on Apple's Webkit - the rendering technology that powers its Safari browser.
It will also allow coders to create widgets which users can download straight to their 1000s over Vodafone's network. ®