Original URL: https://www.theregister.co.uk/2010/04/27/review_storage_acer_easystore_h340/
Acer Easystore H340 2TB Nas box
For the heavyweight home user
Posted in Personal Tech, 27th April 2010 07:02 GMT
Review Sporting four 3.5in drive bays, 2GB of DDR2 RAM and a 1.6GHz Intel Atom 230, all governed by Windows Home Server, the latest edition of the Acer Aspire Easystore H340 series certainly piles on the features in a bid to replace any other storage/streaming/server type device you have ever bought. Sold in three configurations from 1.28TB, to 3TB, the 2TB review sample came equipped with two 1TB Hitachi Deskstar 7K1000.B hard disks.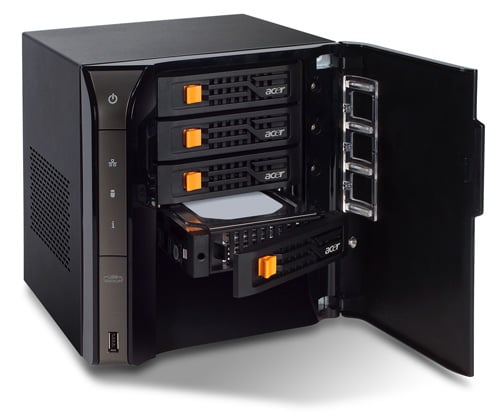 Home service: Acer's Easystore H340
Initial impressions indicate that we do indeed have a high quality product here, as the H340 is built like a small safe, the only thing missing is the combination lock. Stylish multi-function LEDs adorn the front panel and drive bay door, providing instant feedback on individual disk activity, LAN activity and overall drive status.
Although there are four HDD bays for allowing for capacities up to 4TB, the Easystore H340 has additional interfacing that includes one front and four rear USB ports, and an eSata port to connect up even more storage. Gigabit Ethernet is, of course, included as the standard network interface.
Acer certainly intends for the H340 to be an all-in-one server solution for the modern home user, offering features ranging from your standard DLNA compliant streaming system to remote web access and automated backups. However, these features seem to be the de facto standard resulting from the implementation of Windows Home Server (WHS)and not unique to Acer's Easystore line.
So, does Windows Home Server do decent hardware justice? In terms of features, yes. WHS does indeed support all common and many proprietary streaming protocols, giving flawless results with DAAP music sharing with iTunes, along with streaming to an Xbox 360 and various other DLNA compliant devices.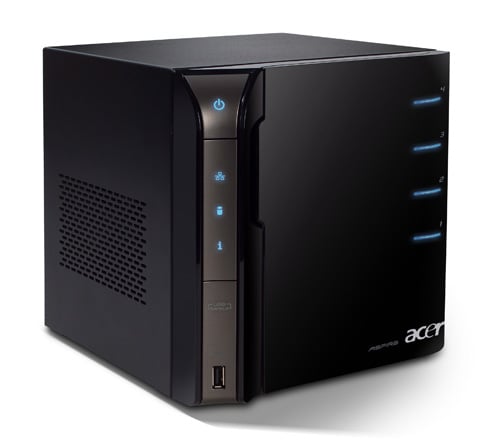 Five USB ports in all, one on the front and four at the rear
Configuration is simple using the Windows Home Server Console, but for those who wish to delve deeper, remote desktop connection is possible. Using Remote Desktop Connection it is entirely possible to use the H340 as a remote computing platform. However, with the netbook-sourced Atom 230 at its heart, this is unlikely to be of much use and certainly is no powerhouse.
Local streaming is seamless, but how about remote access? Or should I say; do you have a Windows Live ID? You'll need one if you want to use the WHS remote access feature without a complicated mess of port forwarding to SMB shares. Microsoft provides a service that dishes out free insert-your-own-subdomain-here.homeserver.com domains allowing you to connect to the (not all that intuitive) remote access interface.
Third party DNS services such as DynDNS are not supported. I found that the WHS web interface lacks features found in other competing products, such as device configuration and in-browser streaming of media files. Indeed, it appears the only function of the web interface is to offer file management.
On the local set up side, the Windows Home Server Console is fairly straightforward, providing an intuitive interface, which will appeal to the average user. Configurable features include multiple user accounts, shared folders, disk management, power management and backup management.
The unit also comes bundled with McAfee Total bloatware Protection, which will nag you indefinitely until you register it. It then leaves you alone until the trial period ends, only to start harassing you again to buy a license. At first this seems normal, PC manufacturers have been doing it for years, but in order to remove it, the user must use RDC and manually access the Add/Remove Programs facility, as this "feature" is not listed as an Add-in by the Windows Home Server Console.
In addition to streaming, facilities are provided for automated backups of any configured machine on the network, along with statistics such as uptime provided by the "Lights-Out" add-in. This feature manages the power consumption of the server by using calendar events (i.e. backups) or pre-set timings to wake the server and send it back to sleep once a task has completed.
Data Throughput Results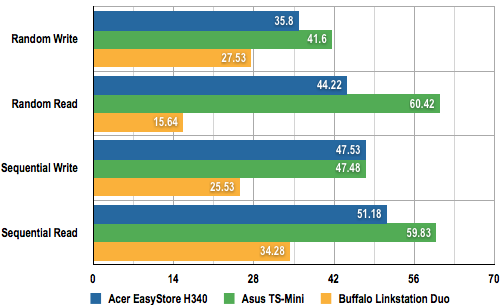 512k file tests - throughput in Megabytes per Second (MB/s)
Longer bars are better
In short, Lights Out allows a user to run overnight backups without having to leave the server on constantly. Furthermore, detailed system statistics – such as CPU/RAM/HDD usage, system temperatures, fan speeds and rail voltages – are also available using the Windows Home Server Console. It is also possible to configure an email alert to inform you when usage thresholds are reached.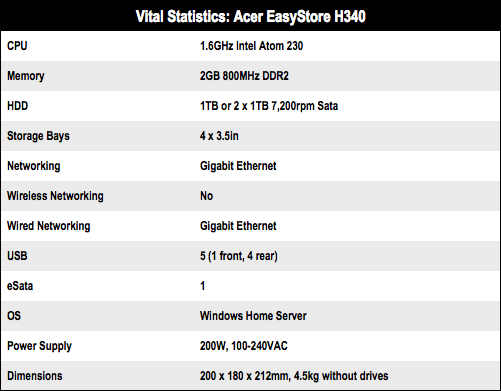 Whilst there are many NAS boxes of similar performance to the H340, the comparison charts see up against other multi-drive NAS boxes reviewed by Reg Hardware recently. Here we see that the H340 easily out-paces Buffalo's LinkStation Duo in all operations and compares favourably with the Asus TS-Mini (also a WHS device) in write operations, but ultimately falls behind it in read operations. This may be somewhat related to the fact that the H340 is running two HDDs whilst the TS-Mini has two bays; it only had one HDD installed. This, coupled with the lack of RAID support in Windows Home Server, is likely to reduce the H340's read ability.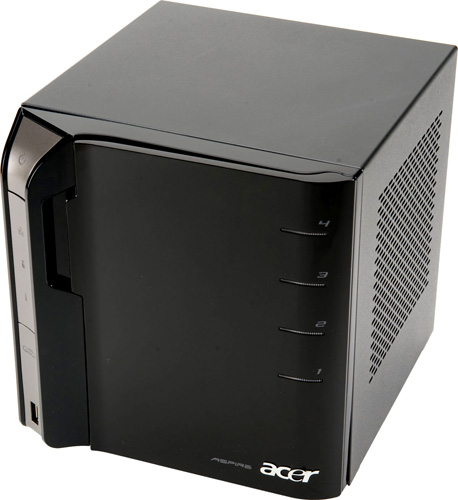 Solidly built, but aimed more at home users rather than power users
Although it's not the fastest multi-drive NAS, there is certainly sufficient bandwidth to comfortably stream 1080p content and perform any other typical I/O task with relative ease. Certainly, Acer has set the bar high for expandability with a multitude of additional ports and an incredibly intuitive drive removal system, which allows even a novice user to expand their storage ability in a matter of minutes. As for power consumption, there's room for improvement but it's not that much above others of this ilk clocking up 40W at idle and 44.9W under load.
Verdict
So if you need a NAS solution which is built to withstand a tactical nuclear strike, holds four disks, has six expansion ports and interacts well with most popular devices, then keep your attention focused on Acer's Easystore H340. However, the lack of RAID support will certainly put some folk off right from the start and you'll have to be prepared to do battle with the McAfee nagware too. That said, if you are an average home user and impartial to these things but still want to store more holiday snaps than you could ever take, then Acer H340 is designed to appeal to you. ®
More Nas Box Reviews…

Asus
Home Server
TS Mini
Freecom
Network
Media Centre
Netgear
ReadyNas
NVX
Iocell
NetDisk