Original URL: http://www.theregister.co.uk/2010/04/24/review_hd_tv_sony_bravia_kdl_32ex703/
Sony Bravia KDL-EX703 32in Freeview HD TV
Small screen star?
Posted in Personal Tech, 24th April 2010 08:02 GMT
Review Telly makers may be keenly touting 3D, but what rather more folk have been looking forward to this year is the debut of free-to-air HD programming that doesn't require you to have a satellite dish bolted to the side of your house.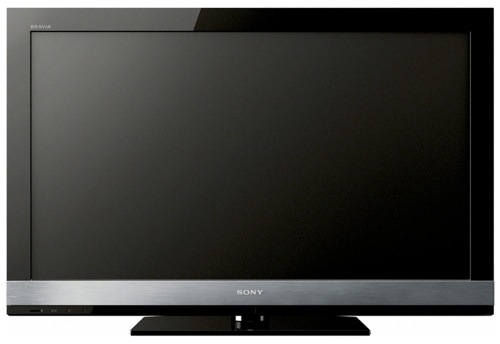 Sony's Bravia KDL-32EX703: look says 'TV', not 'design statement'
Freeview HD's roll-out continues apace from its December 2009 debut, but it has taken until now for manufacturers to get TVs with integrated DVB-T2 tuners and MPEG 4 decoders out to the UK's electronics retailers. Sony's 26-60in Bravia Essential line, of which the KDL-32EX703 is one of the top-of-the-line models, are among the first.
Branding a TV as part of an 'Essential' series might suggest that it's a basic model, and while the EX703 might not sport some top-end features, it's certainly no pared-back offering. This model has a 1920 x 1080 full HD resolution, LED backlighting, 100Hz picture interpolation, internet connectivity, said Freeview HD tuner - it'll pick up standard-definition Freeview too - and a host of ports all wrapped up in a package that says, simply, 'I am a telly', not 'I am a conversation piece' or 'I am a design statement'.
At a given size, the Bravia Essential TVs run through from standard 50 interlaced fields a second with a fluorescent backlight, through 100 interlaced fields a second with the same backlight, which, in the top model, is replaced with an edge-mounted LED backlight.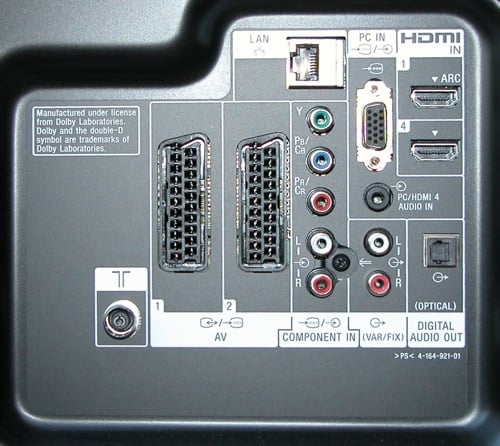 No shortage of ports on the back
Uniform edge backlighting isn't going to give the contrast range that area-specific array backlighting will, but it does a darn good job here. Blacks look appropriately black, whites look white and colours are bright and rich. While I can't say, hand on heart, that the extra £200 the LED version commands over models with a fluorescent backlight is a must-spend, there's no question the EX703 presents a very nice picture.
I'm not entirely sold on the 100Hz motion interpolation technology - an attempt to make the source material's frame rate more closely match the display's refresh rate, in order to ensure smoother animation. It has the annoying habit of ridding the film-like look from TV material played back through either of the EX703's two Scart connectors. Freeview content viewed through the tuner was fine at 100Hz, but some pre-HD but post revamp episodes of Doctor Who looked like they were shot on videotape. Ditto recordings from my Freeview DVR.

More ports on the left side
It's clearly something to do with the way the Sony handles interlaced material, and you can turn it off. Thankfully, the TV stores separate picture settings - of which 100Hz is part - for each input, so you can disable it for Scart-fed content but leave it on for tuner-received programmes and whatever you have hooked up to the telly's four HDMI ports.
Other feeds include composite-video, component-video and VGA, but I suspect I'll make more use of the USB port into which you can add an optional Wi-Fi adaptor or a Flash drive of, say, Xvid-encoded .AVI files and watch them on the screen, .SRT subtitle files included if appropriate. Connect your camera and you can view JPEG photos you've taken.
Incidentally, the 10W-per-speaker sound isn't bad either. Sure it's not as beefy as the audio experience a big, boxy CRT TV might deliver, and certainly not hi-fi. It also exposes the degree to which different Freeview stations' sound levels vary, even between a single broadcaster's channels. But it's not weedy, either, and fine for all but the most audiophile viewers.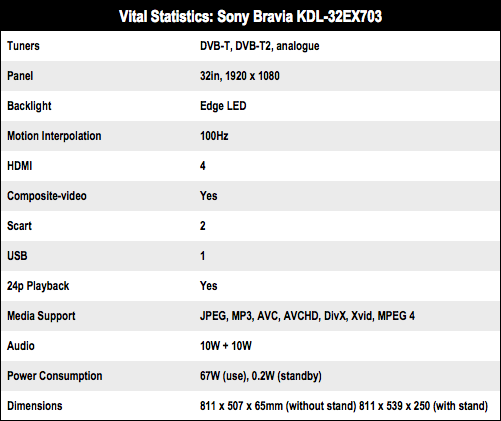 Without Wi-Fi, the EX703 relies on wired networking through a standard 10/100Mb/s Ethernet port, which I hooked up to a powerline adaptor to connection with my router. The EX703's PlayStation-derived XMB user interface is ready for the net, with a handful of online content sources built in, including the inevitable YouTube and, if you're a subscriber, Lovefilm on-demand movies. It's a shame Lovefilm's selection of available titles is poor, not even matching its PC-based streaming service, let alone the range of DVDs it has on offer.

Nice remote, but the Home, Guide, Options etc buttons are too close to the navpad
Selecting them exposes some lag in the TV's responsiveness. Hit Guide on the remote to call up the eight-day Electronic Programme Guide, and there's a second or so of delay while the EX703's processors calls it up. Once a UI section - menu, guide, online manual even - is on screen, navigation is a little more responsive, but not nearly as quick as it should be.
Moving around the UI and changing channels is easy with the EX703's large remote, which sports a second power key on the underside. Its face is oddly convex, and the battery compartment is exposed by sliding the entire lower side of the remote away from the upper side. Only Sony's decision to bend four buttons around the circular navpad, which means it's too easy to hit the Guide, Options, Info, Home, Favourites or back key rather than the directional control, disappoints.
Reg Hardware's power meter revealed that the EX703 draws 14-15W on standby, rising to between 66W and 68W when it's operating.
Verdict
The Bravia KDL-32EX703 is not only packed with features but is displays a darn fine picture too. Even the sound isn't half bad. It's pricey, but not well beyond its rivals, and there are cheaper family members if you're happy to forego LED backlighting and 100Hz interpolation. ®