Original URL: http://www.theregister.co.uk/2010/04/23/review_laptop_viewsonic_viewbook_130/
Viewsonic ViewBook 130 ultra-slim laptop
Wanted: killer feature
Posted in Personal Tech, 23rd April 2010 07:02 GMT
Review The slimline design and silvery-grey finish of Viewsonic's ViewBook will prompt inevitable comparisons with Apple's MacBook Air - reviewed here. The ViewBook is only about half the price, though, so Viewsonic is obviously hoping to attract people that can't manage the MacBook Air's hefty price-tag.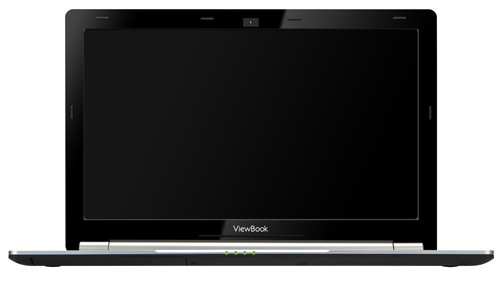 Viewsonic's Viewbook 130: something in the Air tonight
There's certainly a superficial resemblance, as the use of similar 13.3in LED-backlit displays means that that the two machines are almost identical in terms of width and depth. However, the ViewBook can't match the super-slim profile of the Air. Even so, it's still light enough to pick up easily with one hand and slip into a bag when you're on the move.
The ViewBook is crammed with a much wider range of connectivity options than the Air: VGA and HDMI interfaces for connecting to external displays; two USB 2.0 ports on the sides; Gigabit Ethernet; a multi-format memory card slot and an ExpressCard bay; and audio connectors for headphones and an external microphone.
You'll find a third USB port tucked, somewhat inconveniently, around the back of the unit, and there's a 1.3Mp webcam located just above the screen. It's got a built-in microphone for the webcam, and stereo speakers too – although Viewsonic's claim that the speakers provide "1.5W of awesome power" is just daft.

Nice and slim
Build quality is adequate, but not exactly something to write home about. The ViewBook is reasonably robust, but the lightweight plastic casing has a cheap and cheerful feel to it. While the alphanumeric keys on the keyboard had a nice, solid feel to them, the space bar tended to rattle rather annoyingly when we started to type more quickly. The trackpad's a bit small too.
The LED display has a resolution of 1366 x 768, and provides a bright, sharp image. I'm not too bothered by the screen's reflective coating, but the glossy black bevel running around the edge of the screen really shows off every little fingerprint and smudge mark. I was also concerned about the two cooling vents located right on the base of the unit, but the ViewBook never became too hot to sit comfortably on a lap.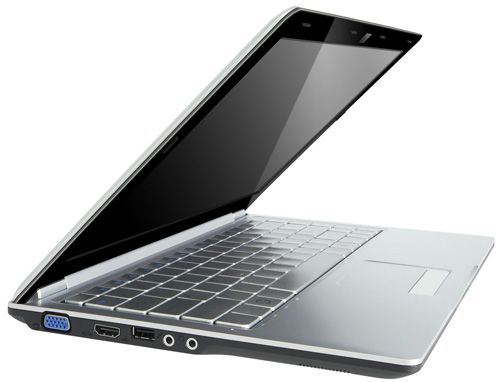 More ports than a MacBook Air
Prices for the ViewBook range start at around £428 for the ViewBook 120, which is equipped with a 1.2GHz single-core Intel Celeron M 743 processor and 12in screen, but we tested the ViewBook 130, which has a 13.3in screen and a 1.3GHz Core 2 Duo SU7300 processor, and costs £622 through Viewsonic's preferred retailer, Misco.
Other standard features in the ViewBook 130 include 2GB of memory, a 320GB hard disk, 802.11n Wi-Fi and an integrated Intel GMA 4500M graphics core. The review unit was equipped with Windows 7 Professional, but you'll also see it on sale with Windows 7 Home Premium.
Like the MacBook Air, the ViewBook 130 lacks an optical drive. Alternatively, there is a 'Pro' version of the ViewBook that includes an internal multi-format DVD burner and which costs about another £50. It's also slightly heavier, at about 1.6kg to the 130's 1.5kg.
The problem we had as we explored the ViewBook was that we couldn't quite figure out what it wants to be. The 13.3in screen and Core 2 Duo processor mean that it's more than a netbook, but the 1.3GHz clock speed is a mite feeble for a fully-fledged laptop PC – especially one that costs more than £600.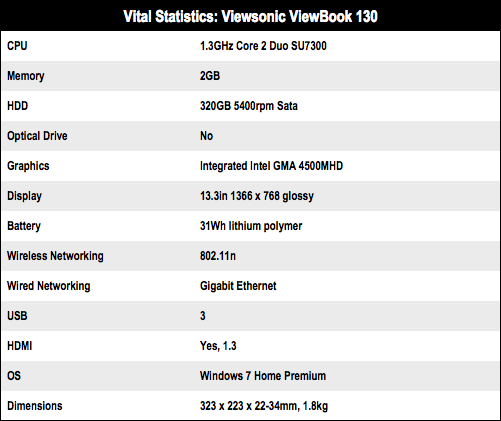 Running the PCMark Vantage test suite on the ViewBook revealed that its performance is matched by less expensive rivals such as the 11.6in Acer Aspire 1810TZ - reviewed here - which has a similar specification and costs a mere £450 - though the ViewBook does have a larger screen.
PCMark Vantage Results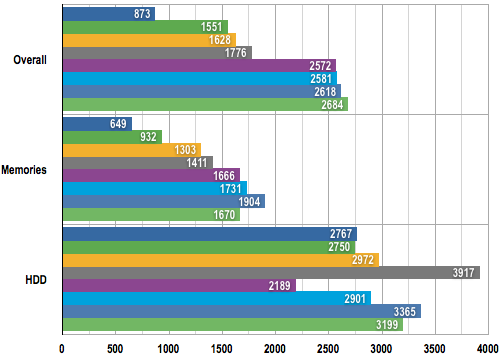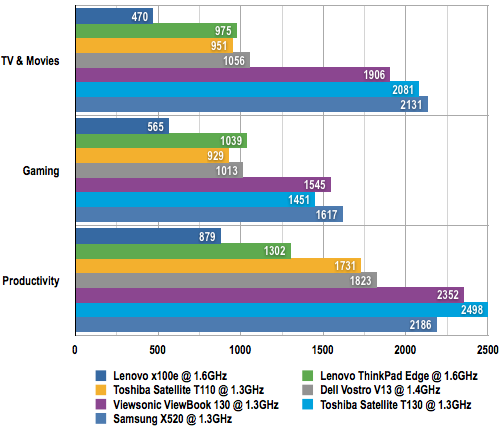 Longer bars are better
PCMark Vantage Loop Battery Life Results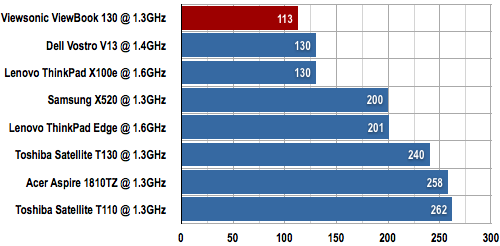 Battery life in minutes
Longer bars are better
To be fair, the ViewBook felt quite smooth and responsive when running Windows 7 and handling routine tasks such as web browsing and Microsoft Office apps. It's fine for a spot of casual gaming too. It handled the 3D graphics in the online Quake Live with no difficulty, although the more demanding Far Cry 2 reduced it to a sluggish 7f/s, so serious gamers will need to look elsewhere.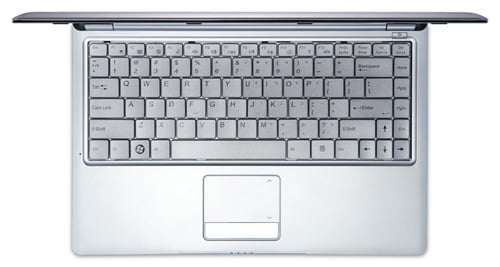 The keyboard is fine, but the touchpad is too small
Video performance was disappointing. I was able to connect the ViewBook to an HD TV using its HDMI port, and was pleased to see that it could output video at full 1920 x 1080 resolution. Playback of standard-definition video was no problem, but while it played some short 1080p video clips perfectly well it did struggle a little with full-length HD programmes that we downloaded from the BBC iPlayer.
Viewsonic claims that the ViewBook provides "the perfect combination of mobile computing and digital entertainment", but it needs a bit more raw horsepower to really deliver the goods on the entertainment side of things.
The other disappointment was the ViewBook's battery life. I'm getting used to seeing laptops that can run for several hours on battery power, but when looping PCMark Vantage continuously, the ViewBook couldn't even get to the two-hour mark - 113 minutes, to be precise. Admittedly, you'll get longer life for less demanding tasks such as word processing and web browsing, but there plenty of other laptops that provide significantly better battery life.
Verdict
But I don't want to sound too harsh. The ViewBook is actually quite a nice little laptop: it's light and easy to carry, and perfectly adequate for day-to-day tasks. Its main weakness is that it simply seems a bit over-priced when compared to other laptops that provide similar features and performance. Of course, you could say the same thing about the MacBook Air, but the MacBook can rely on Apple's drop-dead gorgeous design and full metal jacket to overwhelm your better instincts. The ViewBook has no such killer feature to recommend it. ®
More Slimline Notebook Reviews

Dell
Latitude
Z
Toshiba
Satellite
T130
Lenovo
ThinkPad
Edge
Acer
Aspire
1810TZ