Original URL: https://www.theregister.co.uk/2010/04/23/microsoft_windows_server/
Windows Server to ride upgrade wave
Steady as she goes
Posted in Software, 23rd April 2010 22:08 GMT
Comment As the revenue and shipment leader in the global server market, the Windows Server platform is arguably a good indicator of the health of the IT market. If that is the case, then it looks like the server market is on the mend - but it's not in any kind of a hurry.
With one or more monopolies on the desktop (depending on how you want to carve it up) and something that is moving towards it among SMB customers at least in servers, Microsoft has an easier time than a lot of other companies keeping revenues and profits somewhat steady. But because it's the volume leader for OSes on desktops and servers, it is also subject to the capriciousness of computer buyers as they ride economic waves up and down.
It has long been clear that the high-growth days of Microsoft are over, a point that was driven home by yesterday's financial report for the third quarter of fiscal 2010 ended in March. Sales were up 6.2 per cent to $14.5bn, and net income was up sharply by 34.5 per cent to $4bn.
But in the Server and Tools division, the recovery is taking a bit longer. Sales were up 2.4 per cent, year on year, to $3.75bn, and operating income for the unit, which peddles Windows Server, SQL Server, Exchange Server, and myriad systems management, development, and virtualization tools, rose by only 2.5 per cent to $1.25bn. Growth is coming hard to the Server and Tools division, and the Q3 numbers were against some pretty easy compares because the economic meltdown was raging a year ago.
That said, no matter how sales go up and down in Server and Tools, the company somehow manages to keep the profit margins somewhere between 30 and 40 per cent of revenues, usually right around 36 percent. If you plot all the numbers out since the Great Recession started in December 2007, as El Reg just did, this is a remarkably steady business. Which shows it has an annuity-like revenue stream, much as IBM's venerable mainframes do.
No matter what the economy is doing, you have to pay for support and upgrades to your servers. And because of this regularity, Microsoft can manage its costs and therefore its profits. Look at the regularity, despite the economic and product cycles and crashing server volumes in 2008 and early 2009: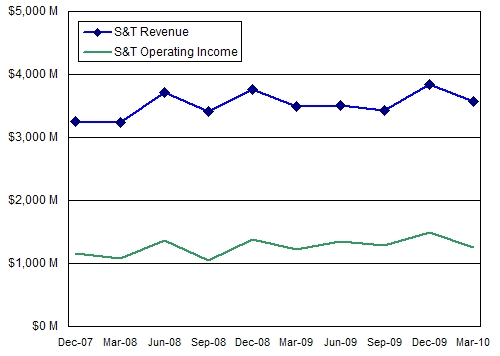 Microsoft's Server and Tools Tank Engine
In a call with Wall Street analysts going over the numbers for fiscal Q3, Bill Koefoed, general manager of investor relations at Microsoft, said that the company reckons that server hardware shipments worldwide "strengthened considerably," with growth compared to the first calendar quarter of 2009 up "in the high teens." (Neither IDC nor Gartner have released their server numbers for the first quarter of 2010 yet.)
Across all the various server products Microsoft sells, OEM and license-only sales (about a third of the Server and Tools business) grew in the high single digits, up from prior quarters but nothing to write home to Bill G about. Windows Server revenues were up in the middle teens, and SQL Server sales were in a slump with a new database on the way.
But here's the important bit: the annuity stream coming off enterprise licenses, which is about half of S&T revenues, was flat. In other words, Microsoft can count on having half of its sales just coming out of the installed base, no matter what it does or does not do.
Koefoed said that Systems Center management tool sales were up over 20 per cent in fiscal Q3, and the premium editions of Windows Server represent about 20 per cent of the product mix.
On the server-virtualization front, Microsoft is citing figures from IDC that estimate that the combined Virtual Server and Hyper-V hypervisors accounted for 25 per cent of new x64 server virtualization hypervisor licenses in the quarter ending in December, up 3 points. (Only a few days ago, Citrix Systems was saying in its financial report for the first quarter of 2010 that IDC believed in the final quarter of 2009 that Citrix had 11 percent of new hypervisor installs, compared to 3 per cent in the final quarter of 2008. Citrix is growing a lot faster, but Windows is the Microsoft platform. Even some of Citrix' money is betting on Hyper-V, and understandably so.
Peter Klein, Microsoft's chief financial officer, explains that the Server and Tools business generally lines up with server hardware shipments and IT spending, which is only roughly true during normal times - look at the chart above and how steady it was compared to the 30 per cent declines in the server racket in early 2009.
For the fourth fiscal quarter, Microsoft expects server hardware shipments to have "healthy" growth, and Klein said that the non-annuity revenue stream from Server and Tools should fall back in step with hardware spending - meaning it should rise, too. In the third fiscal quarter, Klein explained in the call, if you back out the non-annuity revenue stream for Windows Server, it grew in the middle teens, which was about what server hardware did.
The point is, the Windows Server annuity stream is a steadying force when IT spending is collapsing, and it is a damping force when the economy is roaring because of the inertia inherent in IT budgets at large enterprises. ®