Original URL: http://www.theregister.co.uk/2010/04/21/review_phone_sony_ericsson_xperia_x10/
Sony Ericsson Xperia X10 smartphone
Windows Mobile out, Android in – hurrah!
Posted in Personal Tech, 21st April 2010 12:02 GMT
Review Sony Ericsson hasn't had a great deal of luck with its premium Xperia smartphone series. The original X1 was an ill-conceived mangle of style and smartphone that didn't really succeed at doing anything very well. More recently, the hotly hyped Xperia 2 was unceremoniously pulled from UK release after Vodafone announced that it wouldn't be including it in its portfolio, however, it did appear in Europe.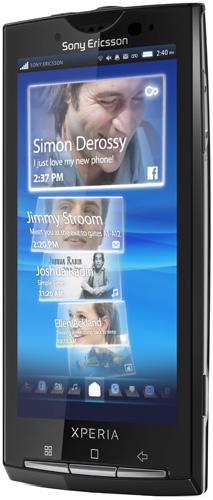 Learning from Xperias: Sony Ericsson's X10
The latest Xperia X10 therefore either promises little or carries the weight of SE's hopes and dreams on its shoulders, depending on which way you look at it. The X10's spec certainly seems impressive and is Sony' Ericsson's first outing with an Android OS, featuring the company's own bespoke interface on top. With its 4in screen and 8.1Mp camera, plus Wi-Fi and A-GPS, the Xperia X10 can certainly talk the talk, but can it walk the walk?
The Xperia X10 a sizeable handful at 119 x 63 x 13mm and 135g, yet its sloping sides mean it seems a bit thinner than it actually is. The mammoth screen dominates the front and has three slim buttons below it for settings, home and back.
On the sides are a volume rocker and camera shutter button, with power/standby button, 3.5mm headphone jack and a micro USB slot protected by a plastic grommet on top. It's finished in glossy black plastic surround with chrome trim and a rubberised plastic back cover. There's no slot on the side for the micro SD card as you'll have to remove the battery to get to it, which seems like something of a throwback these days, but still an 8GB card is supplied – nice.
The screen hasn't taken the OLED route of recent Android handsets from HTC, for example, yet it's sharp and clear and offers 480 x 854-pixel resolution and 65,000 colours. It's capacitive, but not the most sensitive I've used and I had to double press a few too many times to make my wishes known. The display doesn't have multi-touch capability either, and while it may not be exactly cutting edge, it's still more than just OK.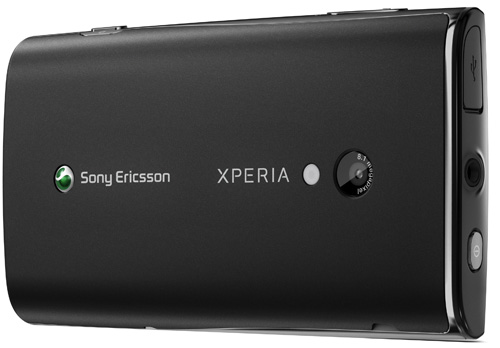 Arguably, the best Android snapper around
While both previous Xperias were Windows Mobile handsets, the X10 is an Android beast, albeit with a generous level of SE customisation. It's running Android 1.6 Donut, so not the very latest Éclair version, which means it misses out on some of the latest browser and keyboard improvements and a higher display colour count.
There are the standard three home pages, but the main one features SE's Timescape and Mediascape icons, two items that are key to the X10's offering. Timescape will pull together all of your updates – be they Facebook, Twitter, texts, emails, phone calls, photographs or tunes – and display them in a series of cascading tiles which SE chooses to call 'Splines'. They can be all in one place if want them to be, but there's also a scroll bar along the bottom to filter them into their respective channels.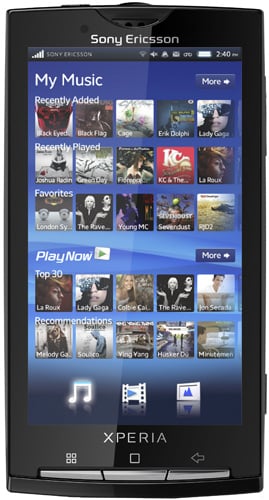 Social networking updates are catered for with the Timescape function
On each of the various Splines is an 'infinity' key and when you press it, it pulls up additional related information such as related artists if it's a song or contact details if it's a Facebook update. As well as the Timescape app, there's also a Timescape widget which flashes up your latest updates on your homepage. But while I tried, I couldn't get it to splice my Facebook friends info into the phone's contacts book.
Elsewhere, Android's better points are left in place. The menu is accessed by sliding up a bar from the bottom of the screen, while sliding down still brings up your notifications. The Google widget including voice search is on another screen along with wireless options and you can add icons and widgets by dragging and dropping from the menu in the usual way, including the Moxier suite of syncing, calendar, contacts and mailing apps.
The 1GHz Qualcomm Snapdragon processor does a good job of keeping everything running smoothly, though there was the occasional stutter when jumping from app to app, which I could have done without. Both landscape and portrait Qwerty keyboard orientations proved easy to use, due largely to the screen's supersize dimensions. Outsize tiles pop up when you connect with a key and alternative word suggestions appear as you type, but there's no haptic feedback.
The browser is impressively nippy whether using HSDPA network connection or broadband over Wi-Fi. Zoom icons appear when you brush the screen and there's a magnifiying window to help you make sense of text-heavy pages. Mediascape does for your media what Timescape does for your social life, pulling together all your music, video and photos into one handy interface with the same scrolling Splines. It's an attractive interface and, once again, you can either choose to view everything together or break it down into its constituent parts.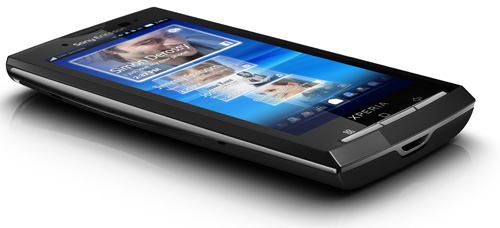 The big touchscreen display is great to view but can be unresponsive to handle
Unfortunately, it seems the actual media gallery can only be viewed in portrait mode, which is a bit strange since you'll almost certainly be turning to the X10 to watch videos in landscape mode. Videos look fine on the large, sharp screen though, and you can adjust the size by tapping the screen so it fills all of the available space.
The camera takes around five seconds to power up, but offers a feast of features when it arrives including autofocus, 16x digital zoom, face and smile detection including three sensitivity settings for the type of smile it's looking for. There's a range of scene settings including night, snow and document, macro mode, multishot and touch capture, which allows you to activate the shutter by touching the screen. You can also tag a face in a photo, and then search for other pics with that face in them.
Sample Shots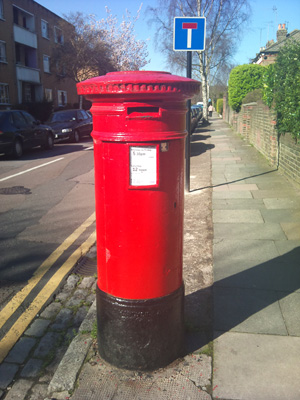 Click for a full-resolution crop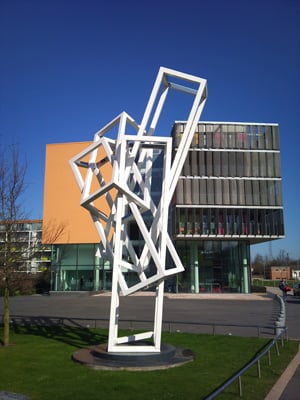 Click for a full-resolution crop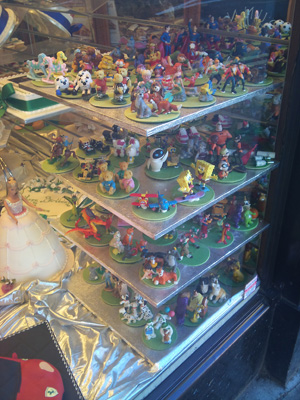 Click for a full-resolution crop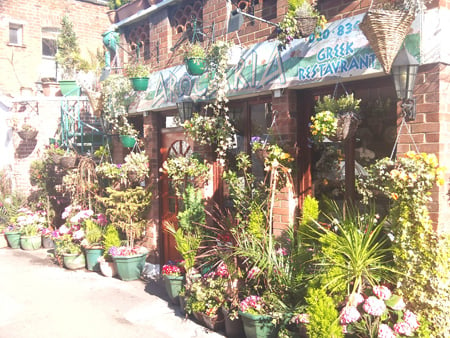 Click for a full-resolution crop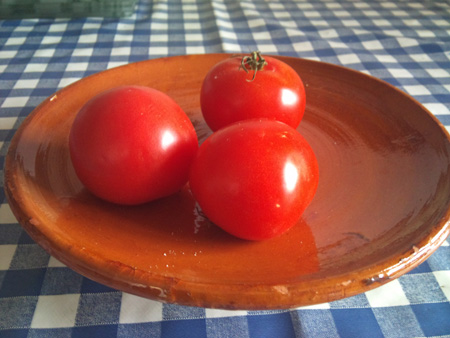 Click for a full-resolution crop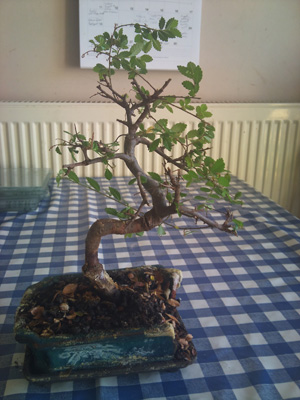 Click for a full-resolution crop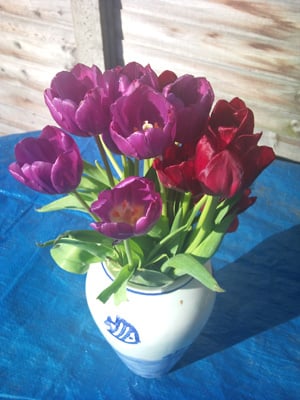 Click for a full-resolution crop
One thing conspicuously absent is flash, although there is a photo light that you can toggle on and off, but isn't terribly bright. Photo quality was generally very good, offering sharp lines and reasonably accurate colour balance, though it struggled a little with very bright light, even with the snow scene setting. Video capture won't deliver HD quality like its Sony Ericsson kinsman the Vivaz, but the recordings are not bad, so long as you don't plan to blow them up much beyond their natural resolution.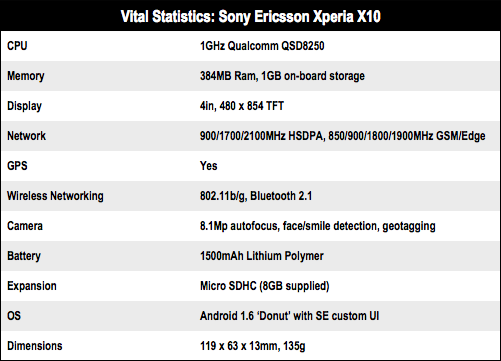 The music player gives you the option to pull in cover art from the Internet – which only takes a few seconds – as well as send tracks by e-mail. It sounds pretty good through the supplied headphones too, which offer a surprisingly sophisticated level of bass. There's no graphic equaliser though, which is a shame, and while it offers SE's TrackID service, there's no FM radio either.
You can brush the screen sideways to view all your files at once or to search by all the usual criteria and you can integrate your own music with SE's PlayNow online offering, which suggests tracks on the same screen. Press the infinity button while you're listening to a tune and it will give you the option to search for more by the same artist on the phone, on PlayNow, or on YouTube.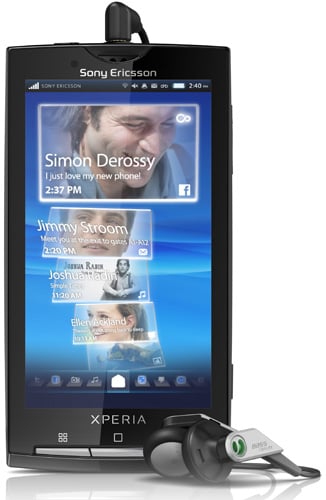 Takes the cake? Getting there, but it's a Donut for now
Additional features include a basic OfficeSuite for viewing but not creating Office docs, A-GPS backed by Google Maps and there's a 30-day trial version of Wisepilot. Battery power was a little bit underwhelming, with the X10 barely delivering a full day of intensive use. This may be due in part to its powerful processor and juice-hungry Timescape but at least you can adjust your settings for less frequent updates and to reduce screen brightness. Call quality was generally good, with the speaker delivering pleasingly rounded voice tones.
Verdict
Overall, the X10 is well worth a look, if only to gawp at its huge and impressive screen, albeit a little let down by insensitivity at times. While it doesn't have the latest version of Android either – and the processor's occasional struggles were a bit of a worry too – it does have just about the best camera you'll find on an Android phone.
Both Timescape and Mediascape do a very good job of integrating all your messages and media respectively and if these features don't exactly score a home run against HTC's Sense or Motorola's MotoBlur, they're certain to attract their share of fans. Indeed, the X10 marks a return to form after Sony Ericsson's worrying difficulties with cracking this aspect of the smartphone market and is easily the best Xperia yet. ®
More Android Smartphone Reviews...

HTC
Desire
LG
InTouch Max
GW620
Google
Nexus
One
Motorola
Milestone