Original URL: https://www.theregister.co.uk/2010/04/20/iss_spheres_upgrades/
Space Station lightsabre-sparring hoverdroids to be upgraded
ISS mini-globes get tractor beams, crowdsauce greasing
Posted in Science, 20th April 2010 12:20 GMT
In further Star Wars-themed international space station (ISS) news, it has emerged that not only is the orbiting space base soon to be equipped with a robot named "R2", but that its complement of small, spherical hoverdroids - not unlike those famously used by Luke Skywalker aboard the Millennium Falcon for light-sabre sparring - are to be upgraded and covered with crowdsauce.
The three hovering robots are known as SPHERES units (Synchronized Position, Hold, Engage, and Reorient Experimental Satellite) - the last part of that being quite correct. Although the small globoids are confined to operations inside the space station, they are of course in their own orbits about the Earth while flying freely, and as such are classed as satellites.
The little machines propel themselves using jets of compressed CO2, and navigate using an ultrasonic system. They were designed by MIT engineering students as part of the so-called InSPIRE programme (International Space Station SPHERES Integrated Research Experiments), intended to stir up enthusiasm for technology among America's youth by offering them the chance to write code and design hardware add-ons for the SPHERES droids up in orbit.
By now, given the general vibe of the project, it will come as no surprise to regular Reg readers that the InSPIRE/SPHERES space station globotumblebot plan comes from DARPA. DARPA is the famously erratic Pentagon tech-dominance bureau, occasionally apt to let considerations of military usefulness slip its corporate mind in the excitement of finding, let us say, a young woman strapped down under a mysterious krenon-ray machine capable of turning her into a hugely powerful mutant gorilla - or, as we have here, scope to play with small hovering robots deployed inside an actual functioning space vessel.
Coming next - 'propellantless' tractor-beam formation flight
In any case, DARPA says that since arriving at the ISS in 2006 the SPHERES machines have been "primarily used as a formation flying algorithm testbed for graduate student research at the Massachusetts Institute of Technology (MIT)".
That's all very well, but the Pentagon propellerheads want to get on and make some use of the little machines' "expansion ports that allow new hardware to be configured on demand".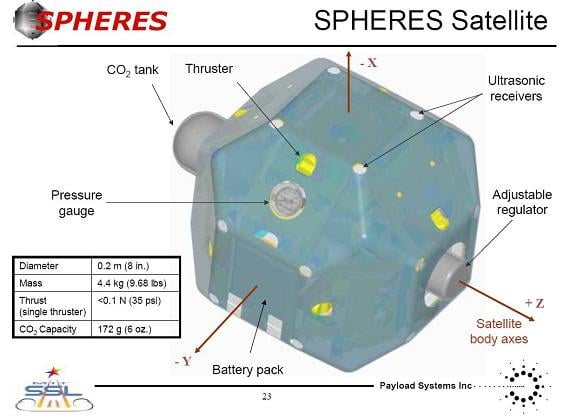 Needs tractor-beams, power-rays, that sort of thing.
Specifically, DARPA is ready to hand out cash for the following specific upgrades:
Firstly, a SPHERE capable of "vision based navigation", able to orient itself solely by observing another object - probably another SPHERE - and comparing the image with a 3D model of it. DARPA says:
The target object should be assumed to be moving and possibly tumbling, and its state will not be a priori known to the observer SPHERES (except through their own sensors). Once a 3D model of the object is constructed, the two observer SPHERES will perform relative navigation (as demonstrated through some test maneuver) solely by sensory reference to the target object and its 3D model.
Secondly, developers are invited to design a different upgrade enabling two SPHERES to largely cease use of their cold-gas jets and instead manoeuvre about each other using force fields generated by "steerable electromagnetic dipoles", "at a distance on the order of decimeters to meters".
Wireless power transmission + flight outside the station
Even better, the two little globots should if possible be able to pass power to one another via their cunning tractor-beam rigs. "Another goal of this program thrust area is to demonstrate wireless power transfer through resonant inductive coupling," says DARPA.
Thirdly, engineers working on Earth are required to begin work on "the next generation SPHERES", aka "Exo-SPHERES". These would be able to operate "both inside and outside of ISS", departing and re-entering the station via the small airlock fitted to the station's new "Kibo" lab module.
The new and improved space spheres will need "substantial manoeuvring capability", says DARPA, and "Safety features enabling semi-autonomous operations in the proximity of ISS".
Last but surely not in DARPA's mind least is the fourth part of the new proposal - a trendy SPHERES crowdsourcing initiative intended to see if the power of the internet hive mind can be useful for tech projects (and, incidentally, promote sci/tech to the world at large - in particular US high school students considering science or engineering degrees).
To this end DARPA are offering $1.2m (as opposed to $1m for the upgrades to existing SPHERES and just $750k for groundbound work on the Exo-SPHERES) for various crowdsaucier tools. These are to include a high-level programming language designed to let "non-specialists (eg high school students)" write useful "complex cluster flight algorithms".
DARPA also want to see "one or more incentive structures which would incentivize a large number of non-specialist laypeople to participate in the collaboration environment and in the development of new cluster flight algorithms". This is reminiscent of the recent 40th-anniversary balloon-hunt compo in which cunningly organised trickle-downs of prize money allowed the winning team (at MIT, funnily enough) to take on a legion of recruiters who then signed up the necessary US-wide spotter network to find randomly-deployed balloons before other organisations could do so.
Both DARPA cash and the chance to work on actual SPHERES sessions in orbit can be offered as incentives here.
So, anyone interested in designing a robotic minisatellite eyeball nav system, a magnetic tractor-beam/power-ray rig for same, new and enhanced spacegoing spheroid-bots and/or related crowdsauce dev tools - read this pdf. ®