Original URL: http://www.theregister.co.uk/2010/04/19/review_touchscreen_desktop_pc_dell_inspiron_one_19/
Dell Inspiron One 19 Touch touchscreen all-in-one
Gives the finger to touch tech PC price premiums
Posted in Personal Tech, 19th April 2010 11:02 GMT
Review Despite appearing on sale in larger numbers in recent months, touchscreen PCs still tend to be sold as luxury items with a price to match. So with the Inspiron One 19 Touch, which starts from under £500, Dell is deliberately giving the whole touchscreen PC market a boot up the backside.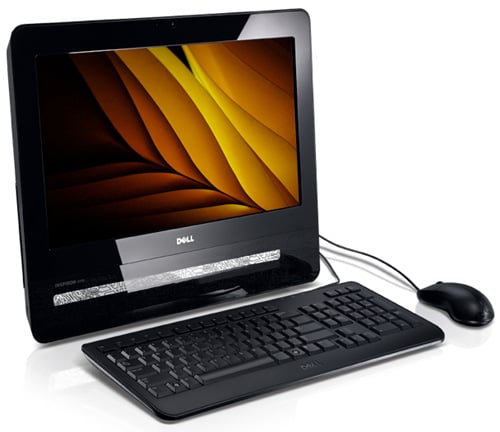 All fingers and thumbs: Dell's Inspiron One 19 Touch
It's certainly a bold move from Dell, whose previous desktop touchscreen offering, last year's well-received Studio One 19, cost about twice that price. But does that just make the Inspiron One 19 Touch half as good?
The model on test here was the £549 base configuration featuring a 2.6GHz Intel Pentium Dual Core E5300 processor, 4GB of memory, a 500GB hard disk drive and one year of warranty, but Dell has just upped the CPU spec to the 2.7GHz E5400. The all-in-one display and system unit is encased in today's obligatory glossy black plastic with a tough lean-back prop stand at the rear.
Despite the '19' in the product name, the widescreen display measures 18.5in diagonally and has a native resolution of 1366 x 768 pixels. The bezel incorporates a webcam centred above the display and a pair of notably tinny sounding 2W speakers at either side.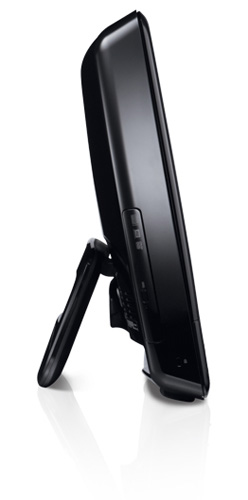 Despite looking chunky from the side, it's an impressively compact computer
The right-hand edge of the unit houses three USB ports, an eight-format media card slot, a Firewire port, and 3.5in stereo sockets for mic and headphones. There is also a pair of buttons for adjusting screen brightness, one of which can be used to call up the full menu of display controls. Further down this edge is a hard disk activity LED - essentially where no one will see it - and the power button.
The left-hand edge provides access to the tray-loading DVD rewriter and a Kensington lock socket. A little cluster of additional ports is built into the rear in such a way that the cables can be threaded through a cutaway hole in the stand.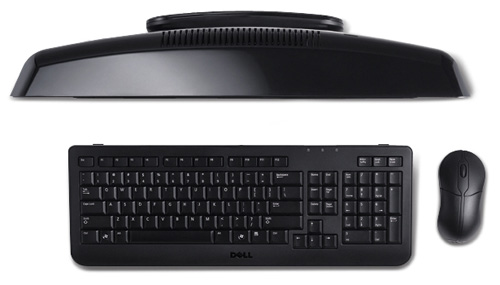 The system actually comes with USB keyboard and mouse: if you want wireless peripherals, go buy some.
It's a curious collection of connectors, that's for sure: legacy serial and parallel ports, a pair of PS/2 ports, an Ethernet port, three more USB ports and a 3.5mm digital audio-out socket. Who knows what Dell thinks you're going to plug into those serial and parallel ports: a 1988 dot-matrix printer, perhaps?
Wireless n is not supported by the computer, which is a shame: instead, you make do with the more commonplace 802.11b/g.
Usefully, Dell has built the power supply unit into the case, so there's no 'dead rat' to deal with. Less usefully, the thick plug at the end of the power cord protrudes horizontally out of the case, making it difficult to push the computer back against a wall or desk partition.
Benchmark Tests
PCMark Vantage Results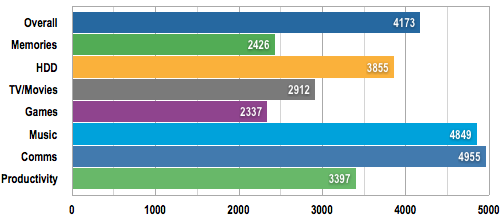 Tests run in 64-bit mode
Longer bars are better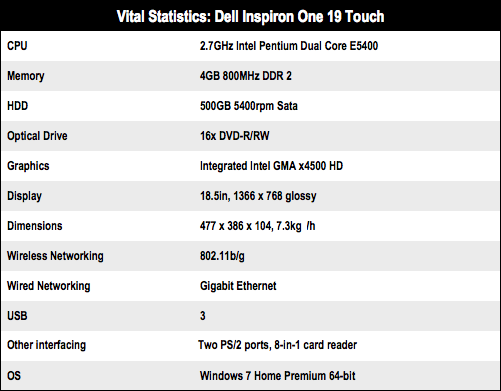 Nb. Review unit contained a 2.6GHz Pentium Dual Core E5300 CPU
The system comes with a set of Windows 7-friendly touchscreen utilities called Touch Zone already installed. This begins with an intuitive Lobby utility that spreads out large program icons in an arc on your Desktop, letting you flick back and forth to navigate. The programs include a sticky note writer, weather forecasts, a picture browser, video and audio players, a webcam utility, a bunch of minor touchscreen games and a percussion and keyboard toy.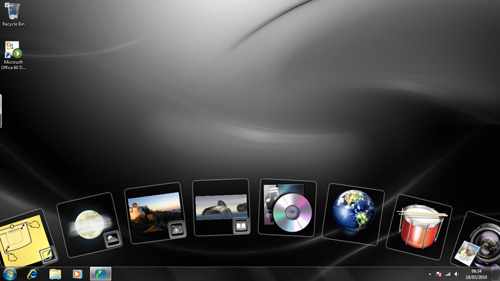 Screen shot: Click to see full resolution image
All of the programs are fun to use but none are compelling, even for a home user.
The touchscreen itself is effective and responsive, although it feels small compared with those in competitive all-in-ones. You still need a keyboard and mouse for speed and precision, of course, and here it becomes clearer where Dell has cut corners to keep the price down.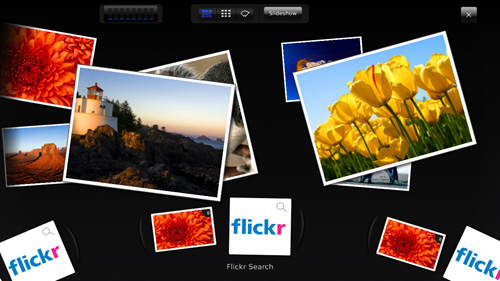 Screen shot: Click to see full resolution image
The classy, high-gloss black all-in-one system is accompanied by a surprisingly bland Dell USB keyboard and mouse that look and feel incongruously cheap in their lightweight, matte black plastic.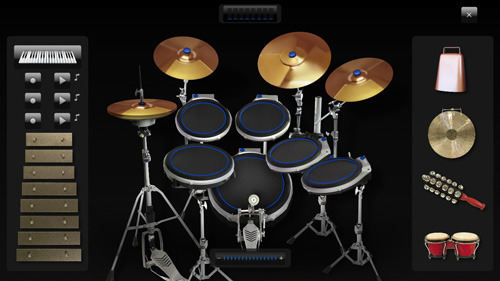 Screen shot: Click to see full resolution image
At the time of writing, a matching wireless keyboard and mouse was not available as a personalisation option in the Dell online store.
Perhaps I've been spoiled in the past with most other touchscreen all-in-ones coming supplied with quality wireless input peripherals. However, Dell's mouse won't even plug into the keyboard, meaning that two of the system's six USB ports are occupied from the start.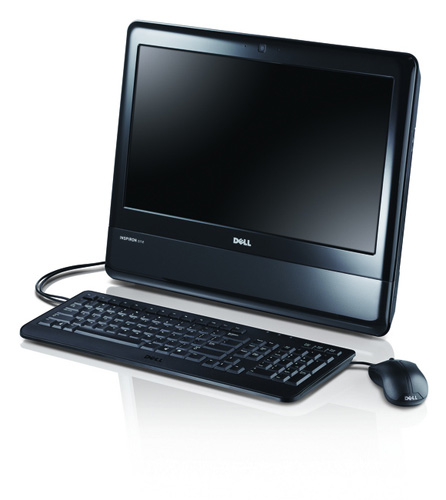 With its 19in (actually 18.5in) display, the computer is barely wider than the keyboard in front of it.
Hang on, why is Dell bundling USB input devices at all, when there are perfectly good PS/2 ports at the back of the computer? All computers lack sufficient USB ports, in my opinion, and here's Dell throwing two of them away unnecessarily.
Apart from these personal irritations, the Inspiron One 19 Touch is a generally good all-in-one with touch control. Its performance is rather average for a 2.6GHz dual-core CPU, no doubt in part due to the integrated graphics chipset, but acceptable for everyday office work and home use. I wouldn't rely on it for hardcore gameplay. Everything else, though, including video playback, runs well.
Verdict
Dell deserves credit for creating a pretty decent touchscreen PC for the price. However, touchscreen in a desktop PC is a lifestyle feature rather than an application-driven one, and I wonder whether Dell has sacrificed too much to achieve it. The small screen, the integrated graphics chipset and the cheap input peripherals won't keep the style-conscious buyer happy for long. On the other hand, if you simply want to get started with touchscreen computing, the Inspiron One 19 Touch is a very affordable way in. ®
More Touchscreen PC Reviews...

HP
TouchSmart 600
PsiXpda
Pocket Computer
Acer Aspire
5738PG Touch
Packard Bell
oneTwo M