Original URL: https://www.theregister.co.uk/2010/04/19/games_review_splinter_cell_conviction/
Tom Clancy's Splinter Cell: Conviction
Classic territory
Posted in Personal Tech, 19th April 2010 17:56 GMT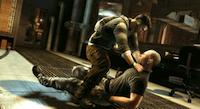 Review
Sam Fisher's sixth videogame outing, and his first in almost four years, marks a further refinement of the core principles of the Splinter Cell franchise. The real-world credibility provided by Clancy's endorsement remains intact, as does Sam's modus operandi of infiltrate, interrogate and assassinate. Even the story, although devoid of the geopolitics of previous entries, still resounds with murky government agencies, PMCs and EMPs.
What has changed, however, is something of a quiet revolution. By introducing a much greater sandbox approach to gameplay, Ubisoft had successfully broadened the series' appeal to a wider audience, one previously turned off by its traditionally punishing pedantics. Sure, the developers have tinkered with the core game mechanic of stealth before, especially apparent between the soul-destroyingly difficult Pandora Tomorrow and the more forgiving Chaos Theory, but Splinter Cell has never felt so accessible and, dare I say it, fun!
Whereas in previous games missing alarms, being caught in spotlights, or not concealing dead bodies, invariably meant game over, in all but one of Conviction's single-player levels such mistakes now result in far less finite outcomes: messy, frenetic gunfights against multiple hostiles.
That's not to say you'll always survive such gunfights - Sam Fisher is still no bullet sponge. But at least got a fighting chance to survive and continue the level uninterrupted.
In relaxing the rigidity of stealth, Ubisoft has also been careful not to alienate the series' hardcore fanbase. Stealth still remains the absolute best strategy. And while Conviction offers no particular reward for avoiding enemy guards altogether, there certainly is for killing them surreptitiously.
For every hand-to-hand kill, you're rewarded with a single burst of a new mode called Mark and Execute. Depending on the weapon in hand, you can tag up to four different targets. Once tagged and in range, markers turn red, signalling you're just one button press away from executing them with single, automated bullet-time shots.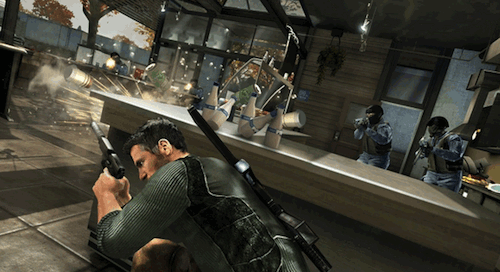 Whose round?
Last Known Position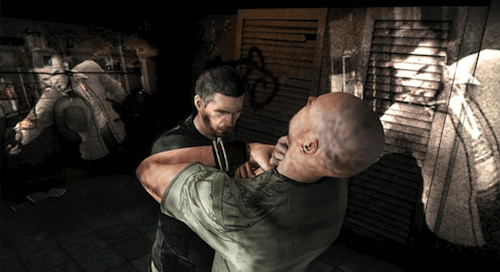 Necking
Ubisoft didn't just stop there. It has also introduced a feature known as your Last Known Position. If your cover is blown, all guards in the immediate vicinity will focus their fire on that position, which is marked onscreen by a Ghost-like outline of your body. As with Mark and Execute, this offers another dynamic to your tactics. Until you're spotted again, enemy focus remains on that Last Known Position, providing you an opportunity to go covert once more, flank around them and take them down.
Although possible to adopt this strategy in almost every engagement, and, in a sense, cheat the game, enemy AI and firepower is sufficient enough, especially in the realistic mode, to ensure you are at a significant disadvantage when detected.
Compelling you to make the most of these new features (not to mention Conviction's competent cover-based system), Ubisoft has mixed up the level design to great effect. Levels based at night or in dimly lit car parks and buildings see you firmly in classic Splinter Cell territory: taking out light sources and using environmental features such as drain pipes and sewer tunnels to sneak past enemy strongholds unnoticed. Other levels based in broad daylight or in well lit locations, however, force you to adopt a more gung-ho attitude.
Mixing it up even further, one level sees you in a heart pounding foot chase in pursuit of an enemy assassin; and in another, set in a flashback during the Iraq conflict, you're forced to fight in relentless engagements, where stealth is anything but the key to success.
This mix in gameplay is Conviction's critical success, and the developers are keen for you to employ as many strategies as possible. So much so, they even reward you for doing it. P.E.C. Challenges work in a similar vein to many Xbox Live Achievements. Rack up silent headshots or disappear without a trace after being discovered and you'll be awarded points redeemable at weapon stashes to upgrade your arsenal.
Although not core to gameplay (it is theoretically possible to complete Conviction with just a silenced pistol and stealth alone), the new features combined should please all but the most hardened stealth purists.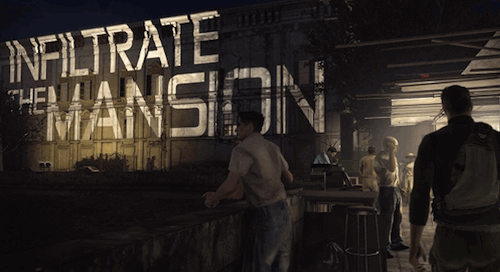 Who's in Da House?
Wash out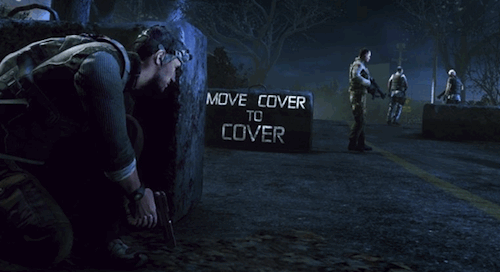 You can't see me
One introduction that surely won't please anyone, is the screen change from colour to black and white when Sam is completely undetectable. Given the developers have been so successful in improving other elements of the game, it's a shame that they've made such a jarring balls up of an ostensibly simple design choice.
Although excusable in its replacement of the pea-green used for night-vision goggles, its overuse to denote concealment - the cornerstone of the series' game mechanic - is nothing short of tragic. It's like installing Windows 3.1 on your brand new Alienware rig, and feels a complete waste of High Definition. Once beautiful levels are instantaneously and completely washed out, and spotting visual clues to assist your stealthy progress is severely hampered.
Aside from this palpable flaw, there's very little else to complain about. The cover system only occasionally disappoints; and the plot, although excellently played out in cut scenes and voice acting, is as hackneyed a pastiche of Clancy themes and Paul Greengrass movies as you can get.
Some might also consider the single player campaign short, weighing in around the eight- hour mark, but the sandbox design repeatedly dissipates concerns, replacing them with a compulsion to return to levels over and over again to attempt different strategies.
Ubisoft completes the package with various additional modes. The first, Deniable Ops, augments the single player experience with challenge rooms, in which objectives are constrained to such things as defending EMP generators from waves of enemies. Co-Op and multiplayer modes are also in there, and present both online and offline.
Co-op is the more accomplished of the two, as you take the role of either a US or Russian agent in a story that runs parallel to the single player narrative; whereas multiplayer has been reduced to a Spy vs Spy mode, which, although an improvement on Double Agent's multiplayer, never quite hits the highs of Chaos Theory's seminal Spies vs Mercs.
Notwithstanding its flaws - even in the misapplication of black and white - Conviction is a fantastic game, and one I can't recommend enough. Its real success is that of synergy. In combing all its elements, both old and new to the series, and offering real replay value and weighty additional content, Ubisoft has done more than enough to keep the disc in your drive for weeks to come and ensure the continued longevity of the Splinter Cell franchise.
Oh soldier, soldier, won't you harry me