Original URL: http://www.theregister.co.uk/2010/04/16/review_gaming_tony_hawk_ride/
Activision Tony Hawk Ride skateboard controller
A board game, for real
Posted in Personal Tech, 16th April 2010 07:02 GMT
Review Trying your hand at skateboarding without falling on your bum or grazing your knees is now possible, all thanks to a videogame. Based on pro-skateboarder Tony Hawk it has been developed to allow you to perform virtual ollies, grinds and flip tricks using a wireless skateboard peripheral.
Ride comes before a fall: Activision's Tony Hawk Ride
Tony Hawk Ride takes its inspiration from the likes of Guitar Hero, but instead of pairing you with a plastic instrument Ride is controlled by a life-size skateboard – the deck measures 711 x 198 x 25mm – without wheels.
The idea is simple. When you step onto the board and lean left, Ride's on-screen character moves in the same direction. When you tilt the board's nose up to one side, your character responds with various cool skateboarding moves like ollies or 180° spins.
The skateboard peripheral's build quality is impressive. Weighing roughly 2.8kg – real skateboards usually weigh between 1.3kg and 3kg – the board feels sturdy and its gritty top surface stops your feet from slipping off.
Before skating any of Ride's virtual skateparks you must calibrate the board with your console. This process is quite dull, but only needs to be done once and actually helps anyone who hasn't skateboarded before to get to grips with basic moves.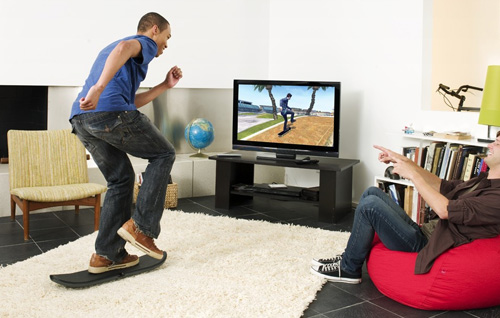 Keeping the yoof of today off the streets
While completing the basic calibration techniques – which include setting the board up for left foot or right foot forward [aka "Goofy", stance] – I also discovered that you need lots of space around you in order to move the board about freely and enthusiastically.
The board is powered by four AA batteries (supplied) and can be used on carpeted or wooden floors – non-scratch pads are supplied to prevent the board's underbelly, smooth as it is, from damaging floorboards – but no matter where I used it, the board slipped about all over the place each time I performed a trick.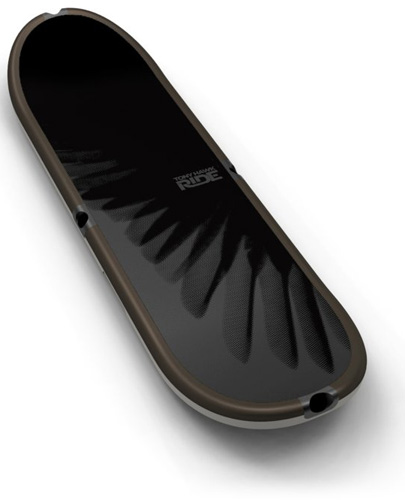 Slip slidin' away
As I got deeper into the game I became more annoyed by the board's slippery nature. Sometimes the board shifted so far to one side that I couldn't see the on-screen display. A nudge to the board with your foot easily corrects this, but I couldn't help but feel that a bundled non-slip mat would improve things.
Making the on-screen skateboarder replicate basic moves – such as ollies - is easy. Thankfully, though, you don't need to physically flip the board over for your character to do the same because they perform more complicated tricks in response to your board's tilts and twists.
Nonetheless, learning how to pull off more complex tricks is hard work and after 45 minutes of continuous play, I'd worked up quite a sweat. According to publisher Activision Ride has over 100 tricks to master to keep you busy.
Board communication with the videogame isn't faultless, though. Ride occasionally makes you cycle through on-screen menus by tilting the board from side to slide and select options by raising its nose. This method is a real pain because raising the board's nose often caused me to select the wrong choice.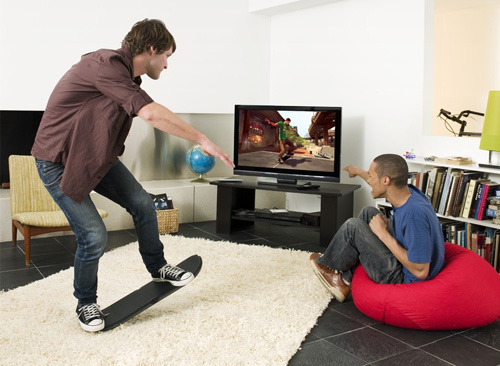 Bored game: Are we nearly there yet?
An oversize 'Start' button on one side of the deck can be used to select menu options instead of raising the board's nose, we should point out, and the button's location makes it perfect for nudging with your rear foot.
Sometimes Ride reverts back to controller-based menu navigation without warning, but knowing when to reach for my Xbox's controller or tilt the board to cycle through menus, was something I never fully figured out.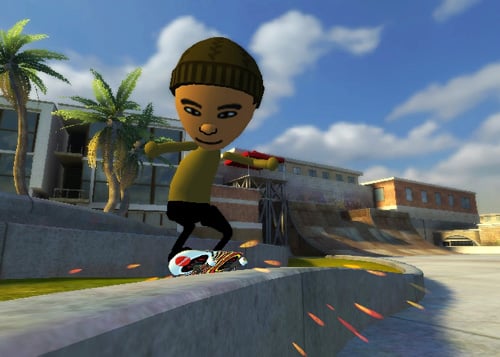 On the Nintendo Wii the skating character becomes a Wii Mii avatar is
Tony Hawk Ride isn't your standard videogame. Mastering the board, maintaining your balance and learning all the tricks takes many hours. Although flipping an ollie over a trashcan then grinding down a park bench and finishing off with an advanced flip trick is very satisfying – if exhausting.
When simply riding through a skatepark the board must be placed nose-on to the console and you make the character skate faster by swiping your foot past one of the board's side-mounted sensors. I had to keep doing this every 10 – 15 seconds, depending on the virtual terrain, to keep my character moving along swiftly.
A second skate mode, known as Vert, is also available. Vert is designed to replicate skating in a half-pipe and so the peripheral must be placed sideways-on to the console. The position change isn't really necessary, though, because I discovered that you can skate Vert with a nose-on stance.
Since my body was always sideways-on to the TV during Vert skating I found this eventually became a real pain in the neck, because my head was constantly strained round towards the on-screen action.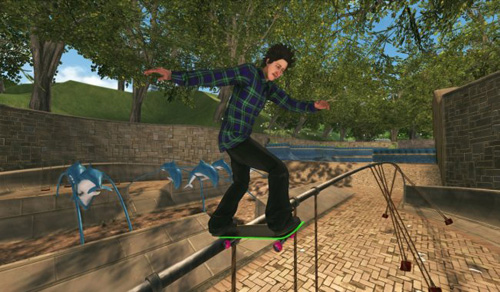 Xbox gaming in action
On a real skateboard you can adjust the deck's performance by loosening or tightening the trucks. Ride attempts to replicate this with four virtual truck settings, yet none made any noticeable improvements to the skating experience.
Various difficulty levels are also available, but these only affect how you're guided through skateparks and level of skill required of your character by the videogame – not how the board performs. I also tested Ride's board with Shaun White Snowboarding, but the snowboarding character seemed to have epileptic fits when the skateboard was used instead of a handheld controller.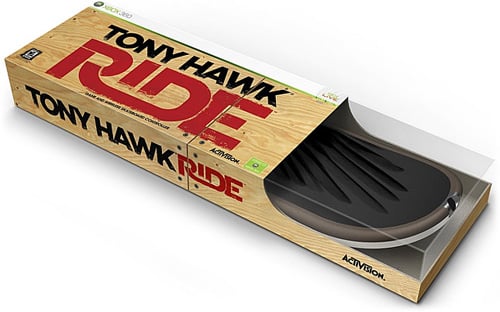 End of an era: the couch potato's gaming nemesis
Verdict
Tony Hawk Ride adds a new dimension to videogames because its skateboard peripheral makes pulling off on-screen tricks a physical and more enjoyable experience than furious button tapping. Plenty of empty living room space is needed to fully enjoy the game, but Ride delivers solid gameplay and plenty of fun for both skateboarding fans and gamers of all ages. ®