Original URL: https://www.theregister.co.uk/2010/04/14/widenius_aker_versus_oracle_owned_myswl/
MySQL fork duo tear down Oracle's Iron Man fantasy
Widenius and Aker to convert the converted
Posted in Software, 14th April 2010 23:59 GMT
MySQL Con The battle to own MySQL is over and Oracle executives are fanning out to woo open sourcers, but MySQL luminaries have mobilized to win the hearts and minds of DBAs and developers.
MySQL father Michael - Monty - Widenius and leading MySQL architect Brian Aker spoke separately at the annual MySQL Con in Santa Clara, California, where they pitched hard their MySQL forks and their unshakable beliefs that no one company should become the single source for MySQL development or support.
They articulated a vision of diversity of developers and companies supporting MySQL, and the view that their MySQL forks should be owned by developers interested in code - not a business motivated by profit.
The spectacle was made bizarre by the fact that MySQL is now owned by database giant Oracle, which is listed as a "founding sponsor" of O'Reilly Media's MySQL Con. Just the day before, Oracle chief software architect Edward Screven tried to bond with MySQLers, saying their database was safe because it allowed Oracle to offer customers a single, integrated and supported stack.
Screven promised there'd be projects to tie MySQL into Oracle's software fabric and management products. Possibly the opposite of the right thing to tell open sources, keen on independence and openness.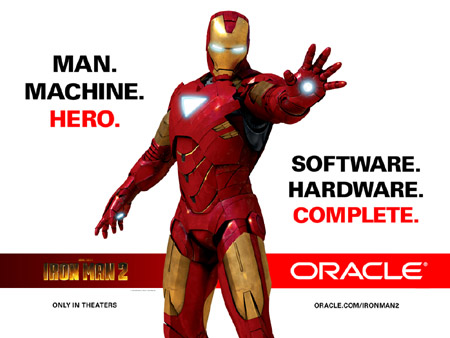 Send in the machines: Oracle sees itself as your hardware/software hero - complete
It was a corporate message plucked straight from the slide deck of Oracle's annual OpenWorld that failed to strike a chord with the DBA and developer faithful that applauded politely following some encouragement from MySQL program chair Colin Charles once Screven had finished.
Now, 24 hours later, you had MySQL's daddy and a top architect preaching exactly the opposite to Screven: that community is good and single stacks and one supplier are bad - bad for innovation in the code base and in the business ecosystem. It was a message of independence they used to distance themselves from Oracle, and appeal to users and potential code contributors.
It was a duet that'll test just how far Oracle is willing to engage with the community, tolerating dissent and spend its time and money on a MySQL conference that grants out-spoken critics and fork leaders such a prominent forum.
Any event that does anything less than blast the alpha-male Oracle marketing message that "we can do it for you wholesale", gently articulated by Screven Tuesday and forcefully in Oracle's latest ads that co-opts the forthcoming Iron Man 2 is extremely un-Oracle.
According to Oracle's Iron-Man-2 web site (PDF): "Just as man and machine join flawlessly to power Marvel's invincible hero Iron Man, Oracle's industry-leading software and hardware seamlessly integrate to deliver a complete IT stack unmatched by any competitor."
Oracle is trading on the fact Iron-Man owner Marvel Entertainment uses its products while saying the combination of Oracle's software and Sun's Solaris, servers and storage means it can deliver "best of breed", "leading edge"... well, you get the picture.
Iron men of SQL
With all this machismo in the air Aker delivered a stern promise there'd be no "Drizzle Incorporated" for his MySQL fork. Aker, who left Sun Microsystems following the Oracle acquisition, said he doesn't want to create a company that has a "strangle hold over innovation."
"There will be people who provide services around it - there will be no central company," he said.
As a corporate entity MySQL had lost its focus on innovation - even before the Sun then Oracle acquisitions, he said. Features in the then planned MySQL 5.0 appealed more to OEMs interested in a cheap embedded replacement to Oracle or for running SAP's dusty old R/3 rather than users like Facebook and Google looking to the future of large-scale, multi-core, 64-bit computing.
Aker encouraged more forks, saying this would create a rising tide of opportunity and innovation. "We have an open code base. We allow people to fork it - we encourage people to build products around it," he said.
Aker promised he'd announce two companies providing support for Drizzle this summer, around the time of the O'Reilly Open Source Convention (OSCON) in Portland, Oregon.
Release the Widenius
Widenius, who left Sun in 2009 before the Oracle deal to create his own company - Monty Program AB - and who forked MySQL with MariaDB followed Aker with a presentation called MySQL: an ecosystem, not just a company. Widenius was cofounder and chief technology officer (CTO) of MySQL AB and helped sell MySQL to Sun in 2008 but lobbied against Oracle's ownership of MySQL. The title of this talk left you in little doubt about how he feels.
He outlined his vision where everything built around MySQL is open source, all forks work together and where multiple service companies provide support - not a single entity. His Monty Program AB last year co-created the Open Database Alliance with MySQL specialist Percona to unify all MySQL-related development and services.
"In MySQL we were always fighting with partners, because we wanted to do everything," he said. "We'd never send leads to partners because our sales people said we can do that ourselves".
As such, he said he too has eschewed the corporate model of ownership of the MariaDB code base. Monty Progam AB operates what he called "the hacking business model" where the employees own the company and profits go into maintaining the code. MariaDB is not for him to make money, Widenius said, noting he has separate investments for that.
"Look at the hacker business model - you'd have to be genius to make money from that," he said.
Widenius announced an all-you-can-eat MariaDB support model from Monty Progam Ab: $36,000 for unlimited, company wide support for MySQL 3.3 upwards.
The duo pitched their MySQL forks as being better than the database that birthed them and the development model Oracle could offer.
Widenius promised potential MySQL converts they could install his MariaDB fork and "everything works". MySQL customers would be up and running in seconds while "you get more features, more reliability, and more speed."
He outlined planned improvements in the current MariaDB, version 5.1, he claimed deliver performance of MySQL 5.4 and the - as yet - unreleased 5.5. The day before at MySQL Con, Oracle claimed MySQL 5.5 is an order of magnitude faster than version 5.4.
"In MySQL we were always fighting with partners... We'd never send leads to partners because our sales people said we can do that ourselves" - MySQL father and MySQL AB cofounder and CTO Monty Widenius



Widenius also claimed features from MySQL 6.0 will appear in MariaDB 5.3: optimizer enhancements that'll be released as beta code in the next few months.
The goal is a release of MariaDB every nine months, he said adding - in a further swipe to the speed at which MySQL can move inside a large corporation such as Oracle: "I see a lot of patches out there that are not included in MySQL."
The next version of MariaDB is 5.2, which Widenius promised will add additional transactional storage engines - Spider and Spinx - group commit and virtual columns.
Aker, meanwhile, said the idea of Drizzle is to take MySQL into the future. Drizzle was conceived to take advantage of 64-bit systems and Solid State Drives, using an architecture that avoids locks and is built using C++.
Programming is designed to be streamlined. There's just one Blob type - eliminating eternal debates over which Blob to use - while UTF-8 is the standard for characters to avoid gotchas like corruptions just because data was entered using the "wrong" language."
Nice database, shame about the reload
Drizzle is a federated system of APIs that strips out unnecessary features and reserves them as plug-ins to keep the code base from being daunting in size. Aker claimed the core is 10,900 lines of code - down from 209,000.
Where is Drizzle today? Far from finished and potentially a headache for those moving from MySQL. Yes, it passes transactional tests but you'll still have to reload your data, while replication is still being tested and hardened.
Work's needed on these plus authentication handlers, shared-nothing nodes, and the ability to perform stored procedures in Perl, PHP or Ruby and without needing to learn Java.
Drizzle is being updated every three to four months, so contributors working on these and other issues don't have to wait too long for their work to be added to the database while users quickly get the latest features, Aker said.
"Linus [Torvalds] got this right with the kernel years ago. The whole release model for software is dead... when I talk to companies that are innovating they care about what they can get their hands on today. They don't need to hear about a roadmap in two to three years - that's not internet time."
It remains to be seen how many MySQLers will move to MariaDB or Drizzle on the strength of this combined pitch. One thing is for sure, though: O'Reilly Media will have an interesting time getting Oracle to pluck up the cash for next year's event based on the 2010 performance.®