Original URL: http://www.theregister.co.uk/2010/04/14/ten_essential_iphone_accessories/
Ten Essential... iPhone Accessories
There's an add-on for that
Posted in Personal Tech, 14th April 2010 08:02 GMT
Product Round-up Yes, there are hundreds - nay, thousands - of apps you can download and extend the functionality of your iPhone 3GS. But don't forget there are plenty of hardware add-ons too, from handset battery life boosters to kit to make the Apple phone more care friendly. Here are the ten we think are most deserving of your hard-earned.

Powermat Wireless Charging System
Charging without cables? It sounds like science fiction, but it's available right now from Powermat. You'll need a special iPhone case, which connects to the handset's dock port - it also has a handy pass-through Micro USB port - to a coil of wire which picks up magnetically transmitted charge from the Mat, sold separately. The case, if a smidge heavy, will shield your iPhone from knocks and bumps into the bargain. The mat, meanwhile, can also charge a host of other mobile devices at the same time.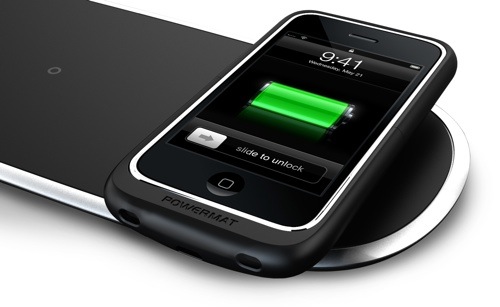 Reg Rating 70%
Price £35 (Case), £70 (Home and Office Mat)
More Info Powermat UK

Duracell Instant Power Charger
Duracell makes batteries and that's what this boy is: a rechargeable 1150mAh Lithium Ion power pack you charge up - it takes a couple of hours - then carry with you to juice up your iPhone whenever you need to. The IC has a physical on/off switch so power doesn't bleed away when it's not in use, and in addition to the standard USB port at one end - that's where you plug your iPhone dock cable - there's a mini USB port to charge other devices too - at the same time, even. The IC is very thin and weighs 45g, so it's not inconvenient to carry.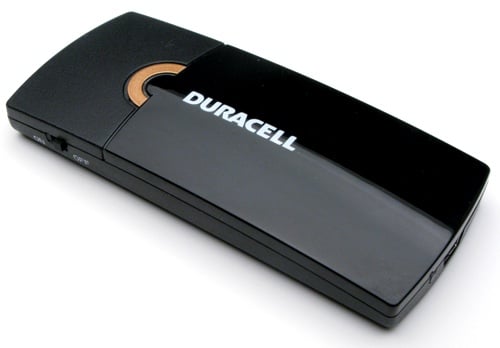 Mophie Juice Pack Air
The Juice Pack fits around the iPhone like a glossy black case, but it's actually a 1200mAh back-up battery that feeds the handset through its dock connector. It effectively doubles a 3GS' battery life, though the downside is it also doubles the iPhone's thickness - and significantly ups its weight. You can charge it in situ thanks to a micro USB port, and Mophie has equipped it with both a capacity readout and a switch so you can keep it fully charged until the iPhone's own battery is flat.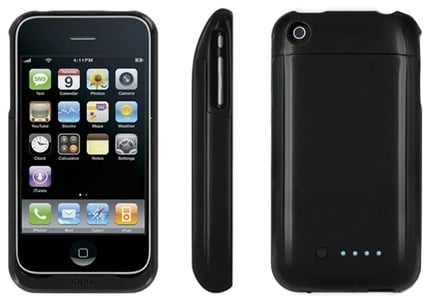 Reg Rating 65%
Price £70
More Info Mophie

Apple World Travel Adapter Kit
There are cheaper multi-country AC-adaptor-and-plug sets but none we've seen matches Apple's own for elegance or sheer darn ease of use. Like other adaptors, each plug clips into the figure-of-eight slot built into the transformer, which sports a USB port as its output. There's no messing with sliders, locking clips or anything else - it just works. Ours has been to the US, Australia, China and various European states, all without a spot of bother.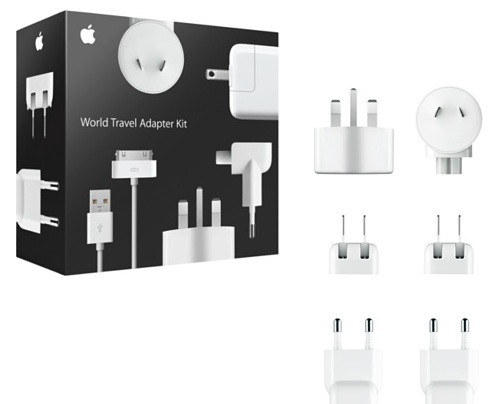 Reg Rating 90%
Price £30
More Info Apple UK

B&W Zeppelin Mini
Bowers & Wilkins' Zeppelin is the most iconic of iPod speaker docks, but it's a bit of a beast, especially if you want a compact speaker to perch on a shelf. Enter B&W's Zeppelin Mini, which, we can attest, delivers the same high sound quality as its big brother, just in a smaller box. Excellent 18W tweeters and a rear-facing bass port - it needs to go near a wall - give it a crisp yet beefy sound, though you'll need to position it carefully to get the best sound. It can pump out plenty of volume to fill all but the largest of rooms, and it sports a neat swivel dock to make it easy to flip through your music in CoverFlow. Nice.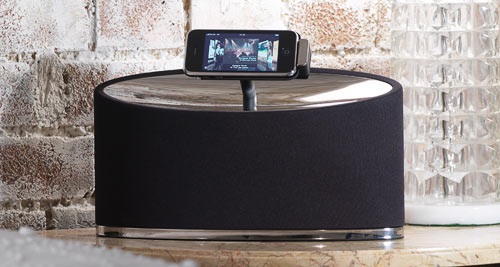 Klipsch Image S4i
World+Dog will tell you that Apple's iPhone earphones aren't up to much. We don't agree, but we do think there are better earphones out there and - crucially - ones more suited to noisy environments like the underground and aircraft. Enter, Klipsch's new Image S4i set, a rather nice set complete with iPhone-friendly mic/remote module. The remote hangs centrally, so its small weight is evenly distributed between earpieces, so one side won't get tugged out. And with a good selection of earpiece fittings, you'll be pleasantly isolated from the outside world and able to enjoy your tunes and the S4i's excellent sound quality.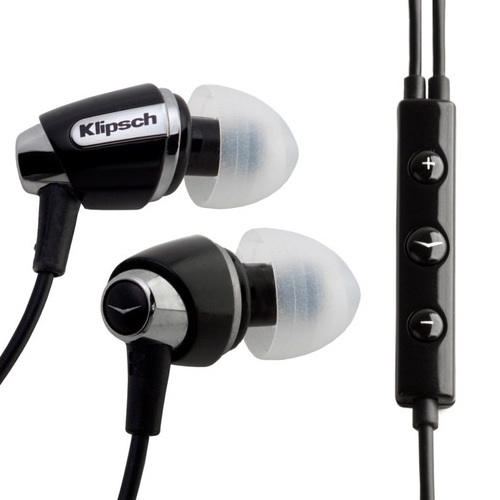 Reg Rating 80%
Price £90
More Info Klipsch

Belkin TuneCast Auto Live
Belkin claims its latest FM transmitter is the only gadget of its kind to use your GPS-calculated location to help find the best frequency on which to send songs from your iPhone to your car radio. Maybe it does, but a scan through the band works just as well, and the TuneCast found a free but hissy gap. If you have a cassette player in your car, a tape adaptor will give you better sound quality, but those of you with CD players will find the TuneCast a solid, workaday alternative.

Reg Rating 70%
Price £35
More Info Belkin

Griffin TuneFlex AUX with SmartClick
If you car stereo does have a handy auxiliary input - or a cassette deck - there's a better way to connect your iPhone than just plugging it in: Griffin's TuneFlex AUX with SmartClick. It fits into the ciggie lighter socket for power, and has a dock connector at the end of a flexible rod so you can position your iPhone for convenience. It has a 3.5mm output to feed either tape adaptor or aux port. But the best bit is the wee wireless remote control that you can attach to your steering wheel. Play/pause, skip tracks, active shuffle - the remote puts all these controls a thumb press away so you won't get distracted from the road ahead. The remote also detaches from the wheel clip for safe storage.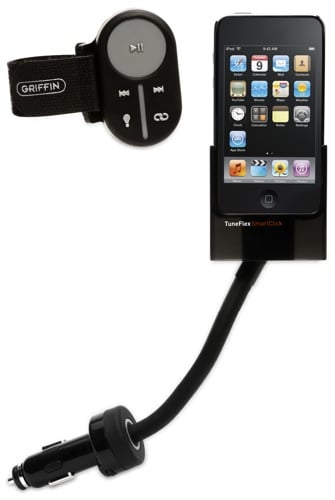 Vuzix Wrap 920
It's a little-known fact that it was Blake's 7 that first predicted a personal media player with slimline playback glasses. That was in 1977, and Vuzix now makes the gadget a reality. The Wrap 920 is cream of the crop, with a pair of tiny 640 x 480 screens that appear before you as a larger display that's the equivalent of a 67in TV seen from 3m. Sound comes through two in-the-ear 'phones. The 920 is surprisingly comfortable to wear, and the viewing's not bad either, though widescreen material appears in a 4:3 ratio and you might find yourself noticing the screen's pixels. Ideal for sitting back, relaxing and zoning out to 1970s sci-fi.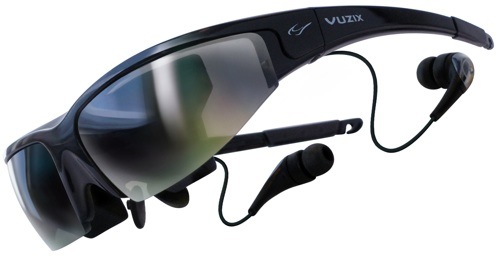 Reg Rating 70%
Price £250
More Info Vuzix

Just Mobile Xtand
If you're watching a film on the iPhone's screen, you don't want to be holding the handset for a couple of hours - or to leave it flat on the desk. It's better to lift it up at an angle, and Just Mobile's all-aluminium Xtand holds up your phone so it won't slip over. The iMac-style stand has a padded base so it won't slide, either, and the screw-on handset holder can be easily rotated for portrait or landscape viewing. The integrated cable tidy even makes the Xtand a great phone holder for your desk.