Original URL: http://www.theregister.co.uk/2010/04/13/review_phone_nokia_x3/
Nokia X3 sliderphone
Simple, but effective
Posted in Personal Tech, 13th April 2010 14:04 GMT
Review Hot on the heels of the music-centric Nokia X6 touchscreen smartphone comes the X3, a scaled down version, with running Symbian S40 this time rather than S60, but with a similar UI on top. There's no touch screen or Comes With Music, no 3G or Wi-Fi or GPS, though it does have a 3.2Mp camera and yet still has music in mind.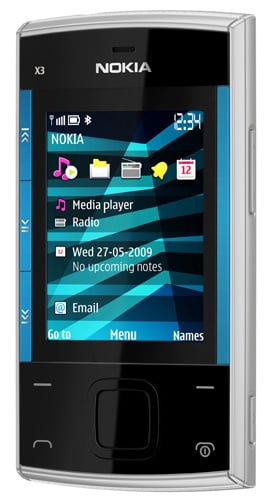 Easy listening? Nokia's X3
It's a relatively compact slider with the front dominated by its perfectly capable but unexceptional 2.2in screen offering 320 x 240 pixels resolution and 262,000 colours. Below it are two soft keys and call start and stop surrounding a responsive square navpad and along the left-hand side are the metallic music controls we're familiar with from the XpressMusic phones of yore – holding down the play button will take you straight to the music player.
On the sides and top are a volume rocker, micro SD and micro USB slots covered by plastic grommets, camera shutter button and a 3.5mm headphone jack. The thin plastic back feels a bit flimsy and well, plasticky, though that undoubtedly helps to keep the weight down.
The keypad slides out easily with just enough resistance to reveal an array of large buttons with a good degree of feedback, despite them being covered by a single slim metal plate. The icon-based UI allows you to access media player, radio, calendar, alarm clock and files from a scrolling menu on the homepage, as well as the Internet, your contacts and your messages. Indeed, this is a phone that's very easy to find your way around.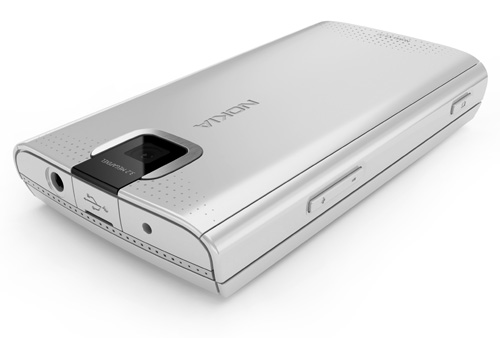 Music downloads are possible, but not exactly speedy
Unlike the X6 – the 32GB version anyway – the X3 doesn't have Nokia's Comes With Music free download service. It has access to Ovi Music, though you'll have to pay for any tracks rather than enjoy unlimited downloads. Downloading is a bit of a hassle though, since there's no Wi-Fi or 3G support, making on-the-move track downloads a snooze-inducing affair using GPRS. Better to download to your computer first and side load to the X3, which generally seemed to work painlessly enough.
Music sounds pretty good through the surprisingly good quality headphones that come with the X3 though. They feature a flat cable and noise-isolating cushions for the ear canal but it's a pity that the in-line controls only stretch to jumping on to the next track, rather than full pause, FFD, RWD action.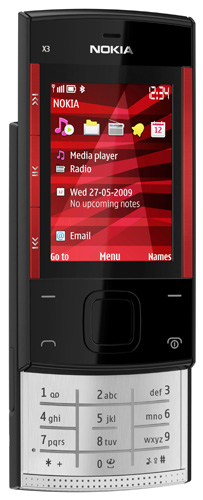 Good headphones but the FM radio reception was left wanting
The equaliser offers seven settings for classical, rock etc, each offering slightly different variations, though the stereo widening feature does have the effect of stretching the soundstage a little. The FM radio features RDS but the reception, on our test model at least, was surprisingly poor, especially given the fine examples Nokia has delivered in the past.
Watching video on that small screen isn't much fun, and the blockiness and pixellation of the display wasn't helped by regular lag and stuttering. There's the option to switch to landscape viewing though, which improves viewing, a little. The X3 comes with a 2GB micro SD card already on board, with the capacity to accept up to 16GB cards which should be plenty if you really are keen to fill up this phone with movies.
The camera is far from spectacular but it's no embarrassment either, delivering decent quality pics so long as you're careful with light and don't ask it to do too much to reduce blur. There's no flash, autofocus or much in the way of settings but it starts up in less than two seconds and takes a snap immediately, ready to go again in another couple of seconds.
The 176 x 144 pixels video capture at 15fps, drops the resolution so low that it's hardly worth using unless whatever you're filming is brilliantly lit and barely moving. The relatively slow internet access means web browsing is always going to be a laggardly business too – despite the presence of the usually nippy Opera browser – and not something you're likely to be indulging in on a whim.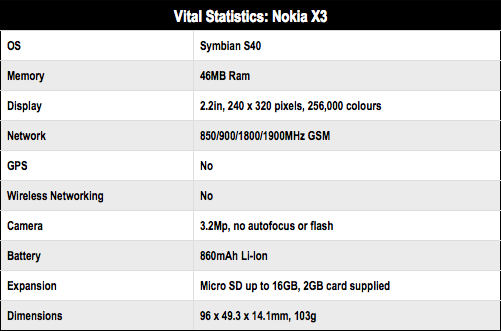 E-mail was easy to set up though, requiring just an address and password, though there's no push email option at this level. Incidentally, call quality was passable but had just a little bit of a tinny quality. Battery life proved to be pretty respectable, delivering a good four days of medium use, which translated to around 24-hours of continuous music playback.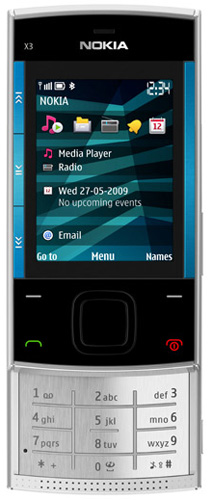 Overall, a fairly good range of features for an entry-level handset
Verdict
The Nokia X3 is not a world-beating phone. It's not the future and it won't stun anyone with its feature set, especially the average camera and lack of 3G browsing speeds. What it is though is a solid, music-based workhorse of a phone that does what it needs to well enough without putting much of a hole in your wallet or searing out your pocket. ®
More Phone Reviews...

Sony Ericsson
Yari
LG
GD510
Pop
Nokia
6303 Classic
Samsung
GT-B2100
Solid Extreme