Original URL: https://www.theregister.co.uk/2010/04/13/peripherals_gyration_air_mouse_elite/
Gyration Air Mouse Elite
Airborne remote rodent
Posted in Personal Tech, 13th April 2010 07:02 GMT
Review Gyration's accelerometer technology forms the backbone of the Nintendo Wii's Remote that supports gesture recognition, so with sort of pedigree, I was expecting big things from the manufacturer's latest peripheral, the Air Mouse Elite. It's a wireless mouse that also functions as a remote control for your PC and whole lot more.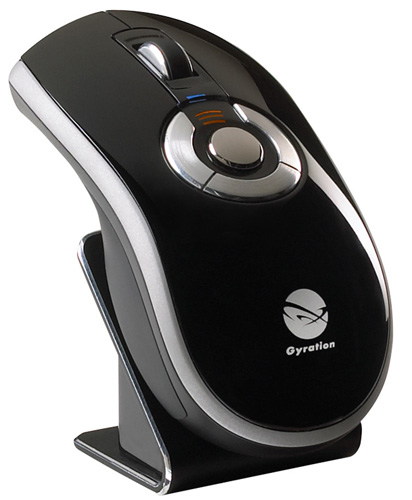 Remote desktop? Gyration's Air Mouse Elite
At first glance the Elite looks like an ordinary desktop mouse with its ergonomic design and scroll wheel wedged between its standard dual control buttons. Yet, when I picked the Elite up, my index finger naturally curled itself around its top-mounted trigger button that transforms the mouse into a wireless PC controller.
The Elite communicates with wirelessly 2.4GHz RF USB receiver that supports Windows, Mac OS X and Linux. However, sophisticated tasks – beyond basic in air mousery and desktop use – rely on the MotionTools software being installed, which is Windows-only.
Depressing Elite's trigger button enables you to move the PC's cursor across the screen simply by waving the mouse in any direction – just like using the Wii's Remote. Switching between Firefox tabs, selecting hyperlinks and even writing this review while using the Elite as an airborne mouse was extremely easy and required relatively no user training time.
While in Airborne mode, on-screen selections are made by pressing your thumb down on the Elite's topside right button. I never experienced cursor drift – a common problem with wireless mice – or lag time between physical and cursor movements. Indeed, Airbourne mode really makes Elite stand out during presentations because picking the mouse up and 'waving' your PC's cursor across to the next slide just feels so natural and effortless.
Airborne navigation is also handy when watching films on a laptop in bed, I discovered, because movies can be paused with only the slightest of wrist movements. Elite also has three programmable media buttons that let you access, say, Firefox's Bookmarks folder or call-up PowerPoint's highlighter tool just by clicking one button.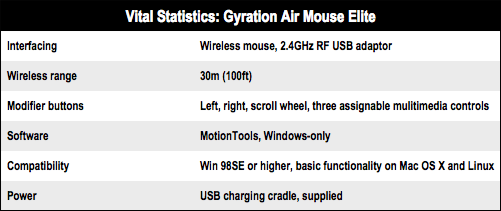 To enhance navigation the configuration software offers several pre-defined environments, including Media Player, Internet and Presentation, but more can be created and the action of each button defined by the user. Furthermore, you can utilise gestures. By depressing the centre button I actioned tasks by swinging the mouse upwards in various angles and directions.
In iTunes, a 'Left swipe' made my most recently played album start over. An 'Up swipe' brought up Elite's own volume bar, allowing me to adjust my PC's audio, as though pulling on a drawstring. As useful as the feature was, things didn't always go smoothly because my swipes were often wrongly interpreted, with Firefox skipping back a page instead of opening my bookmarks folder.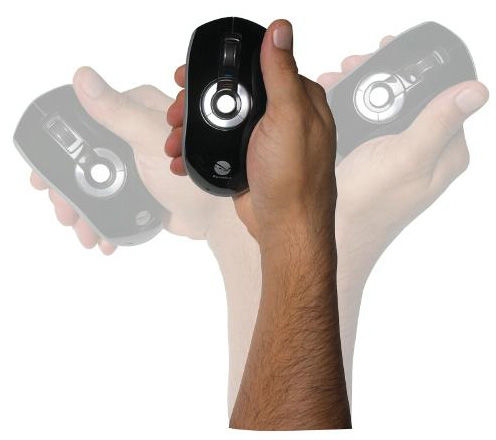 Pointing not waving
An extra £30 will get you the Air Mouse companion wireless, low-profile 105 chiclet-style keyboard that relies on the same USB RF unit. Indeed, the mouse and USB dongle communicated flawlessly and went beyond Gyration's stated 100ft (30m) contact distance, even with large objects between the pair. The Elite's internal battery ran for days before running low on power, but the supplied USB-powered charging cradle is poorly designed, because even the slightest knock makes the mouse fall off.
Verdict
Despite only basic Mac/Linux support, the charger shortcomings and minor niggles with the gesture recognition capability, I enjoyed using Air Mouse Elite. It has broad appeal for a range of environments as it works well as a traditional desktop mouse, whilst delivering a unique user experience with its additional functionality both as remote controller and an in-air PC navigator. ®
More Input Device Reviews...

Apple
Magic
Mouse
Wacom
Intuos4 L
Group Test
12 of the best mice
Hippus
Handshoe
Mouse