Original URL: https://www.theregister.co.uk/2010/04/13/nokia_handsets/
Nokia announces Facetwittery-enabled phones
Poor people get to network too
Posted in Networks, 13th April 2010 12:27 GMT
Nokia has announced it will bring social networking to the masses on its freshly minted C3, C6 and E5 phones.
This comes just a day after Microsoft did the same for mobile Windows users, and Sony Ericsson is promising to catch up.
The Nokia phones will communcate with Facebook and Twitter, as well as Ovi Mail and Chat. Meanwhile, Sony Ericsson's Spiro and Zylo add Walkman branding to the inevitable Facetwit connections, as money ceases to be a barrier to social networking.
Nokia's handsets all have keyboards, and the C3 is the first Series 40 device to feature one - best not mention the innovative 6820 then. The C6 is a Symbian handset with 5MP camera and touch screen, while the E5 is the business variant.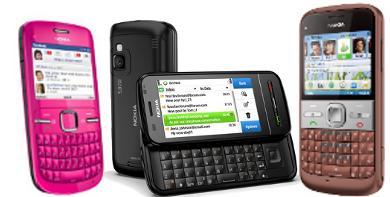 The C3 is on the left, and not always pink
The C3 is the most interesting model - Nokia reckons it could sell for less than £80 without subsidy, which makes it a giveaway handset in most markets despite featuring Wi-Fi and a 2MP camera. The C6 will cost a little more - almost £200 without subsidy - but is a proper smart phone with a slide-out keyboard and integrated social networking. The E5 will be a little cheaper, thanks to its smaller screen and lack of touch sensitivity. It will come in at an unsubsidised price of around £160, but with a promised 29-day battery life.
We don't know the prices for the Zylo and Spiro handsets, only that they're Walkman-branded and also aimed at bringing social networking to the masses.
Twitter and Facebook are the social networking systems of choice. We can't help but notice the absence of MySpace in the announcements from Nokia and Sony Ericsson, though Microsoft remains loyal to the network it still owns a share of. For the C6 and E5 that's moot, as both Symbian handsets can be enhanced with downloaded applications, but the rest will need manufacturer's patches should the social networking landscape change.
Palm's WebOS blazed the trail into integrated social networking. The trend started earlier but it was Palm's commitment to online services that everyone else to try and emulate, with mixed success. These days data rates are low enough to make status updates practical, and the features of social networking have boiled down considerably, so it's time for every phone to start getting social. ®