Original URL: https://www.theregister.co.uk/2010/04/13/discovery_spacewalk/
Spacewalkers polish off ISS ammonia tank
Third jaunt wraps Discovery mission EVAs
Posted in Science, 13th April 2010 13:09 GMT
Mission specialists Clayton Anderson and Rick Mastracchio have completed the installation of a new Ammonia Tank Assembly (ATA) on the International Space Station with a six-hour, 24-minute spacewalk - their third and final STS-131 mission EVA.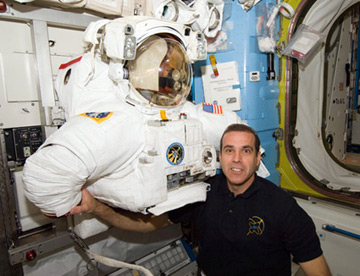 The pair ventured outside the orbiting outpost at 06:14 GMT, and Mastracchio (pictured right in the Quest airlock and below during the EVA) first attached fluid lines to the ATA. This task was scheduled for Sunday's second spacewalk, but a troublesome bolt prompted its deferral.
The two then "removed micrometeoroid debris shields from a stowage platform by the Quest Airlock for return to Earth" and prepared the old ATA - suspended at the end of the station's robotic arm - for transfer to space shuttle Discovery's cargo bay.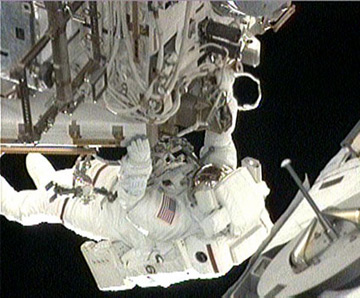 Once arm operators Jim Dutton and Stephanie Wilson had manoeuvred the ATA into place, Anderson and Mastracchio bolted it down for its return trip to terra firma.
Getting the ATA secured, however, proved more difficult than expected, due to an "alignment issue". The delay forced NASA to "defer a planned chore calling for Clay Anderson to retrieve a light-weight adapter plate assembly from the Columbus laboratory".
Instead, the agency "asked him to perform two tasks required for space shuttle Atlantis' STS-132/ULF-4 mission next month, relocating a portable foot restraint and preparing cables on the Zenith 1 truss for a spare Space to Ground Ku-Band antenna".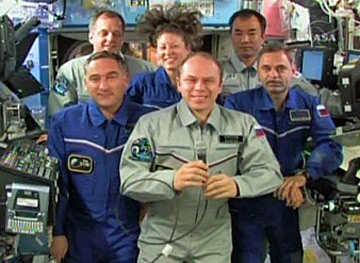 On a less practical note, the ISS's Expedition 23 crew (pictured back row, l-r: Timothy Creamer, Tracy Caldwell Dyson, Soichi Noguchi, and front row, l-r: Alexander Skvortsov, commander Oleg Kotov and Mikhail Kornienko) yesterday enjoyed a "Cosmonautics Day" chat with Russian prez Dmitry Medvedev, who hooked up to celebrate the 49th anniversary of Yuri Gagarin's first manned spaceflight.
Medvedev took the opportunity to call for international space cooperation. According to Cnet, he suggested: "No country can develop space alone, we need to combine our efforts and we need to talk about it more often. So maybe we could have some sort of international meeting, maybe at the heads of governments level.
"Because we talk about various issues, such as tackling all kinds of challenges, dangers, and hazards that humanity is facing these days, various disarmament programs, etc., but space is a very important and positive factor that unites us all.
"So maybe it would be good to have a summit, maybe at the heads of governments level, for the countries that are working in space. So see, I have a very good idea on this holiday. What do you think? We could invite you to participate as well."
Commander Oleg Kotov responded by describing the ISS as "a great example of international cooperation" in which the crew "functions as one body even though it consists of representatives from different countries".
He concluded: "We have had a European astronaut on board, we have Japanese astronauts on board right now, we have American astronauts, Russian, and we understand each other perfectly, we don't have any conflicts and I hope this will be true also regarding our cooperation everywhere else." ®