Original URL: https://www.theregister.co.uk/2010/04/10/review_audio_interface_m_audio_pro_tools_recording_studio/
M-Audio Pro Tools Recording Studio
Plug 'n' play, the muso way
Posted in Personal Tech, 10th April 2010 08:02 GMT
Review Audio interfacing has always tended to be rather unpredictable on computers, especially laptops. What you get can vary with each refresh, with an audio input jack one day and just a headphone socket the next. The argument goes: if it's that important, buy an external audio interface. If you're a musician, even well-spec'd machines can lack the audio connectivity to suit your gear, which is where devices like M-Audio's FastTrack come into play.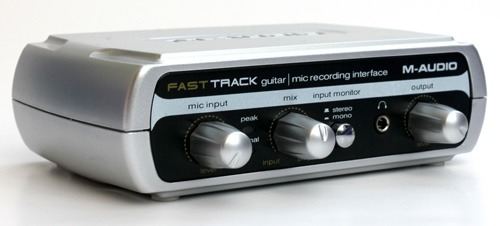 Winning combo? M-Audio hardware with Digidesign software make up the Pro Tools Recording Studio
The FastTrack is merely USB hardware married to Pro Tools M-Powered Essential compositional software, with the whole package being called the Pro Tools Recording Studio. While this is no Abbey Road, the FastTrack does provide basic interfacing to get you through most recording tasks. Round the back is an XLR mic input, a switchable guitar/line input on a 1/4in jack socket, plus an RCA phono stereo output with a 3.5mm headphone connector on the front panel.
Host powered from USB the FastTrack is encased in a silver painted plastic shell that looks good but isn't immune to scuffs. Physically, it appears robust and well constructed with the three front panel knobs holding firm with not the slightest lateral wiggle to them. These controls vary mic input level, mix and output, however, there's no level control for the guitar/line input.
The mix control needs a bit of explaining, as this is used to allow you to monitor both the input and the playback signal. In short, with it turned hard left to input, you'll only hear what you have plugged in to the FastTrack, turn it hard right and you'll only hear what's playing from the computer. Have it in the middle somewhere and you can listen to a music sequence and play along with it.
Furthermore, when in record you can monitor your instrument or vocal through the computer, but that will introduce latency, which is a short delay in hearing your live playing, which can be off-putting. The advantage though, is that you can apply realtime effects to your live input and this can be a real performance enhancer.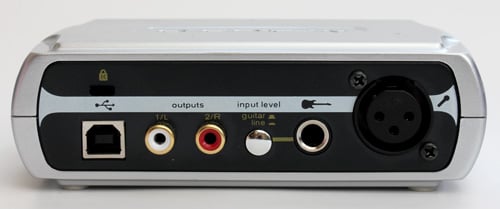 Dual channel, but no matching input pair for stereo transfers
Installation on a Mac or PC should be a two-step process. First, instal the M-Audio driver that allows the FastTrack to work with other music software or to function as your computer's main audio interface. As a stereo output, the FastTrack is certainly an improvement on laptop audio outputs, delivering much better definition.
Secondly, instal Pro Tools M-Powered Essential. This features a bunch of free loops and software instruments on DVD. Hopefully, the 8.0.3 release from January is doing the rounds in the stores now, but if you're running Snow Leopard or Windows 7 and your package contains an 8.0.2 DVD, you'll have to download the free update it to get it working.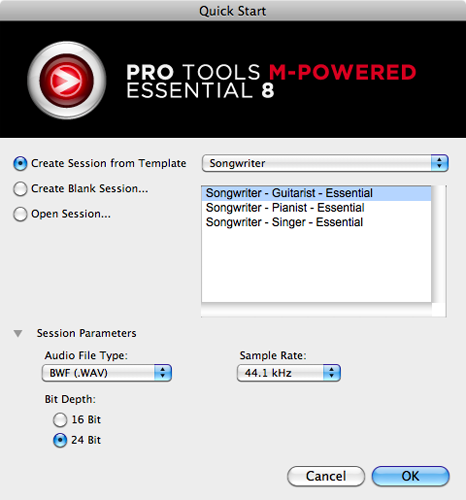 Ready made song templates: there's even a ballad offering that comes up in 6/8 time
Digidesign is notoriously slow at delivering Pro Tools software updates, with its current M-Powered Essential compatibility for Mac OS X 10.6 and Windows 7 taking five months and three months respectively. Fortunately, M-Audio doesn't hang about when it comes to driver updates and doesn't abandon older systems too swiftly either. This month, Digidesign – and later M-Audio – will be known simply as Avid, so how often updates will take to appear remains to be seen.
Hooked up to a Mac, the M-Audio control panel in System Preferences lets you choose to record at 16- or 24-bit resolution. It also features links support areas on the M-Audio site and will check for driver updates.
Running Pro Tools M-Powered Essential prompts you to choose if you want to use compositional template or configure a set-up yourself. It allows 16 stereo/mono audio tracks, eight software instruments and eight MIDI tracks. If you'll excuse the pun, Pro Tools has quite a track record in the music world. High-end Digidesign audio hardware as well as the more sophisticated versions of Pro Tools software – capable of hundreds of tracks – is commonplace in commercial studios.
With M-Audio's cheaper hardware – and with it, more basic software – the Pro Tools Recording Studio provides a taster of what the full-blown Pro Tools can offer. Indeed, aspiring musos and recording engineers can get a feel of how to use the big boys toy from this slim version. That said, the first hurdle is getting a noise out of this box and into the computer.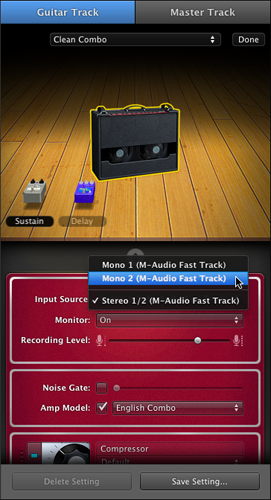 Double clicking on the virtual amp in GarageBand reveals input and monitoring options
There are two input channels, but channel one is dedicated to the mic input and channel two is set for the guitar/line input. Now, are these device-specific points mentioned anywhere in the manual that covers numerous Pro Tools incarnations? Nope. No matter what recording software you're using – and besides Pro Tools I tried it on GarageBand 5.1 and Logic 9.1.1 – you'll need to switch the input over to channel two before you start twanging. Now this routing is normal and logical, it's just not explained anywhere to help novice users.
Given that music software defaults will typically set a new track to input channel one, plumb in a microphone and you're away. Well, nearly. Dynamic mics are fine, but more expensive condenser mics require phantom power (+48V) and the FastTrack doesn't have that, so forget about using any fancy mics. You can use both mic and guitar channels at the same time on separate tracks. I set it up to record a direct feed to the guitar input from a built-in pickup on an acoustic guitar while simultaneously capturing the natural sound with the mic.
Even though the guitar input doesn't have a level control, it is set with sufficient gain to work fine with most pickups. I tested it out with an acoustic guitar fitted with a Schaller Oyster piezo pickup and an electric guitar with Mighty Mite humbuckers. Without the high impedance input, the piezo would have sounded very thin and brittle, but instead was warm and full-bodied. Likewise, the electric also had a much punchier sound. A word to the wise though, switching between guitar and line modes delivers an almighty thump to the output. This sort of behaviour immediately spells, 'cheap and nasty'.
Returning to the twin track approach, the direct input was captured with no complaints, but the mic recording seemed to fizz a bit, with irregular buzzing reminiscent of mobile phone interference. Turning the mic level up, naturally, increased how noticeable this was. The mic used was an Audix OM7, designed for live vocals and very well screened – fine for test purposes considering I couldn't use a condenser mic. Wi-Fi was off, cables were checked, replaced, even computers and geographic location were changed, but the outcome was the same – erratic noise. Check it out on this untreated, uncompressed 24-bit recording here.
So, if ballads aren't your thing and you're only ever going to record a thrash metal, then this might not be an issue, but unplug the mic and things get worse. The mic input channel suddenly hums like a fridge-freezer showroom. The noise is quite alarming but instantly curtailed by turning the mic input level all the way down – easy.
But an unused input really shouldn't be humming away so loudly. More to the point, if you're using the guitar/line input and have the mix control set for input, you'll hear all this humming unless you remember to keep the mic level turned down completely. It's disturbing, distracting and just not right.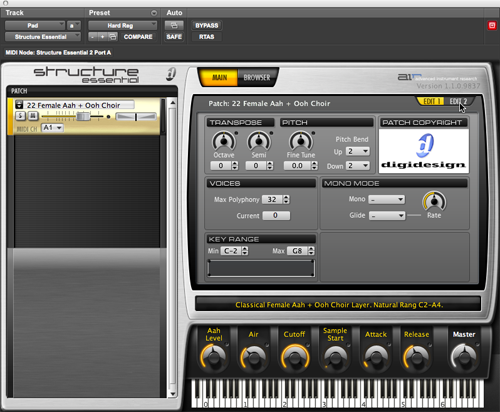 The Structure plug-in features two edit pages to shape your sounds
Another thing that isn't right is the software. Earlier on I mentioned that you can only hear the input signal treated with effects during recording. I lied, although this is the case with this watered-down version of Pro Tools. Use the FastTrack interface with other recording software that allows input monitoring during playback – which is just about all of them – then you can play along to a backing track with effects, which is great for working out ideas without getting bogged down by unnecessary recording.
Indeed, the lack of input monitoring on the Pro Tools M-Powered Essential software is just mean-spirited, there's no reason not to have it. It's just been disabled to encourage an upgrade, but five minutes of this and the only thing you're encouraged to do is abandon Pro Tools and give something else a try, like GarageBand. It's a shame really, as the effects – including a Tech 21 SansAmp PSA-1 guitar amp plug-in – really hit the spot.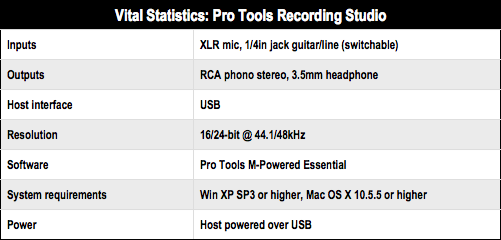 You also get the Structure Essential plug-in from Digidesign's Advanced Instrument Research group. This features 64 virtual instruments, and a virtual keyboard to test them out but, unlike GarageBand, you can't play using the Qwerty keys. A MIDI controller offers the best way to play the on-board synths. Many new controllers utilise USB and just about any decent keyboard made in the last 25 years will have MIDI, but you'll need a MIDI interface to link it up to a computer.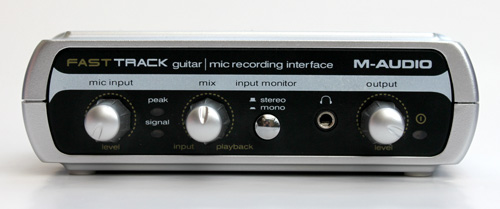 Convenient and compatible, but sonically challenged
In many ways, Pro Tools reflects the way that signal routing is achieved on more conventional hardware mixing consoles, so it would be worth learning this version if it wasn't so annoying. Indeed, just about every time you want to do something clever, you're faced with a menu icon that spells upgrade. Yet, as such, this isn't an upgradeable product. There are no discounts on moving to higher level Pro Tools products. This is entry-level and there are no sweeteners.
Verdict
Portable, with guitar, line and mic inputs the FastTrack hardware alone is appealing but, in use, the reality is very different. The mic input is noisy, the mode switch thumps loudly and the software shortcomings make taken-for-granted tasks cumbersome. While the Pro Tools Recording Studio is unashamedly entry-level, the real shame is how it disappoints in crucial areas. ®
More Audio Gear Reviews...

Sennheiser RS 160
wireless
headphones
Sonos
ZonePlayer
S5
Sony
NAS-SC500PK
Gigajuke
Olympus
LS-10
recorder