Original URL: https://www.theregister.co.uk/2010/04/09/top_ten_free_ipad_apps/
Fanboi's delight - the top ten free iPad apps
And the top 12 bridesmaids
Posted in Personal Tech, 9th April 2010 22:42 GMT
Either you just bought an iPad and you wallet is now depleted, you're thinking of buying one and you'd like to know how you can stuff it with apps for zero dollars, or you're simply curious about how free iPad apps compare with free iPhone apps.
Or you're merely intrigued by the whole media-fed iPad hysteria. In any case, The Reg is here to help.
We installed and tested dozens of the most attractive - and free - iPad apps available on the iTunes App Store, and chose the ten that best show off the iPad's advantages over its smaller-screened sibling. Some - most, actually - are apps that already exist in iPhone form, but which have done a fine job of exploiting the iPad's expanded acreage.
In addition to our top ten, we also picked a dozen runners-up. You may - you will, if you're a true Reg reader - disagree with our top ten, but you may find something of interest among the also-rans that you can promote into your own personal top-ten list.
To keep the field manageable, we skipped apps put out by such news outlets as Time, the BBC, USA Today, and The New York Times - well, our #10 pick is a news service, but its app is enhanced with a raft of personalization features and real-time feeds.
You'll also notice that there are no games on our list - even though the market-watchers at Distimo claim that Games is the largest iPad-app category. The reason for this omission is simple: we're not gamers, and for us to rate games would be as silly as, say, for someone who has never used an iPad to have strong opinions about it.
And, yes, that last comment was, indeed, flame-bait.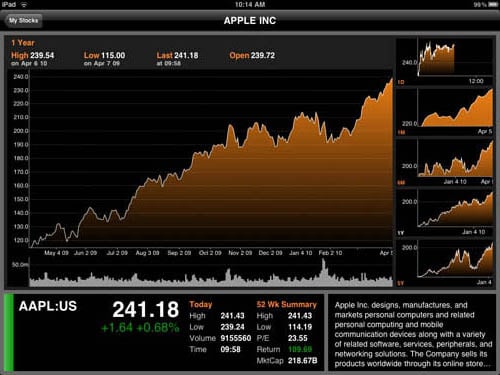 Apple must be doing something right
Bloomberg's iPhone app is among our daily go-to sources of info, and its iPad app is a notable step-up in presentation quality. In it you'll find continually updating news, equity indices, bond and commodity info, current rates for 25 top currencies, and audio podcasts that you can listen to while navigating around the rest of the app.
A My Stocks feature lets you set up your personal portfolio and track its health, or simply keep an eye on companies you're interested in. For example, as we're writing this on Friday morning, Apple's stock is up 0.77 per cent and Google's is down 0.27 per cent. Might have something to do with yesterday's iAd announcement.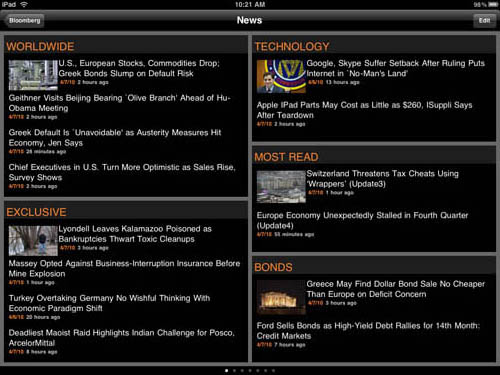 You can customize your news feeds from nearly three dozen topic choices
---
Words & Weather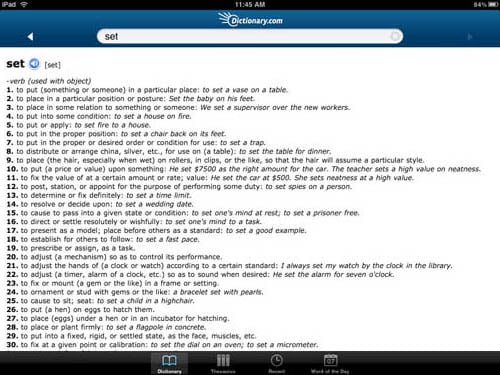 Among the most versatile words in the English language
"A dictionary?" we can almost hear you say. Yup, a dictionary - a damn good one, and a big step up from its free-app competition, Dictionary!.
Based on the Random House Unabridged Dictionary, the Dictionary.com app is remarkably thorough. Check out, for example, the 119 major definitions of the word "set" - and that doesn't even include the Egyptian god, brother and murderer of Osiris.
Dictionary.com also includes a thesaurus - with 49 synonyms for "stupid," for example - plus spoken pronunciations (though not for all words) and a Word of the Day feature. Today's WotD is "indefatigable," a lovely compliment for someone who just tested dozens of iPad apps.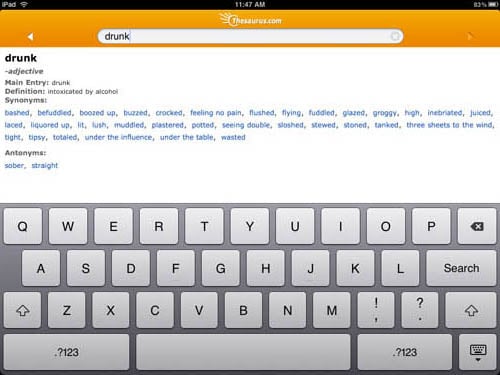 The thesaurus will help you impress your mates at the pub with your erudition
---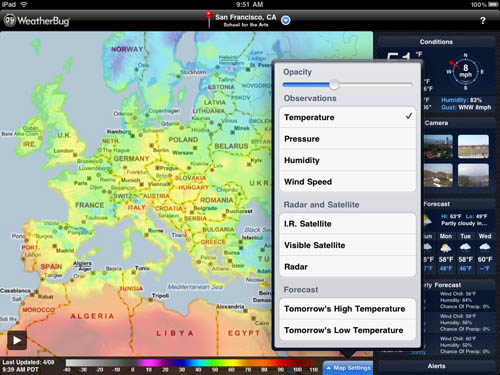 Seems a bit nippy in Oslo, as per usual
This free app can quickly show you weather conditions anywhere in the world. Either pinch to zoom and drag to pan across the large map, or simply enter the name of the location that you're interested in - right now, for example, it's 78 °F at the Da Nang International Airport in Kowloon.
A variety of map settings show color-coded, animated gradients for temperature, pressure, humidity, and wind speed. Pop-out displays detail current conditions and forecasts, plus, when available, relevant webcams and hourly forecasts. Satellite views can also be displayed, when they're available for the location you're viewing.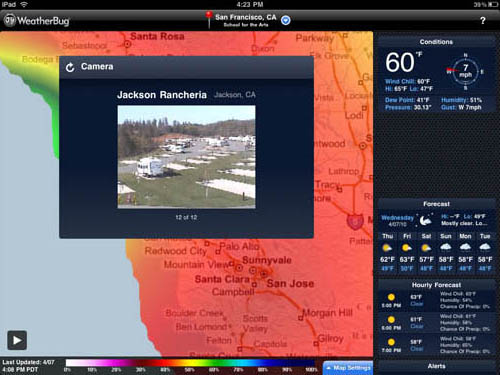 Webcam view can give you direct contact with the weather in even low-rent districts
---
Books & Movies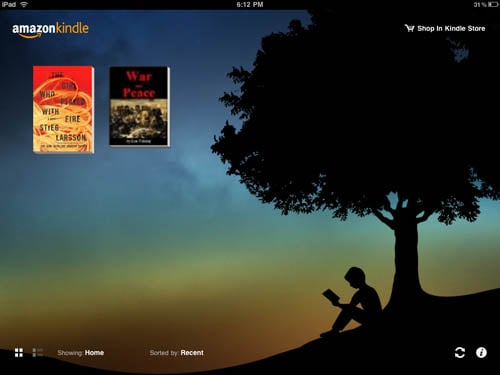 Apple's iBook app is also free, but of no help if you already own Kindle ebooks
We're of the opinion that the iPad won't replace Amazon's Kindle until it sheds some weight - at 1.5 pounds (0.68 kg), the Wi-Fi model is just too heavy for extended reads. That said, if you don't mind resting the thing on your lap, the iPad Kindle reader is a fine window into the world of literature (or trashy novels), and a great improvement over the tiny-screened iPod version.
It's also significantly easier to shop the Kindle store using the iPad version. Instead of the cramped iPhone-only Kindle Books store, the iPad version leads you to the full browser-based store. After you select a book - many of which are free - you're led back to your iPad, where the Kindle app relaunches.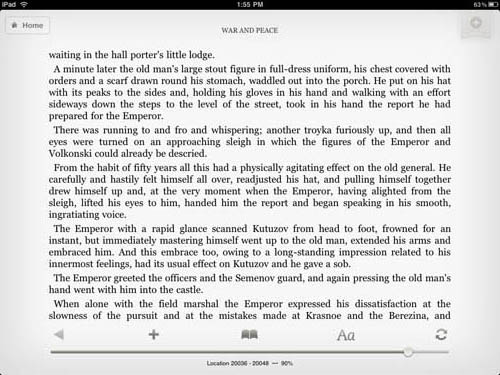 We just finished War and Peace on our iPhone (seriously) - the iPad would have been a hefty improvement
---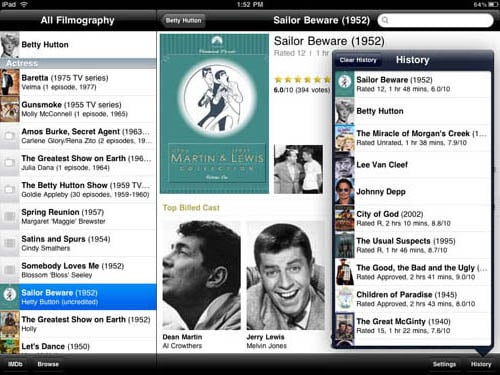 More info on more movies than you even knew existed
iMDB, for the three of you in the world who've never heard of it, is the Internet Movie Database, a compendium of a titanic amount of information on movies and television shows.
The comparatively large screen of the iPad is used to good advantage to display a wide range of iMDB info, including such niceties as the top 250 movies of all time as voted by iMDB users (The Shawshank Redemption as number one? I think not...), the 100 worst movies of all time, a list of stars born today, and more.
The iPad's location service allows iMDB to show you showtimes and locations of movies in your area, and email that info to friends - or, in the case of Miley Cyrus' The Last Song, to enemies.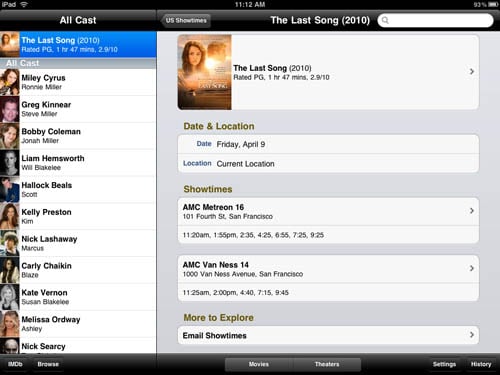 Location services display local showtimes, which you can email to Miley Cyrus fans
---
Stars & Bars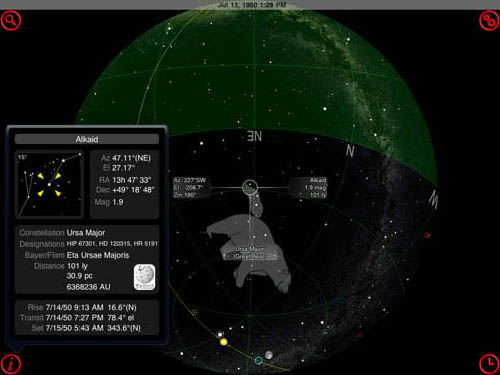 Zip across the universe and zero in on interesting celestial bodies
If, like us, you live in a light-poluted city, this free app may be the only way you can explore the heavens. You get a celestial sphere that you can spin about, crosshairs for singling out celetial items such as the moon, planets, stars (including ours), clusters, nebulae, and galaxies, and the type-in search has a go-to function that'll zoom you through the heavens to your desired spot.
You can also go backward or forward in time to see, for example, how the heavens were arrayed at your birth, or how they'll look when you turn 100 - an astonishing amount of info and a great feature set for exactly zero dollars.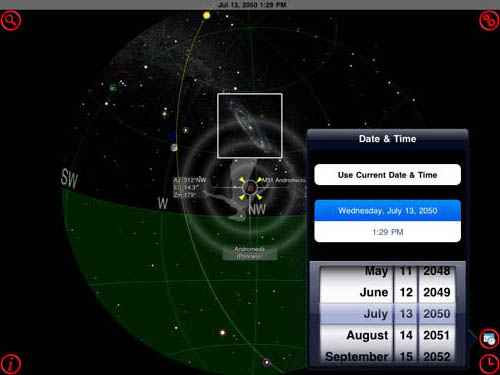 Check out the alignment of the stars - past, present, and future
---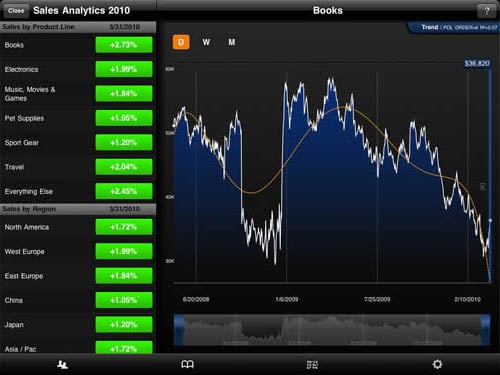 You provide the data, Roambi provides the visualization
We wrote about this executive decision-making tool earlier this week. A window into the buzzword du jour, "business intelligence" (BI), Roambi can be configured to provide you - or your boss - with information from a variety of corporate back-ends, starting as simple as Excel and moving up to Salesforce CRM, SAP Crystal Reports, IBM Cognos, and more.
While Roambi for the iPad is free, you'll need your choice of back-end to make it work. The Roambi Lite web service is also free, but it's limited to spreadsheet data. If you want access to more BI info from other sources, Roambi will charge you.
One other free business app you might be interested in is Square, a point-of-sale payment-card app that was promised for the iPhone but has only now appeared, but for the iPad.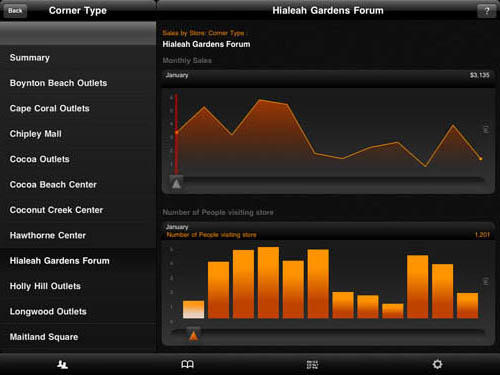 You'll need your own back end, which you can set up to dive as deep as you want - or can
---
Art & Clouds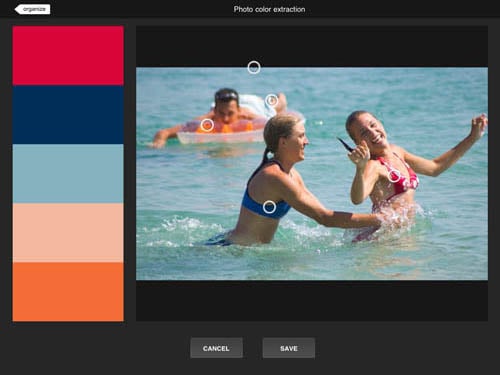 Ideas builds its own idea of complementary color sets out of photos you supply
Flash may be banished from the iPad, but Adobe isn't. That company has come up with a nifty vector-based drawing app that may be simple, but which we found to be addicting - not to mention a good way to quickly sketch out ideas using only your finger, which Ideas then converts into smooth vector art.
You can build complementary five-color sets from photos in your iPad photo library, then use those color sets to sketch out "ideas," or choose you own colors. You have control over brush width and opacity, image zoom, a photo or a drawing layer (or both), and other options.
Adobe provides no Help menu with Ideas, so you'll have to figure it all out yourself. Foretunately, though, the app is simple enough to quickly decipher.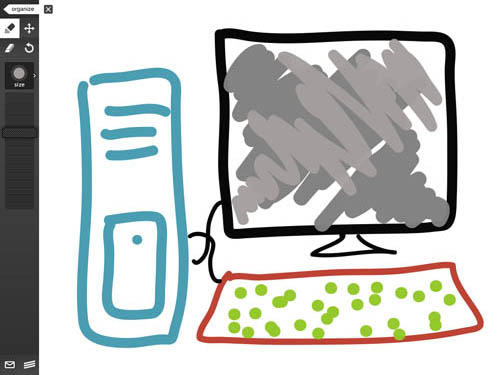 Your humble Reg reporter is painfully lacking in artistic chops
---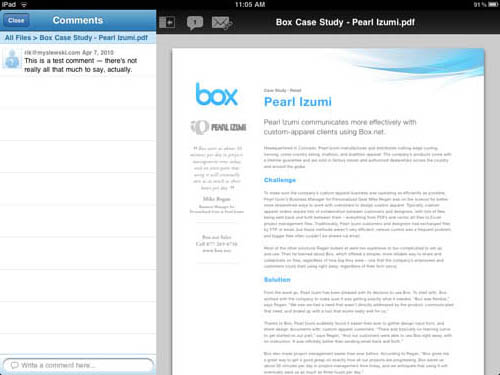 View PDFs - and a slew of other file types - and add comments to them
Box is aptly named: it's a straightforward app that links you to cloud-based storage where you can store, view, comment on, and share a wide variety of file types. How wide? The company calims support for - hang on - .AI, .BMP, .CSS, .CSV, .DOC, .DOCX, .FLV. .HTML, .JPEG, .JS, .MP3, .ODP, .ODS, .ODT, .PDF, .PHP, .PNG, .PPT, .PPTX, .PSD, .RTF, .SQL, .SWF, .TIFF, .TXT, .WPD, .XLS, .XLSX, and .XML.
From a browser-based interface on your Mac or PC you can upload files, create folders, comment on or tag files and folders, turn folders into public web pages, and more.
The iPad app is free - or, of course, it wouldn't be in this list - and you can get a free Box account that lets you upload files up to 25MB in size, and which has a total capacity of 1GB. If you want more, you can upgrade to an Individual plan at $9.95 per month, which gives you 10GB of space, the ability to upload files up to 1GB in size, and a variety of other features. The Business plan gives each user 15GB and the ability to upload 2GB files, improved search, the ability to brand your Box, and runs $15 per user per month, with a minimum of three users.
Presumably there's good info to be found in the app's demo video, but we could never get it to play all the way through. And we should note that the iPad app is just a viewer, commenter, and file-manager, not an editor.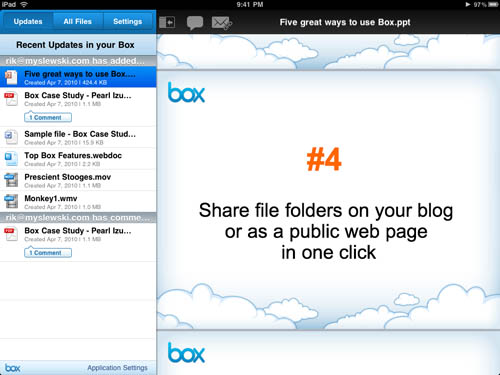 Track your files and their comments, and check for updates
---
Number One and a Dozen More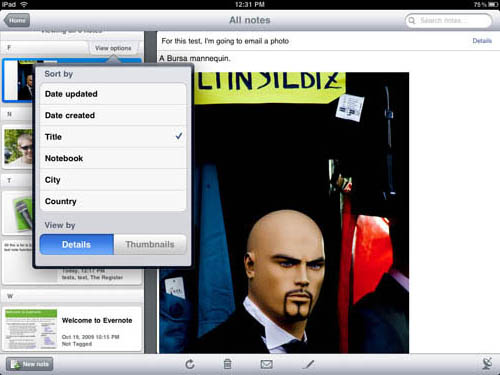 Tag and sort your notes
Like our #2 pick, our El Numero Uno free iPad app is also an organizational tool that's a window into a cloud-based service - which may say more about us than it does about the universe of free iPad apps.
Evernote lets you create, sort, tag, and categorize text and audio, add images, then sync them all between your iPad and your Mac or PC - which it also does in its iPhone version, but which is now a squillion per cent easier with the larger display provided by the iPad.
Like Box, Evernote has a free level of its service, with a monthly upload allowance of 40MB. A Premium version - $4.99 per month or $44.99 per year - ups your monthly uploads to 500MB and adds a few more features, including the ability to search within PDFs and sync "any type of file."
One slick trick: Evernote has the ability to read text in images. Add a photo to it, let the company's servers churn on it for a bit, then search for the text. Strange as it may seem, it actually works. This feature - among others - would be more useful, however, if the iPad had a camera. We'll just have to wait until iPad 2.0.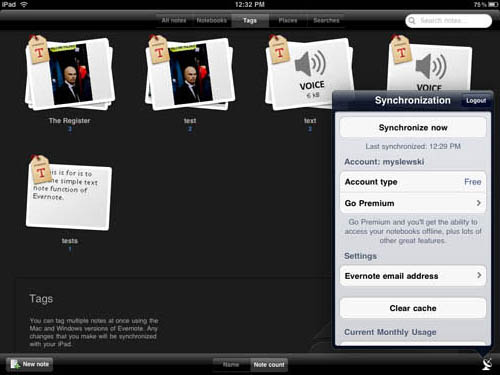 Give a note multiple tags, and it'll show up in multiple note piles
---
Honorable Mention
Although we stand behind our top ten, you may not need as much organizational help as we do, nor find any need to check your stock portfolio. For that matter, after the past 18 months or so, you may no longer have a stock portfolio.
No matter. Here are a dozen more free iPad apps that might catch your fancy, listed in alphabetical order. And remember, even if you download them, try them out, and find they're not to your liking, you've only lost time, not money.
---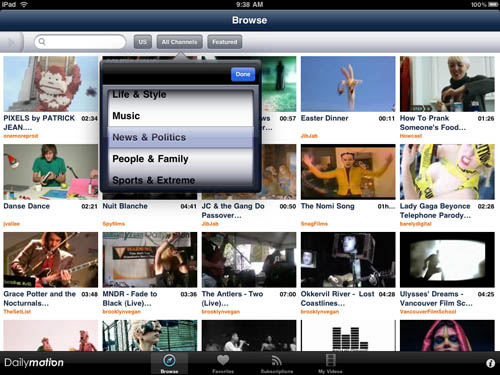 Find videos by channel and country
This interface to tons of videos on tons of topics can provide hours of amusement, education, news, and music, with videos grouped by country (UK included) and interest-based channels.
---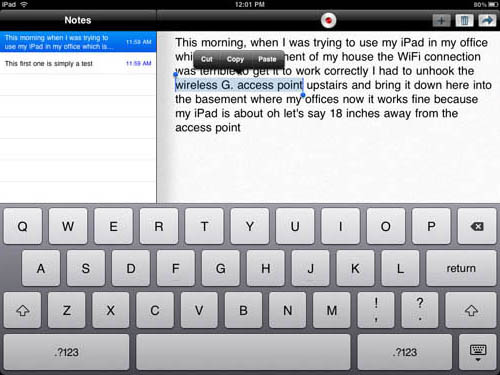 After dictating, use the iPad's keyboard for corrections. Cut-and-paste is supported, as well
We liked the remarkably accurate Dragon Dictation speech-to-text app for the iPhone, and we like it even more on the iPad. And, yes, it's server-side engine does ask to upload names of your contacts to aid it in spelling them accurately, but not their addresses, photos, notes, or any other content.
---
Food, Feeds, Art, and Art
Epicurious Recipes & Shopping List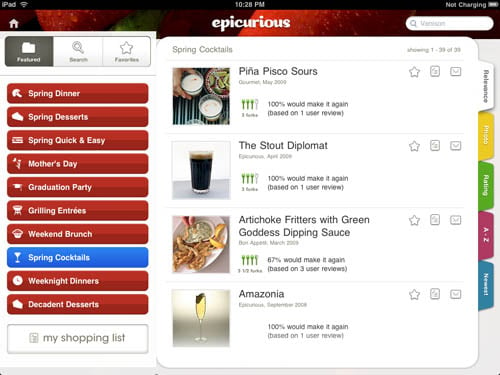 You'll need a web link-up, but you'll find a boatload of good food if you have one
If, like us, you're an unregenerate foodie, you'll appreciate this window onto the web-based Epicurious. Tons of recipes, nutritional info, reviews, and more - although navigation and searching could be improved.
---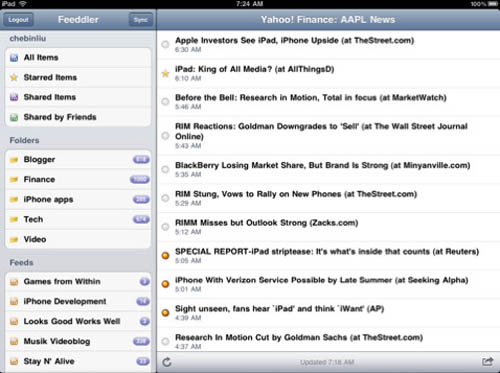 A little assistance while you try to sip from the RSS firehose
If your RSSing is through Google, this Google Reader client can cache your feeds so you can read them when you're not around a Wi-Fi hotspot or your iPad is 3G-less.
---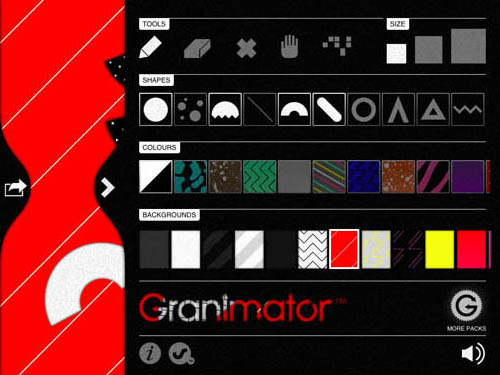 There must be at least one thoroughly off-the-wall app, or it's not a Reg round-up
There's absolutely no reason to have this app - other than the fact that it's a thoroughly bizarre - and loud - "creative sound based wallpaper creator." Unexplainable - you'll have to try it yourself.
---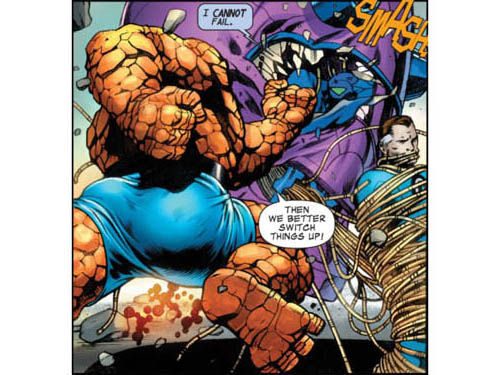 To the rescue, panel by panel by panel
Although at launch this comics store had only six free comics available - others are $1.99 - its worth a look to see how the pages are displayed frame-by-frame, or by automatically panning into different text bubbles in a single frame.
---
Radio, Numbers, Music & Chat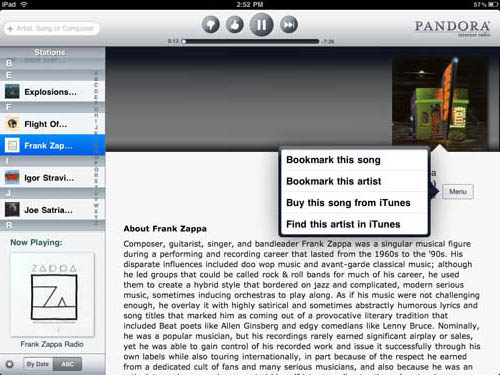 And when iPhone 4.0 is released for the iPad this fall, Pandora will play in the background - finally
Pandora Radio is another iPhone app that takes good advantage of the iPad's larger display. And if you live in the US (sorry, UK readers) and aren't already familiar with the Music Genome Project and Pandora, you just haven't been paying attention.
---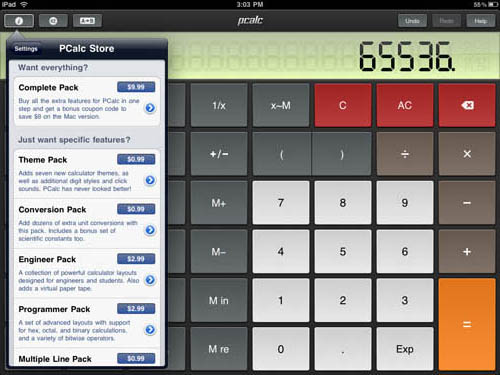 If trig et al. isn't enough for you, pony up for an engineer's or programmer's power pack
More calculator power that most folks will ever need, including trig functions, log, and various exponentials. Access the in-app PCalc Store to add more features, functions, themes, and engneering- or programmer-specific capabilities.
---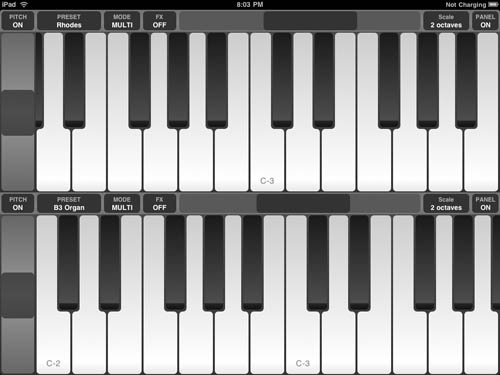 An uncomplicated way to tickle the iVories
This straightforward polyphonic or monophonic keyboard has two ranks, each with seven voices and simple effects. Unfortunately, it only works in one landscape orientation - and that one is 180 degrees off Apple's tilt-up iPad case. [Update: When we wrote this, Pro Keys was free. It's now 99¢. Life goes on.]
---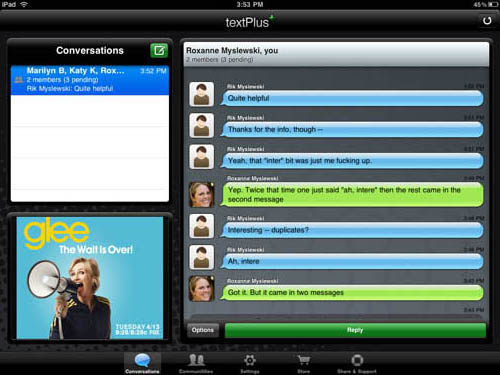 Gather your friends together for a group chat
Send multiple SMS messages concurrently - 140-character max. Once your targets reply, you can all join into a group chat. There's a lot more this ad-supported free version can do, such as community building - find out more here.
---
Tweets & Talk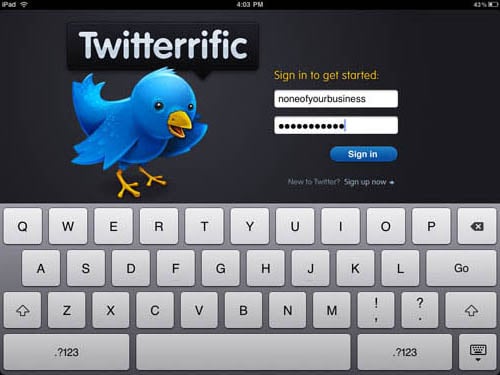 Undoubtedly, that username is already taken
We're not about to get into the religious wars between fans of Twitterific versus TweetDeck - or, for that matter, other Twitter clients. But if you must tweet, you could do worse than use this free client.
---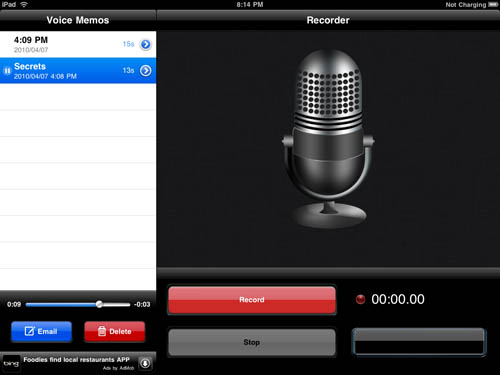 Nothing fancy, but a free way to make up for an app that Apple should have provided
Record short memos with this straightforward app, which you can rename, tag as podcasts, interviews, lectures, and more. Custom tags can also be created. To email a voice memo, you need to pay 99¢ in-app to enable that capability. ®