Original URL: https://www.theregister.co.uk/2010/04/09/ten_essential_android_apps/
Ten Essential Android Apps
The mobile applications to download first
Posted in Personal Tech, 9th April 2010 07:15 GMT
Product Round-up You've taken delivery of your shiny new Android handset, you've logged into the Googleverse and now you're thinking 'what next?'. Well, you can start by downloading the following ten apps that will help you get the most from your handset. Whether you want to read, write, chat, work, travel, watch some TV or just to keep your handset in tip-top form there is an app for that.

eBuddy
eBuddy ticks all the mobile instant messaging boxes. It supports MSN, Yahoo, AIM, GTalk, Facebook, ICQ and MySpace, lets you access multiple accounts from the one screen and can be left to run in the background if you want to use your phone for something else. The screen layout is well thought out, letting you conduct multiple chats at the same time without writing something inappropriate to your mum when you have her on one screen and your inamorata on the other.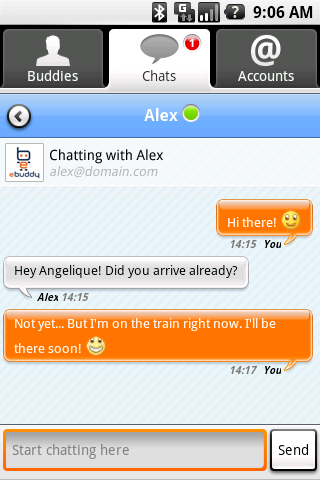 Reg Rating 90%
Price Free
More Info eBuddy

Twidroid
Not the most colourful or decorative Twitter application, but it makes the most use of the available screen acreage and, frankly, we prefer it to either HTC or Motorola's Twitter clients, or Tweetcaster for simplicity of use, stability and clarity of presentation. Upgrade to Twidroid Pro for €3.39 (£3) and you can add multiple accounts, change themes, access some rather decent widgets and get a shake-to-refresh function, but we can live without those so the free version is our recommendation.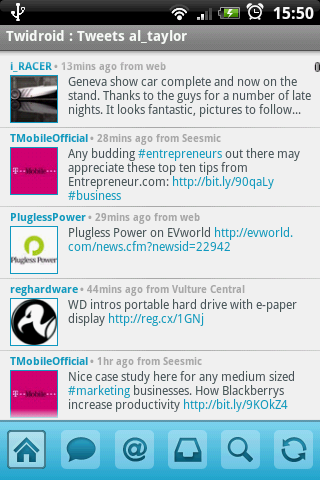 Reg Rating 80%
Price Free for basic app, £3 for Pro version
More Info Twidroid

Fring
Until Skype gets its backside into gear and delivers a fully functioning app for Android, Fring is the easiest and most reliable way to make VoIP calls using your Skype Out account. Once you have logged into Fring and added your Skype details, you can access all the contacts on your phone - with a 'Call with Skype Out' option for each one. Call quality is rather metallic and prone to echo but connections are generally stable and, more importantly, it works over a Wi-Fi network.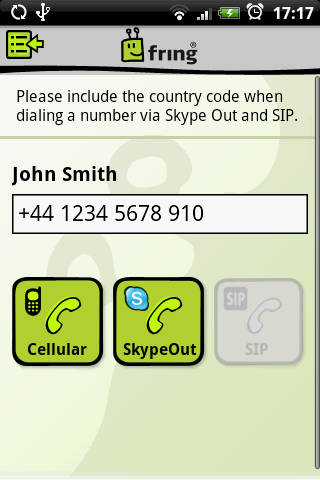 Reg Rating 75%
Price Free
More Info Fring

ALK CoPilot Live
We reviewed ALK's navigation app in September 2000, but recent improvements make it worth a revisit. The keyboard is now laid out in the Qwerty format, and the annoying hang-on-exit clash with HTC's Sense UI has been fixed. Yes, £27 is still good value for fully functioning turn-by-turn navigation as does the £20 a year subscription to the premium Live services, such as traffic information and fuel prices. In nearly six months of regular use CoPilot has never once steered us wrong and you can't ask for more.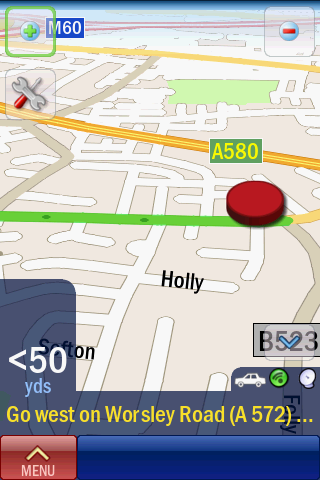 Reg Rating 90%
Price £27
More Info ALK

FBReader
FBReader may not be as flash as some of the iPhone's e-book apps but it does the job and is very simple to use. Files types supported include ePub and Mobipocket - though not PDF. You can set multiple bookmarks in multiple books and can switch between black-out-of-white and white-out-of-black as light conditions dictate. The library layout is foolproof, and you can download directly into the app library from the likes of Feedbooks.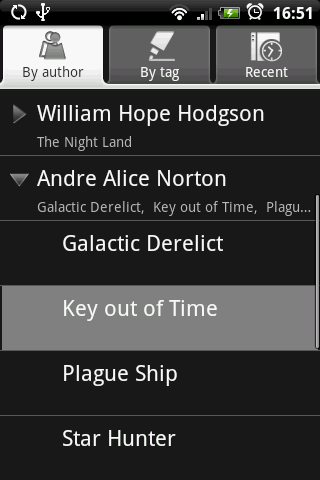 Reg Rating 85%
Price Free
More Info FBReader

GDocs
It seems incredible that Android doesn't include a Google Docs app. Until it does, GDocs will have to do. In free form it lets you read your Google Docs remotely or download them onto your phone, but cough up an extra €1 (90p) for the Extras pack and you can upload and sync documents too. It's not perfect - for instance every time we upload an edited file it appears in the Times New Roman font when we re-open it on a PC rather than the original Verdana - but it's a lot better than nothing.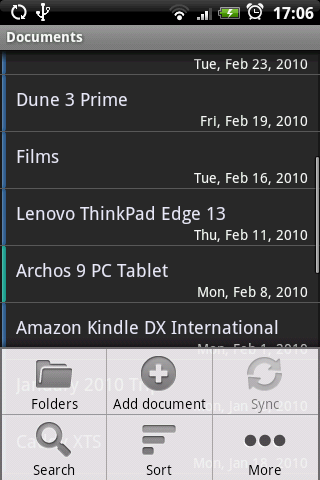 Reg Rating 75%
Price Free for basic app, £0.90 for Extras pack
More Info GDocs

DataViz Documents To Go
If you want to perform any serious office tasks on your Android phone, you're going to need something better than the various free note-taking apps on offer. At $10 (£6.55), DataViz's Docs To Go is your best bet. Essentially Office Mobile for Android, DTG will let you view, edit and create Microsoft Office documents and view PDF files. You also get a full suite of formatting tools and a word counter, but it's a shame it won't open plain text files.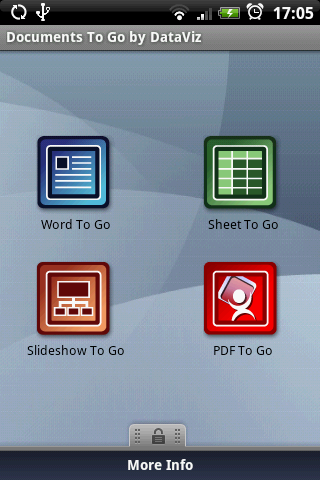 Reg Rating 80%
Price Free for read-only app, £6.55 for full version
More Info DataViz

BeebPlayer
BBC's iPlayer on your phone. What a grand idea, and with BeebPlayer it's a well executed one too. Finding content is very straightforward, with the iPlayer library arranged by channel, category or A-Z. It also has a handy Live feature which lets you watch current broadcasts - after presenting the regulatory warning that you must have a valid TV licence. While picture and sound quality are generally good there's no bookmark facility, it really needs a Wi-Fi connection to work reliably and it sometimes goes tits up halfway through a programme for no apparent reason, but those are minor quibbles compared to being able to watch The Thick of It or Dr Who on the loo.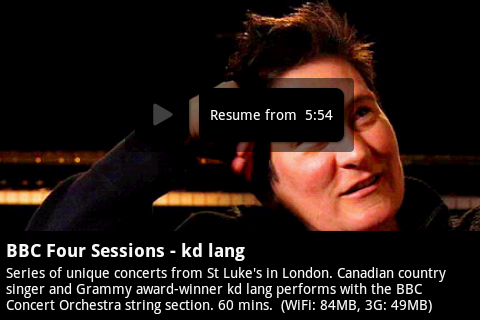 Reg Rating 75%
Price Free
More Info Developer Dave Johnston

OpenIntents File Manager
Android doesn't come with a file browser, so you'll need to download one, and OI is our favourite. It lets you access all the files on your phone or its memory card, and allows you to copy, paste or delete them. You can do the same with filled folders too. This is very handy, as uninstalling an app often leaves associated rubbish on your phone taking up valuable space. With OI you can simply remove the entire redundant program folder. OI also integrates with Googlemail allowing you to send just about any file directly as an attachment.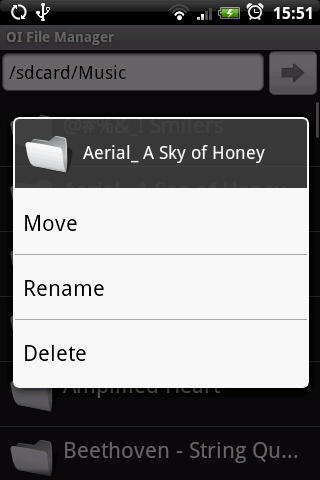 Reg Rating 90%
Price Free
More Info Open Intents

Advanced Task Killer
All these pesky little apps running away in the background can seriously slow your Android phone down even if it comes with a stack of Ram and a 1GHz processor. The easy fix is Advanced Task Killer: just launch it, hit the big Kill button at the top of the list of running programs and everything non-essential is turned off, including itself. You can remove programs from the kill list if you so desire, which means you that your favourite Twitter client or whatever will still update in the background and happily it doesn't interfere with HTC's Sense overlay.

Reg Rating 95%
Price Free
More Info Rechild