Original URL: http://www.theregister.co.uk/2010/04/09/feature_connected_tvs/
Get ready for the revolution: internet TVs
Connect the set
Posted in Personal Tech, 9th April 2010 12:15 GMT
Not so long ago, a TV was just something for presenting broadcast programmes or content from devices like DVD players. If you wanted anything more exotic, you had to hook up a media player or perhaps a PC. More and more sets sprouted DVI or VGA ports to make that easier.
But that's now started to change. The 2009 models from the major manufacturers marked the year when the 'connected' TV really arrived in the UK, offering basic internet access and often the ability to play media stored on home networks too.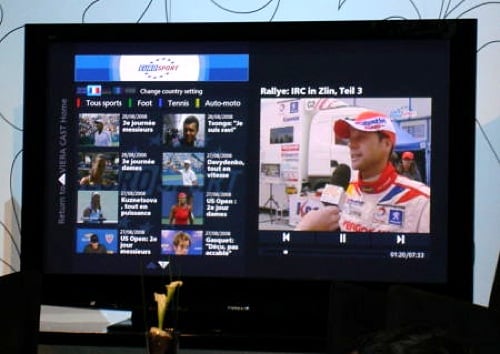 With this year's just-launched models competing to add other features, the 2009 tellies could prove to be a good deal for bargain hunters looking for a cut-price connected TV. Certainly, there's doesn't appear to be a huge amount to choose between the latest and most recent models when it comes to online features.
So, Reg Hardware has taken a brief look at the internet and media playback functions on some of the top brands, to find out whether or not it's time to say goodbye to your dedicated media player, and hello to a connected TV set.
For most manufacturers, where they include connectivity, it's the same across all the models that have the feature. Options such as Freesat compatibility will affect the possibility of certain services, such as BBC iPlayer, being made available.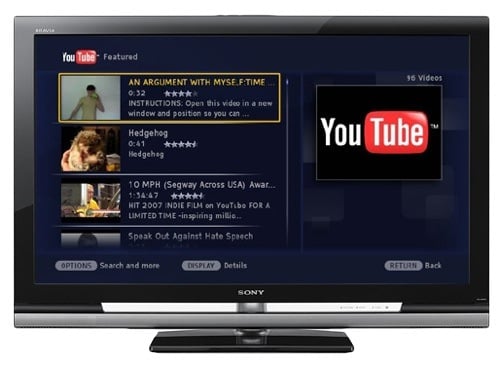 All the connected sets I've looked at have an Ethernet port on the back. Hooking up them to your home network is just a matter of plugging them in, directly, by cable or across a Powerline link - there's no configuration to do beyond that. Sets that have wireless connectivity will obviously need more set-up work. Many sets are marketed as 'wireless ready', meaning you'll have to buy and fit a USB adaptor separately.
Panasonic
Panasonic's VieraCast system, which we tested on a V10 set, is the mainstay of the manufacturer's connected TVs. Accessed by a dedicated button on the remote control, it provides access to a range of online services, principally video-based, but with a couple of extras.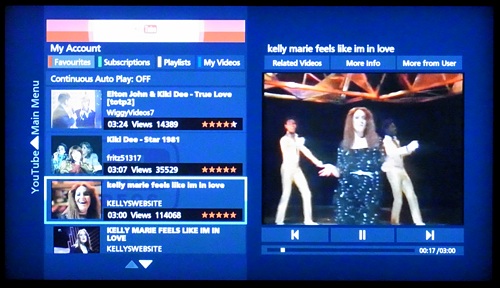 YouTube on the tube: Panasonic's VieraCast
The main menu is based around a grid of icons, with the current TV input showing in the centre and seven squares around it. A recent update to the VieraCast home screen adds 'more' and 'back' arrows bottom centre, so you can access additional screens, and you can also arrange which applications go where.
That's perhaps more useful for people elsewhere in Europe - services like the Q.Tom video jukebox aren't available in the UK, and others, like Taggeschau or Nova aren't in English. But UK users will still find the weather, Picasa, EuroSport Daily Motion and YouTube applications useful.
Navigating to an option is easy, and once selected, it takes over the whole screen. It's easy to set up things like the default country for the weather, and both Picasa and YouTube allow you to sign in to your account.
In the case of YouTube, that's particularly useful, as you can use the same account as you do on your computer. Searching with the TV remote's mobile-phone style keyboard works, but it's easier to mark favourites on your PC or Mac, and then play them on the TV.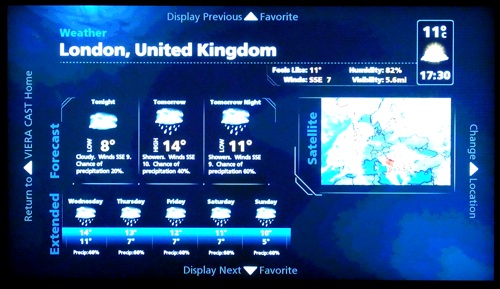 Check the weather
As with other consumer electronic implementations of YouTube, though, the new 'Shows' section is absent. Even if you mark, say, a 4oD item as a favourite on your PC, you won't be able to play it on the TV.
It's worth noting that there are new VieraCast applications coming this year, but some of them specifically won't be supported on older sets, including Skype and a new video rental service.
Besides VieraCast, Panasonic also offers DLNA support, which is accessed either by choosing 'Media Servers' as one of the AV inputs, or tapping the 'Viera Tools' button. It's fairly limited support, offering only photo and video playback. Video is limited to MPEG 2 Programme Streams - essentially .VOB files - and DivX.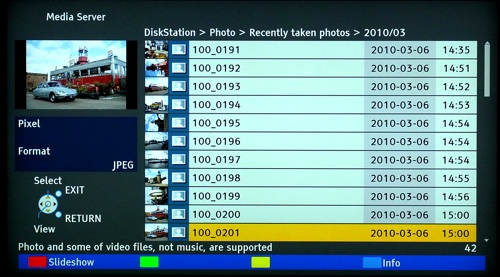 DLNA access on the Panasonic
Those files play back well enough, and browsing through the folders on my Synology Diskstation was swift, with no fancy graphics slowing things down. But I did find some XviD-encoded files that were unplayable, actually making the TV restart. If video playback is what you're after, stick with the output of the DivX encoder, or unencrypted VOBs.
Many of the Panasonic sets also have Freesat tuners. Though there's not yet support for iPlayer via Freesat's interactive services, Panasonic tells us it's coming "by the end of the year".
Philips
Philips also has sets with internet connectivity, called NetTV, though it wasn't willing to lend one to include in this feature, saying it prefers people to buy its sets for their picture quality.
But I did test a Philips 9704 earlier this year, and it features built in Wi-Fi. Unlike other sets, the internet access it provides is full unfettered web browsing, accessed from the TV's home screen. There's a small selection of sites pre-selected, with optimised content, but you can enter any web address you like. However, we found that the CSS navigation on some sites didn't work, and nor did Flash video on sites like the Guardian, so while you have full net access, it's perhaps not complete.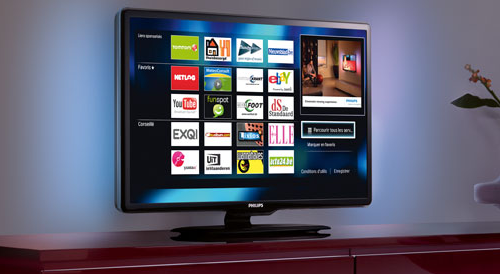 Although the on-screen keyboard makes it fairly simple to enter common URL parts like '.com' and 'http://', the overall experience is pretty slow, like using an PC with not enough memory.
DLNA support is patchy too: as with the Sony, the only thing I could play were VOB files.
Samsung
Samsung's connected sets are billed as Internet @TV, though, despite the name, you don't actually have access to the whole internet. Instead, what you have is a Yahoo widget engine, with a selection of straightforward options like weather, news headlines, share prices and a handful of games. All of them are accessed by tapping a dedicated button on the remote.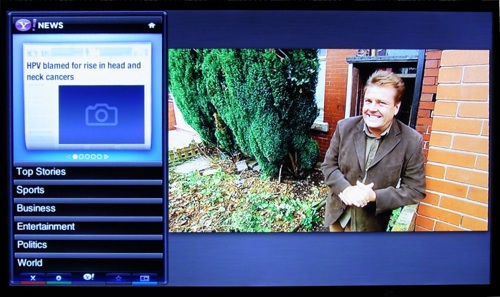 Samsung's Internet@TV
There are also Twitter and YouTube widgets, plus Teletext Holidays and Horoscopes - the Widget gallery boasts a total of 14 applets. Again, others are promised, including an iPlayer widget, but not all will be compatible with older sets; we tested on a 7000 series, which can work with an optional WiFi adaptor.
While Panasonic's YouTube app looks a little cramped, the Samsung one makes rather better use of the available screen space, but fails to translate that to ease of use. Its on-screen search keyboard is presented in alphabetical order and you have to move the cursor to each letter, then click – somewhat laborious. More annoying, there's no facility to save details of your YouTube account, so you can't pick up favourites that have been saved on a computer.
DLNA playback is accessed in a number of ways: you can choose it from a list of inputs, or from a dedicated button on the remote control. As well as DLNA servers, you can also play back content from a USB storage device; in fact, some features are accessible only from that, like choosing background music for a photo slide show or selecting the type of display. Using my Synology NAS, I wasn't able to select anything other than the default view for browsing media files. While it's certainly prettier than the Panasonic's folder navigation, it actually feels a bit clunkier to use, perhaps because you can't see all the names, in a folder, and have to scroll to each one to read it properly.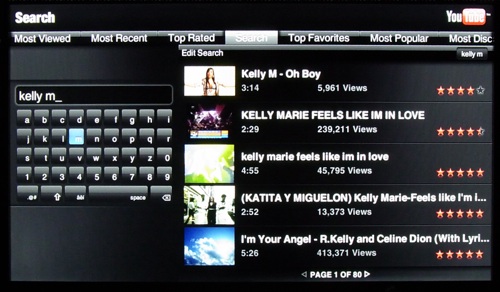 Searching YouTube would be easier with a better keyboard
That niggle aside, the format support is by far the best of the bunch, with MPEG 2, DivX, WMV, Xvid and even MKV – just about everything I threw at it played, including some Nasa HD clips, with the exception of DivX HD files and some QuickTime samples.
Audio is a little less well supported, with just MP3 listed, so I had to rely on the NAS to transcode AAC files, but that worked well enough.
Sony
Sony's internet sets use the Applicast moniker, though this is changing to Internet Video on the upcoming 2010 models. I tested a Bravia W5500 series set, which has DLNA and Applicast, all accessed from the Home button on the remote, which takes you into Sony's PS3-derived XMB user interface.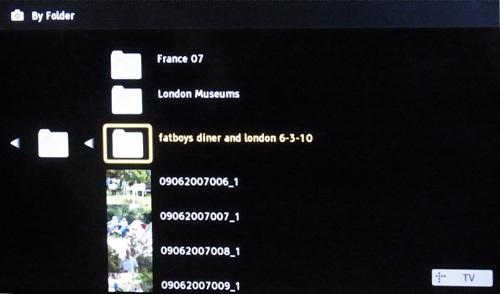 Sony's XMB UI can be used to access DLNA servers
A little like Samsung's system, Applicast displays a range of widgets, in this case at the side of the screen rather than along the bottom. There's a world clock, alarm clock, calculator, RSS reader and a picture frame – and that's pretty much it. You can, as the screenshot shows, add whatever RSS feeds you like, but the on screen keyboard is cumbersome to use – although it's actually a mobile phone layout, the screen display does its best to hide that fact, and just makes things more confusing.
Accessing networked media via the media bar is cumbersome and possibly the least intuitive of the DLNA sets. And, as with some other Sony products, the DLNA badge here really means just the bare minimum: the only video I could play were .VOB files, and I only had any luck with music when the NAS was set to transcode everything to PCM. It was good to see the album cover when listening, but that's not much consolation, frankly.
The lack of really useful Applicast content at the moment, and the limited format support for DLNA playback does make the Sony's connectivity something of a damp squib. The saving grace is the availability of iPlayer on Freesat models.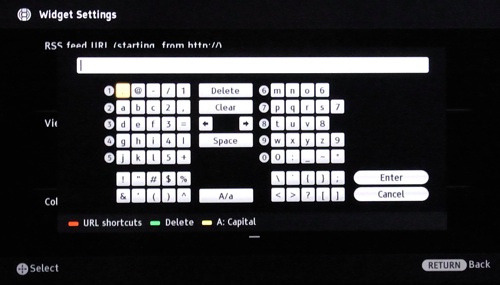 Searching uses a mobile phone-style keypad on the remote
Sony has promised more content, though, and recently rolled out Lovefilm video on demand, though this only works if you have a subscription. Even then, the selection of available videos is very much smaller than the number of downloads Lovefilm offers through its website.
LG
LG's 2009 range didn't include any connected sets though some, like the SL9000 that we looked at around Christmas do have media playback from USB, with reasonable format support. We'll look in more detail at the NetCast options on the 2010 range along with the updates to the other manufacturers' connected sets later on in the year.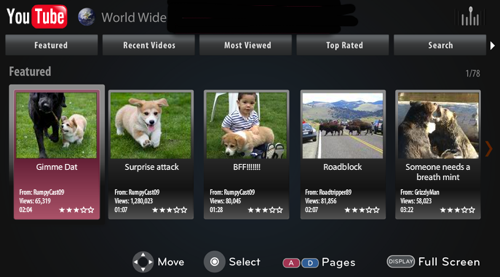 YouTube on LG's NetCast
What to buy?
It's quite clear from looking at the sets that connected TVs are still in their infancy. There are some common niggles: you ought to be able to view 4oD content from YouTube on devices that claim to have YouTube built in, for example. Lovefilm's TV VoD selection should match that offered to PC users.
With the honourable exception of Samsung, the range of supported formats is often quite poor.
For some folk, that's not an issue. If you're a big YouTube fan, for instance, you might prefer the ability of Panasonic's VieraCast to sign in with your user name and access favourites. Other users might appreciate the EuroSports headline clips, in preference to the ability to call up a horoscope widget and play back MKV files.
Crucially, most of the vendors seem committed to extending and evolving the internet experience their TVs offer. As manufacterers' review units become available, Reg Hardware will be looking at their internet offerings in more detail than this simple survey can. ®