Original URL: https://www.theregister.co.uk/2010/04/09/discovery_spacewalk/
Discovery team wrap first ISS spacewalk
STS-131 mission running smoothly
Posted in Science, 9th April 2010 12:26 GMT
Mission specialists Clayton Anderson and Rick Mastracchio (seen below) earlier today ventured outside the International Space Station on the first of three planned spacewalks for space shuttle Discovery's STS-131 mission.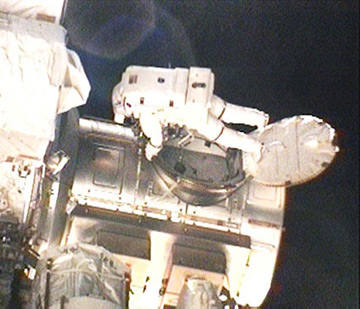 The pair exited the Quest airlock at 05:31 GMT, and during the six-hour, 27-minute EVA "disconnected ammonia and nitrogen fluid lines from a spent Ammonia Tank Assembly (ATA)".
They'll fit a replacement ATA on their second spacewalk, and today unbolted the tank from Discovery's cargo bay, allowing pilot James P Dutton Jr and mission specialist Stephanie Wilson to move it temporarily to the Quest Airlock External Stowage Platform 2 using the ISS's robotic arm.
Anderson and Mastracchio also "retrieved the Micro-Particles Capture/Space Environment Exposure Device experiment from the Japanese Exposed Facility", and "on the center-most portion of the International Space Station's backbone, they replaced a Rate Gyro Assembly, part of the station's navigation system".
Anderson and Mastracchio are old hands at extravehicular activity, and "performed two spacewalks together during the STS-118 mission in August 2007", NASA notes. On that occasion, they were tasked with adding "the third starboard truss segment, the S5 truss, to the station's backbone". ®